Tunnel boring machine (TBM) Ellie has started her 900-metre journey from Limmo Peninsula, near Canning Town, towards Victoria Dock Portal in east London.
Over the next three months the 1,000 tonne machine will bore a tunnel in close proximity to the Jubilee line, the Docklands Light Railway, the River Thames and the River Lea.
The drive will complete tunnelling on Crossrail's southeast spur, which stretches from Stepney Green to Abbey Wood. Ellie's sister tunnelling machine, Jessica, completed the first of the two twin-tunnels from Limmo to Victoria Dock earlier this summer.
Joint venture Dragados Sisk is constructing the eastern tunnels between Pudding Mill Lane and Stepney Green, Limmo Peninsula and Farringdon, and Victoria Dock Portal and Limmo.
Crossrail will complete its rail tunnels next year when TBMs Elizabeth and Victoria, currently in Whitechapel, reach Farringdon in central London. The new rail tunnels are 83% complete and the project remains on time and within budget, Crossrail said. Trains are scheduled to start running in 2018.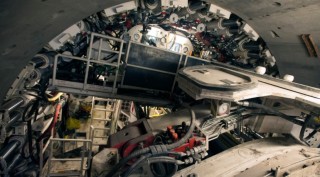 Ellie has already completed a tunnel from Pudding Mill Lane, near Stratford, to Stepney Green. The tunnel machine is 150-metres long and 7.1-metres in diameter and is staffed by crews of 20 people. The concrete and steel tunnel segments are made in Chatham, Kent and transported to Limmo by river barge.
TBM Ellie is named after Paralympic swimming champion Ellie Simmonds, while Jessica is named after the heptathlete Jessica Ennis (or Ennis-Hill, as she now is). Elizabeth and Victoria are named after monarchs.
Got a story? Email news@theconstructionindex.co.uk