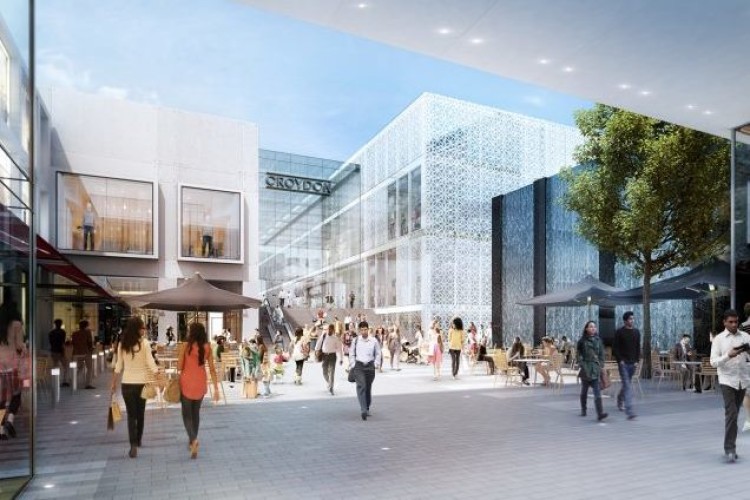 A revised redevelopment proposal for the Whitgift Shopping Centre by the Croydon Partnership, a joint venture of Westfield and Hammerson, has been approved by the council's planning committee.
Three years after it was first approved, the stalled redevelopment of the Whitgift Shopping Centre will now progress with government support following meetings hosted by Minister for London Greg Hands at the Department for International Trade.
Croydon will join Stratford and Shepherd's Bush as London's third Westfield shopping centre. Westfield is investing £700m in the Croydon project.
The Partnership's plans were first granted planning permission in February 2014, but in October 2016 a revised outline planning application was submitted, including more housing, a third level of retail and leisure and a new Marks & Spencer store.
Construction is expected to create 7,000 new jobs and 1,000 new homes for the borough. The final proposals were put to the planning committee after a series of meetings chaired by the Minister for London, where Croydon Council, Westfield and the Greater London Authority (GLA), along with all three of Croydon's MPs, agreed the funding needed to move the project forwards.

Council leader Tony Newman said: "The new homes and the thousands of jobs this development will bring shows investors are rightly confident about Croydon as a place to live, work and spend free time. I am delighted contractors will be on site in 2019 to kick-start the exciting transformation of the heart of our town."
Westfield Europe head of development John Burton said: "The approval of the £1.4bn plans to redevelop the Whitgift Centre represents a significant milestone for the project and for Croydon. Retail-regeneration projects have a proven track record to deliver transformation and regeneration which is evidenced by the £5.25bn of inward investment planned for Croydon."
Hammerson chief investment officer Peter Cole added: "Our goal remains to deliver a world-class retail and leisure destination to attract new visitors to Croydon and enhance economic growth in the town. We are pleased with the level of retail demand, which has driven the evolution of the design and layout of the new scheme, and we look forward to progressing our plans and transforming Croydon into one of the UK's top 10 retail and leisure destinations."
Greg Hands MP, Minister for London, sought to claim credit, saying: "I am delighted that after convening two meetings of all concerned parties, here at the Department for International Trade, we will now see construction taking place. This is a great example of local and central government working together with private investors and it shows once again London's enduring appeal for international investment. As Minister for London I'm delighted to be supporting the project, and seeing it secure planning approval."
What promises the minister has made to get things moving has yet to be revealed but back in 2013 the then mayor of London Boris Johnson promised the developers £23m from his regeneration fund.
Got a story? Email news@theconstructionindex.co.uk