The UK in general, and the UK construction industry in particular, has an unerring habit of talking up the gloom while largely ignoring the positives. And it seems the Office for National Statistics is no exception to that rule.
Hence last month, the ONS was suggesting a downward trend based on some rather old figures that failed to take into account Christmas and the usual seasonal slowing of demand. And yet the BCLive league table has remained largely upbeat.
Admittedly the league table fell slightly short of what has now become the £4bn per month norm, but there is still much to be positive about.
As ever, London and the South East remain the centre of the UK construction universe, but the North West, Yorkshire, Scotland and the South West all enjoyed a marked upturn in new contract awards during the month of February.
Housing may have eased slightly to just £1.43bn of new contract awards in February, but the schools, colleges and education sector remains resilient, contributing £810m to the monthly total.
Carillion claimed the top spot on this month's league table, delivering a six-project haul with a combined value of £167.8m. The largest contract secured by the company was a £100m new-build of 200 flats at the Vauxhall Centre in London for the Governors of Lambeth College.
In second place with a combined tally of £143.8m was Kier Group which was buoyed by a £40m contract for the construction of a new retail park in Dover for client Bond City, won in competition with Northern Ireland-based McLaughlin & Harvey.
The Belfast firm (listed under the name of owner Trench Holdings) had no cause for complaint, though, as it notched up a creditable £68.6m-worth of projects, including a new £33m office development for client HFD Group in Glasgow.
McLaughlin & Harvey beat off competition from Brookfield Multiplex, Sir Robert McAlpine, Morgan Sindall and Lendlease to secure this contract, which brings it in at number 14 on the league table.
A £67m contract award for the new-build of flats at London's East Village for client Delancey Estates helped lift Mace to fifth spot with a cumulative monthly total of £115m.

Meanwhile, Costain bagged a £110m contract for Lancashire County Council, part of a new road infrastructure scheme around Preston, Lancashire.
Keepmoat maintained its position as the winner of the highest number of new contract awards, securing 28 with a combined value of £94.7m. Both Interserve and Morgan Sindall picked up 18 new contracts with a combined value of £103m and £55.1m.
One month does not a trend make. But if there is a stand-out theme for February it is the general lack of big landmark contracts coming through, with the result that many of the current Top 10 are having to win an increasing number of contracts to maintain their turnover.
This cuts both ways: on one hand, the volume of contracts suggests a broader degree of industry confidence; but on the other, multiple smaller contracts will put additional strain upon already stretched human resources and will further exacerbate the industry skills shortage.
So - at a time when the 'Brexit' lobby is advocating a course of action that could stem the flow of the east-European migrant workers who have become an integral part of the UK construction workforce - the industry needs to think long and hard before it enters the polling booths on 23rd June.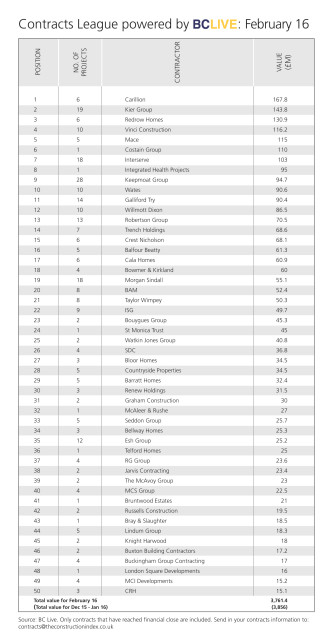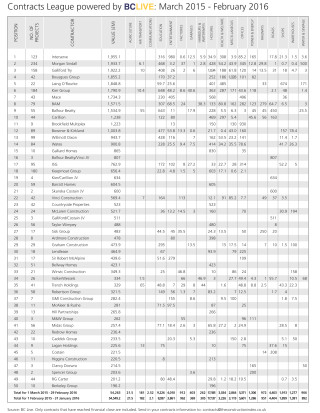 • Neil Edwards is chief executive of The Builders' Conference
Got a story? Email news@theconstructionindex.co.uk