The specialist radiotherapy machinery, that destroys cancer cells with pinpoint accuracy with less damage to surrounding tissue, was transported to London from Germany.
Once on site, it was lowered by crane into its especially constructed vault – a key milestone in the construction of the 11-storey facility at UCLH.
Main contractor Bouygues UK was assisted by specialist from German industrial movers Scholpp.
UK patients requiring proton beam therapy (PBT) treatment previously had to travel overseas.
The new £300m hospital is built in one of London's biggest ever holes. It has five storeys below ground and six above. It stands 30 metres above ground but goes down 28.5 metres. The total size of the building is 31,500 m2, of which 16,000 m2 is below ground. It is being built on the site of the old Rosenheim Building and an Odeon cinema.
The cyclotron is the whole reason for building the new hospital and the need for such a big hole in the ground. Its installation is therefore a major moment for the project.
Fabienne Viala, chairman of Bouygues UK, said: "The delivery of the cyclotron is a technically complex and exacting process that we and our experienced infrastructure colleagues at Bouygues Travaux Publics have spent months preparing for. The cyclotron is a critical component of the new PBT centre and we are very proud to be involved in the delivery of such an innovative and challenging build that will provide a revolutionary and precise form of treatment for NHS cancer patients."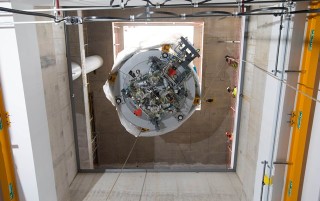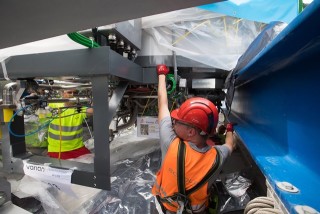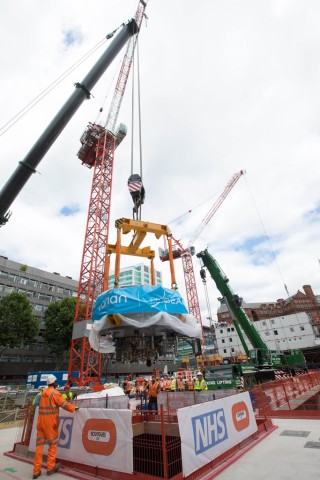 Got a story? Email news@theconstructionindex.co.uk