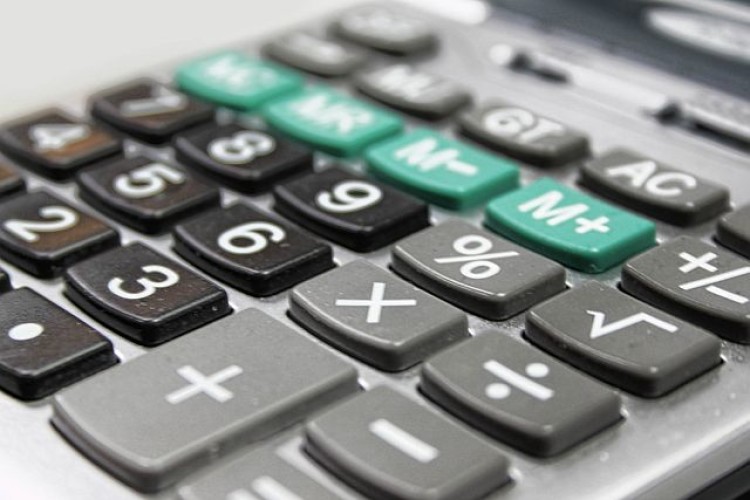 However the three-month period of February to April 2018 saw construction output fall by 3.4%, its biggest fall seen in this series since August 2012. Repair & maintenance fell 3.0% and new work fell 3.7%.
The latest bulletin from the Office for National Statistics (ONS) also shows that total construction new orders also decreased in Quarter 1 (January to March) 2018, falling by 4.6% on the previous quarter and by 6.6% compared to the same quarter of the year before.
Following consecutive periods of month-on-month growth in the final two months of 2017, construction output reached a record high. Construction output peaked in December 2017, reaching a level that was 30.3% higher than the lowest point of the last five years, April 2013. Despite three consecutive periods of month-on-month decline at the beginning of 2018, construction output did bounce back slightly in April 2018 and as a result construction remains 23.4% above its lowest point in April 2013.
In the three months to April 2018, construction output fell by £1.35 billion, stemming from falls in all but one sector. The most notable decline came from infrastructure new work, which fell sharply in the three months to April 2018, decreasing by £379 million. Elsewhere, other notable falls in output came from total housing repair and maintenance, and private housing new work, which fell by £230 million and £189 million respectively.
Compared with the previous month, construction output increased by £68 million in April 2018. The main contributions to the rise in all work came from an increase in the value of infrastructure and private commercial new work, both of which recovered somewhat from weak starts to 2018, increasing by £40 million and £37 million respectively. Elsewhere, non-housing repair and maintenance also provided a notable contribution to growth, increasing by £34 million in April 2018, the ONS reports.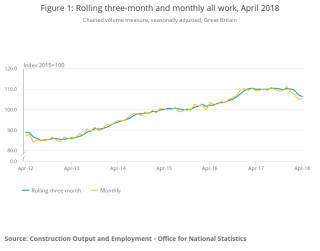 Rebecca Larkin, senior economist at the Construction Products Association, commented: "The 0.5% rise in April reflects an element of catch-up after the combination of Carillion's liquidation and the bad weather in February and March. This seems like a false positive, however, as output remained weak compared to April last year, with the 3.3% fall equivalent to a £430 million reduction in construction work. Only the private housing and industrial sectors recorded growth, the former driven by the traditional spring selling season and the latter due to shorter lead times in factories and warehouses construction.

"The new orders data confirmed an underlying weakness at the start of the year unlikely to be due to the weather. Private housing, industrial and public non-housing new orders increased during Q1, but large falls in the infrastructure and commercial sectors, which account for almost one-third of total construction, are set to act as a drag on growth." 
Brian Berry, chief executive of the Federation of Master Builders, said of the latest numbers:  "Alongside the cold snap, the drop in construction output can also be attributed to rising costs for construction firms large and small. While wages are continuing to rise because of the acute skills crisis in our sector, firms are also feeling the pinch thanks to increased material prices. The depreciation of sterling following the EU referendum has meant bricks and insulation in particular have become more expensive. We expect material prices to continue to squeeze the construction industry with recent research by the Federation of Master Builders showing that 84 per cent of builders believe that they will continue to rise in the next six months."
He said: "In the medium to longer term, with nine months until Brexit-Day, the future is uncertain for the UK construction sector. The government is still to confirm what the post-Brexit immigration system will look like. The construction sector is largely reliant on accessing EU workers with more than 8% of construction workers coming from the EU. It is therefore imperative that the sector knows how, and to what extent, it can recruit these workers post-Brexit."
Blane Perrotton, managing director of the national property consultancy and surveyors Naismiths, commented: "The construction industry dashboard is now a sea of warning lights. For months, housebuilding had served as a 'get out of jail' card – mitigating or even nullifying the declines in other construction sectors. No longer. With the output from all sectors bar one now firmly in contraction territory, the fall in new orders suggests the slide is here to stay."
He added: "With workers' rising wages slicing into contractors' already tight margins, there is likely to be more pain to come for contractors who are forced to bid low for work. While deals continue to be done, a sizeable chunk of the projects that could be done are being deferred until after the Brexit fog passes."
Got a story? Email news@theconstructionindex.co.uk