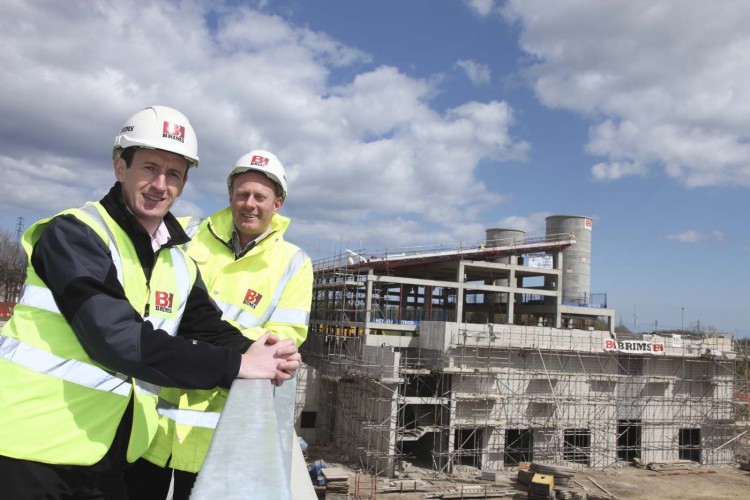 The new structure will serve the vehicle tunnel that is currently under construction, extracting vehicle emissions from the new crossing and discharging it through its 50 foot chimney. It also houses emergency systems including a 200,000 litre water tank that will   supply a state of the art fire suppression system.
This will be the second project the Brims team have completed at the Tyne Tunnel site having originally worked on the approach roads to the North Tunnel in 1967. A family-owned business, those who worked on the original project have close ties with the current managerial team.
"The Tyne Tunnel is becoming a bit of a family legacy among the Brims team," joked Director, Richard Wood. "Both my dad and one of our project managers' fathers worked on the original project so being asked to go back and work on the new crossing gave us an enormous sense of pride. Maybe in another forty years our kids will be working on a third crossing, or maybe even giving our work a touch up!" 
Contracted to design and build the new structure, the Brims team have been working on the project since early 2009 and began construction in September last year.

Richard explains: "Ventilation systems are an essential part of any vehicle tunnel. As well as their day-to-day activities, stations are designed to withstand a range of extreme conditions ensuring they remain operational during emergencies. Essentially, it is the central system that safeguards both the tunnel and its users."
Standing over 20 metres tall and 40 metres wide, the structure contains 856 cubic metres of concrete and over 159 tonnes of reinforcements. The scale of the project meant there was a need for additional workforce, creating up to 60 jobs at its peak, all of which were filled by local workers.
"The new ventilation building has transformed the look of the south junction, and more importantly it has been designed to perform a vital function for the new vehicle tunnel," said Trevor Jackson, managing director of TT2, the organisation responsible for all Tyne Tunnel operations.  "Brims has provided us with a fantastic new facility and I've also been impressed with their commitments to our community initiatives, such as the Code of Local Employment Practice and our community film initiative at the Tyneside Cinema earlier this year."
The new ventilation building is now in its final weeks of construction and is due to be completed in September. The new vehicle tunnel will open to traffic by February 2011 when the existing tunnel will close for full refurbishment. Both tunnels will be fully operational by December 2011. 
Got a story? Email news@theconstructionindex.co.uk