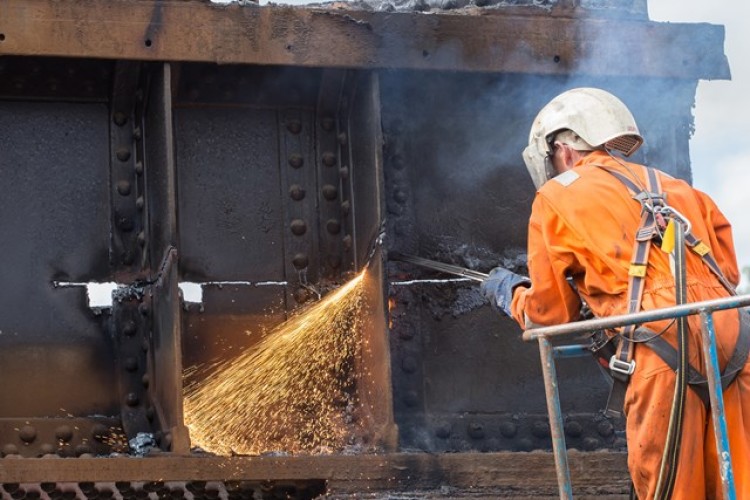 Victorian brick viaducts are being partially demolished in Bermondsey to make way for new railway track.
The massive Bermondsey Dive Under is being created by Skanska under a £60m contract for Network Rail and its contractor Skanska.   The dive under (the opposite of a flyover) will create a major grade-separated junction on the eastern approach to London Bridge station, allowing the Thameslink lines to cross the Kent lines unimpeded and increasing the number of trains to and from the station.
Near to Millwall's New Den football stadium, the site of the dive under was once a tangle of railways and roads. Project manager Greg Thornett said: "Our Victorian ancestors did a fantastic job and we are still using much of their work to carry more than 200,000 passengers every day – including a stretch of the oldest railway in the whole of London. However, this is a once-in-a-lifetime opportunity for us to untangle the current complex track layout, which is a result of historic railway operators dating back over 150 years running services adjacent to one another into London on their own infrastructure.
"Our contractors are removing the steel bridges first before using a mixture of techniques to deconstruct the brick viaducts. Passengers will soon see big changes from the windows of their trains."

The £6.5bn Thameslink Programme is rebuilding much of the railway from New Cross Gate through London Bridge and on to Blackfriars and St Pancras. The Bermondsey Dive Under will see two Victorian viaducts partially-demolished and rebuilt to allow Charing Cross trains from southeast London and Kent to dive down to almost street level, under a new route carrying Thameslink services from Croydon, and back up again. Specialist demolition subcontractor on the project is Armac.
In addition 20 bridges between New Cross and Waterloo East are being strengthened to carry the proposed Thameslink track alignments.
Greg Thornett added: "Although the old viaducts will be replaced by modern structures, they are designed to remain in keeping with the older architecture. It's exciting to see this transformation and it will be a real sense of achievement to see trains running on it."
Got a story? Email news@theconstructionindex.co.uk