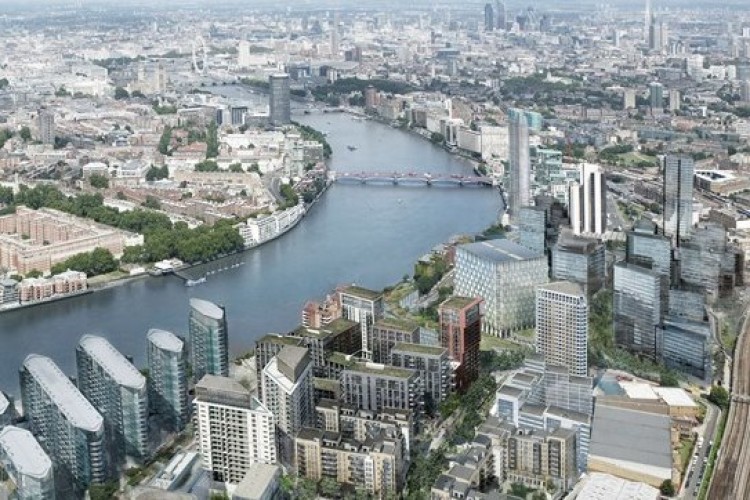 Architects and engineers are being invited to submit designs for a new pedestrian crossing linking the Nine Elms district with the Pimlico embankment to the north.
The Nine Elms to Pimlico bridge is part of a £1bn infrastructure package transforming the Nine Elms regeneration area. As well as the bridge, Nine Elms is to get a tube station as part of the £600m Northern Line extension from Kennington to Battersea, as well as a new network of footpaths, parks and cycle lanes to support redevelopment of the area.
A Transport for London feasibility study completed in 2013 set out the case for a new bridge at Nine Elms to provide pedestrians and cyclists with a car-free alternative to Chelsea and Vauxhall Bridges.
The council said that £26m was already committed to the bridge project through the development of Nine Elms and the new design would be used to lever-in match funding.
Once the winning design is selected, it would need to go through the planning process before work could begin.
Wandsworth Council leader Ravi Govindia, who is also co-chair of the Nine Elms Vauxhall Partnership, said: "This is a competition to find a team of brilliant engineers and architects to design a beautiful bridge spanning the Thames.
"This bridge has the potential to become an inspiring landmark, heralding the changes that are taking place south of the river and making vital connections to the north shore. The transport case is strong and this will be a valuable and sustainable addition to London's transport infrastructure.

"This bridge needs to be designed to the highest quality standards; it must be inspiring, elegant and functional. The conundrum of creating a bridge that can be readily used by cyclists and pedestrians alike, that also provides adequate headroom for river traffic, is at the heart of the challenge.
"The design must also win the hearts and minds of Londoners, particularly the people living in the local area. Developing an inspiring, beautiful design will help us to leverage further funding and take the project to the next stage."
The first stage of the competition will ask competitors to submit information about the people in their teams and to explain their approach to five design challenges.  A maximum of four teams will be selected for the next stage.
Stage two will be a competitive dialogue process during which the selected teams will be asked to develop their design ideas and meet with the jury panel, the technical advisors and members of the Residents Review Panel. 
The competition is being run by Colander and will follow OJEU public sector procurement processes so the successful design team can be appointed to the project when it becomes live.
For further details, see www.nepbridgecompetition.co.uk.
Got a story? Email news@theconstructionindex.co.uk