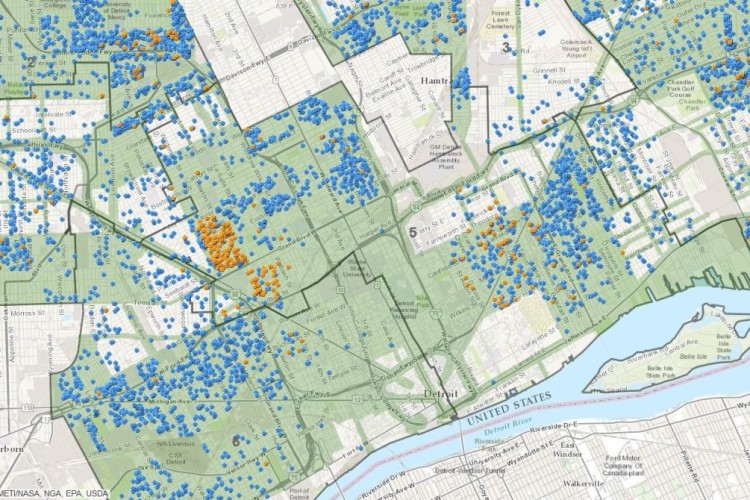 An average of 75 have been demolished every week since Mike Duggan took over as mayor in 2014.     
"We have made real progress in the past 2½ years and improved the quality of life for residents in a lot of neighborhoods, but we still have lots of work to do," he said. "But 10,000 demolitions is a great start, and we are not going to let up one bit."
Duggan has said that if the city had kept its previous pace of demolition, it would have taken 30 years to remove the 40,000 unsalvageable buildings across the city and new blight likely would have been created faster. At its current pace, the Mayor expects the task will take about six more years, provided federal funding continues at the same level.
City is on its way to razing 5,000 blighted structures this year, with another 6,000 projected for 2017. Last year, the city took down 4,000. The city's new Demolition Tracker website carries information on every completed demolition, as well as those under contract for future demolition.
To date, the city has been awarded more than US$250m (£190m) by the US Treasury Department and Michigan State Housing Development Authority to remove blight. When the first federally designated zones were approved in 2013, only 21% of people in the city lived in neighbourhoods eligible for federally funded demolition. Duggan successfully lobbied to have those zones expanded three times, and now, 90% of Detroit residents now live in neighborhoods where the city can demolish dangerous and abandoned buildings.

Demolitions are part of a broader anti-blight strategy under way in Detroit. Property auctions, nuisance abatement agreements, and community partner sales have led to more than 1,400 properties being renovated in neighbourhoods across the city. More than 4,600 vacant side lots have been sold to neighbours and put back to use. And aggressive anti-foreclosure efforts have kept tens of thousands of families from losing their homes and having them become vacant.
The City is also planning more than 150 commercial demolitions this year. It has already brought down 25 commercial structures totaling nearly 1 million square feet of blighted space.
"The reason we are tearing down is to rebuild," said Duggan.
The city's demolition programme is also having a positive impact in ways that go beyond removing blight. A 2015 report from Dynamo Metrics and Rock Ventures found that home demolitions have been responsible for increased property values in neighbourhoods across the city. It found the valuation of homes within 150m of a demolition increased by 4.2%. In neighborhoods where all aspects of the city's blight removal program are in effect, the increase in property values has been even greater.
Got a story? Email news@theconstructionindex.co.uk