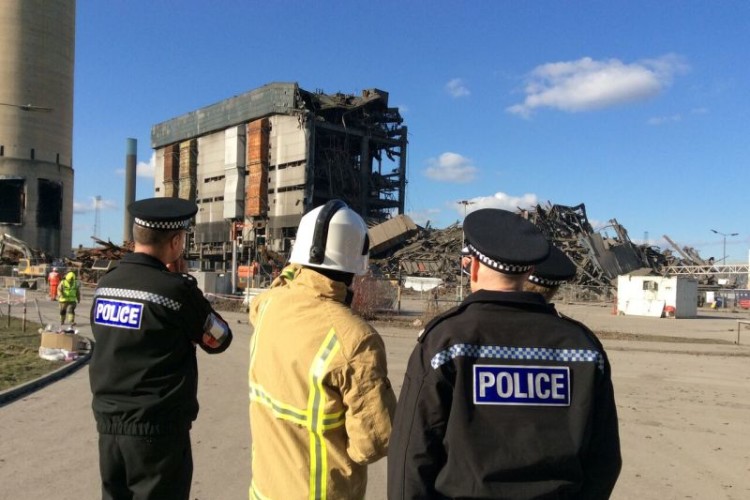 One person died and five were injured when half of the massive boiler house of the decommissioned power station collapsed on 23rd February. The structure was being prepared for controlled demolition by specialist contractor Coleman & Company.
Three demolition workers – Christopher Huxtable, aged 34 and from Swansea, Ken Cresswell, 57 and from Rotherham and John Shaw, 61 and also from Rotherham – have been missing since the collapse and are now presumed dead.
Attempts to search for them in the rubble have been stymied by the structural instability of both the wreckage and the remaining structure.
Christopher Huxtable's partner, 28-year-old Jade Ali, has attracted nearly 16,000 signatures for a petition calling for the men to be brought out of the rubble.
Coleman & Company said last week: "We know how much they are deeply loved and missed by their families. We share their hope that our men are recovered soon and returned home."

Thames Valley Police and the Health & Safety Executive said that they were waiting for site owners, German energy giant RWE to "produce a plan for a safe method of working before the next stage of the recovery can begin".
In a joint statement, they said:  "The priority of the multi-agency response remains the recovery of the missing men so they can be returned to their families. Specialist officers from Thames Valley Police continue to support the families at this difficult time and we are providing them with regular updates on the progress.
"The site owners RWE have overall responsibility for the safety of buildings and structures on their site. They must produce a plan for a safe method of working before the next stage of the recovery can begin. Once this is received and approved by HSE, emergency services are on hand to recover the missing men.
"Preparation at the site, for the recovery, is taking place and will continue over the weekend.
"We are working hard to identify as soon as possible what caused the building to partially collapse, to provide answers and prevent such a tragedy happening again."
Got a story? Email news@theconstructionindex.co.uk