They say that what goes around, comes around. And that was certainly the case on our Contracts League table during the month of March 2016.
After a brief and thankfully temporary blip in February, the total value of construction awards rallied during March and once again breached the £4bn threshold, restoring what had become the established norm. But it wasn't just the monthly total that had a familiar ring to it.
For the second month in a row, Carillion soared to the top of the league with a combined £304.2m haul of new work split across two separate contracts. The larger of these contracts – a £300m order for the construction of Google's new London headquarters at King's Cross – has also been around the block before. It was won, for the same value, by BAM Construction back in June 2013 but had been on hold prior to going back out to tender.
Romping into second place on the league table for March was Galliford Try with a 17-contract haul worth a combined £274.2m. The largest of these was a £73m contract to build three new schools in Scotland under the Morrison Construction brand name.
Student accommodation also helped McAleer & Rushe make its first foray into the Top 10 for some considerable time. The company picked up five new contracts with a combined value of £199m, the largest for the construction of new student accommodation at Queen's University, Belfast.
Kier Group remains on a roll, netting 23 new contract awards worth a combined £180.3m to claim fourth spot. This included the construction of 259 new homes for Bristol City Council. But despite its impressive tally of new work, Kier came second to Morgan Sindall in terms of the number of new contracts secured: the latter picked up 25 new contracts for a combined value of £76m to sneak in at number 10.

As if there had not been enough cases of history repeating itself this month, Ardmore Construction retained its spot on the league table with a single contract: the £150m contract to build 661 new flats on the site of the former Ram Brewery in Wandsworth. Eagle-eyed readers will know that this contract had previously been won by Kier Group but the company subsequently withdrew, clearing the way for Ardmore to bag a prestigious contract and retain its number seven slot.
Despite the scaremongering from the Office of National Statistics, among others, all of this brought a positive end to a positive quarter. The number of contract awards for the first quarter of 2016 was 2,302, up 33% on the previous quarter, while the value of those contracts was up by 6% to £11.8bn. And while tenders for the same period tell a less positive story, anyone pronouncing the post-recessionary rally over is, at best, premature and, at worst, misinformed.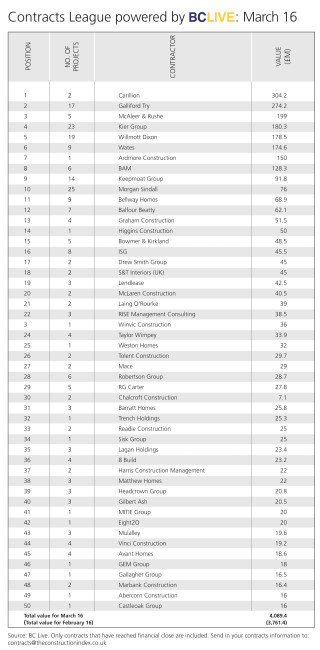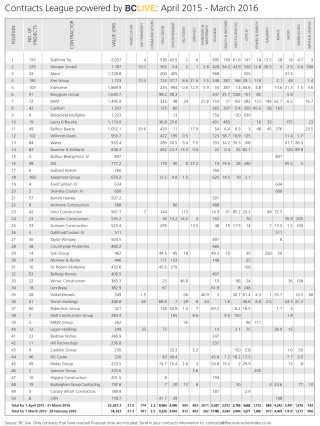 • Neil Edwards is chief executive of The Builders' Conference
Got a story? Email news@theconstructionindex.co.uk