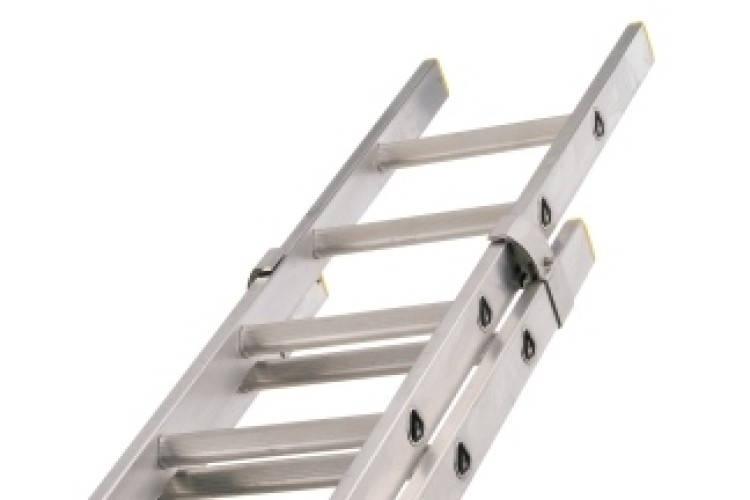 George Nicholls, 25, risked harming himself and others as he used the ladder to paint a three-storey shop frontage on St Marys Road in Southampton on 14 March 2013.
His ladder improvisation was captured on camera by a council environmental health officer following a tip-off from a member of the public.
The Health & Safety Executive (HSE) investigated prosecuted Mr Nicholls for safety failings, alongside the company that paid him to do the work.
Southampton magistrates heard how Mr Nicholls, trading as Laser Roofing London and South East Roofing Ltd, had been subcontracted by Norfolk-based Maintenance 24-7 Ltd for the paint job because the company did not have the correct equipment or expertise.
Ladders were specified as the chosen method of work, but after the finding the façade was higher than the ladder he had with him, the roofer opted to improvise.

He placed it on the roof of his van and worked from it fully-extended some eight metres above the ground with a labourer providing the footing on the van.
HSE established that the van in question was also parked over a bus stop on a busy road with double yellow lines – indicating a further lack of regard or awareness.
Magistrates heard that, for such jobs, a pavement licence should have been obtained to create a segregated safe-working area and that scaffolding or a mobile elevated work platform would have provided a safer option for accessing the façade.
Maintenance 24-7 Ltd, of King Street, King's Lynn, admitted a breach of Section 3(1) of the Health and Safety at Work etc Act 1974 and a further breach of the Work at Height Regulations 2005. The company was fined £10,000 with £784 in costs.
George Nicholls, of Hogs Pudding Lane, Newdigate, Surrey, was fined a total of £4,000 and ordered to pay £666 in costs after pleading guilty to breaching Sections 2(1) and (3(1) of the same Act.
Got a story? Email news@theconstructionindex.co.uk