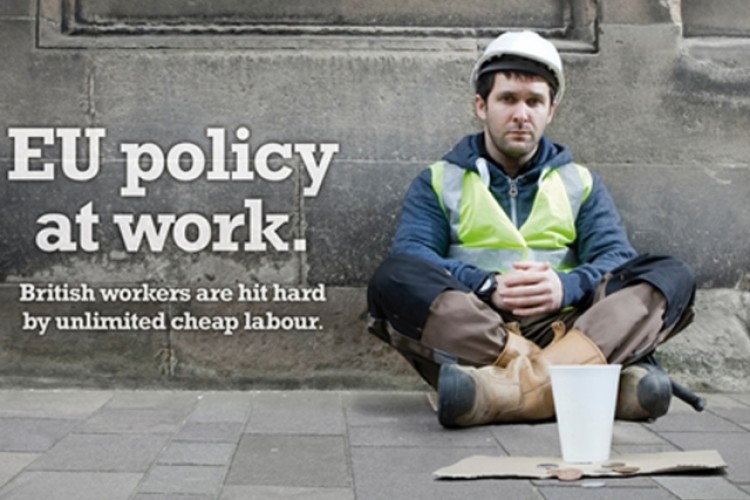 Far from keeping eastern European construction workers out, as UKIP leader Nigel Farage is advocating, it seems like we might be needing another influx.
The latest Construction Market Survey published by the Royal Institution of Chartered Surveyors says that 41% of its respondents are having difficulties sourcing skills across a range of disciplines. While all trades people are now in greater demand, bricklayers are in particular short supply due to the robust recovery of the housing sector.
Brian Boys of Rossendle-based B&E Boys Ltd says: "There are a limited number of good quality specialist sub-contractors that serve the market and contractors will find choice limited and margins under threat if this is not considered over the coming 12 months.
According to Paul Meadows of Salus Approved Inspectors in Leicester, it is not just trades that are in short supply. "There is still a huge skills shortage of experienced professionals in our industry," he says.
The UK Independence Party garnered some attention this week with a publicity poster showing a British construction worker begging on the streets – a direct result, the copy suggests, of the free movement of labour across the European Union. "British workers are hit hard by unlimited cheap labour" the poster says.

UKIP leader Nigel Farrage said it was "a hard-hitting reflection of reality". Labour MP Mike Gapes said the poster was "racist". Conservative MP Nicholas Soames called it "deeply divisive,offensive and ignorant".
The evidence suggests that UKIP's strategy might be mis-timed, as construction workers (British or otherwise) are less likely to be out of work today than at any time in the past 10 years or more, so long as they are halfway competent.
On the other hand, if there is about to be a new wave of East European migrant labour this could play directly to the prejudices to which UKIP is evidently pandering – regardless of national economic necessity.
The Q1 2014 RICS Construction Market Survey highlights a continuing improvement in activity at the national level and across all parts of the UK. The headline workloads net balance, which captures the change compared to the previous quarter, reached a series high of 43, up from 38 in Q4 last year. The private housing, commercial and industrial sectors were the drivers of this growth. The net balance of workloads in these three sectors all reached series highs in Q1 as the economic recovery and stronger consumer and business confidence of recent quarters encouraged a stronger pick-up in activity.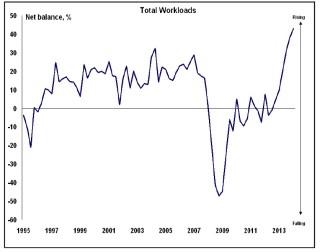 Confidence in further future growth in workloads increased again in Q1 with the RICS 12 month Workload Expectations net balance reaching a series high value of 77. On average, respondents expect workloads to expand by a further 3.8% over the coming year. Expectations for employment growth are equally positive with the RICS Employment Expectations series creeping above last quarters high to reach 56. Respondents now envisage headcounts in the industry increasing by roughly 3% over the year. With about 2.12m employed in the sector, this roughly translates into about 64,000 more jobs created over the next 12 months.
Got a story? Email news@theconstructionindex.co.uk