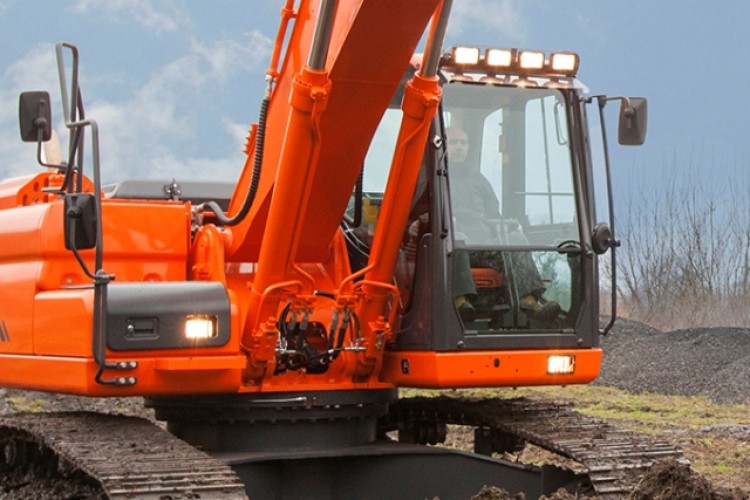 The Stage IIIB-compliant DX225LC-3 is claimed to be faster and stronger than before, with an 8% improvement in traction force
The manufacturer says: "The DX225LC-3 excavator provides an optimum balance between displacement and engine power."
It is powered by a six-cylinder, turbocharged Doosan DL06K water-cooled diesel engine with cooled exhaust gas recirculation (EGR), diesel oxidation catalyst (DOC) and diesel particulate filter (DPF) after-treatment technologies to meet the emission standard.
With a high-pressure common-rail design with direct fuel injection and electronic control, the engine has a power output of 124kW (167hp) at 1800 rpm.
Operating weight is 21.9 tonnes with the standard boom and arm and a 0.92m3 bucket.  Bucket breakout force is 15.2 tonnes (ISO), while the arm breakout force is 10.8 tonnes (ISO).  In the standard monobloc configuration, the maximum digging depth is 6.58m and maximum digging reach is 9.8m at ground level.  The latter figure rises to 10.1m in the articulated configuration and to 15.3m with super long-reach front equipment installed.
Doosan DX225LC-3 excavator

Buckets

0.39 – 1.49 m3

Operating weight

21.9 – 23.9 tonnes

Digging depth (std front)

6585mm

Digging reach (std front)

9885mm

Digging height (std front)

9560mm

Overall width

2990mm

Height (std front)

3005mm

Overall length in travel position (std front)

9490mm

Rear swing radius

2790mm

Drawbar pull

22.4 tonnes

Digging force over bucket (ISO)

15.2 tonnes

Digging force over arm (ISO)

10.8 tonnes

Lifting capacity at ground level (over front)

7.26 tonnes at 6.0m

Travel speed:

low range 3km/h; high range 5.5km/h

Engine (SAE J1995  net)

6-cylinder Doosan DL06KB;  Stage IIIB (EGR);

124 kW (167 HP) at 1800 rpm
Got a story? Email news@theconstructionindex.co.uk