The MYQ5000 system will be used for the erection of heavy petrochemical vessels and will begin work in early 2014. The system will initially be used for projects in China, but has been designed for use throughout the world.
The system has new features including self-erect/dismantle, walking with the load and central wireless control. It will feature four 1,394t-capacity strand jacks for lifting at rates of up to 23m an hour. It is designed to erect petrochemical vessels up to 5,000t and up to 160m high. Vessels can be moved longitudinally and transversely after lifting. In the longitudinal direction, the tower and vessel move together along a track. The vessels can also be rotated after lifting using a swivel incorporated into the modular lifting beam.
Two tower system has been designed with a small footprint. It can be freestanding to heights of 90m, with guys required for taller heights.
The self-erection/dismantling system uses a purpose-designed 20m/hour jacking system located at the base of each tower and able to handle 12m tower sections. All elements of the tower system have been designed for ease of transport between sites and for fast assembly and disassembly when on site. The tower system can be bolted down to concrete foundations, or supported on load spreading mats.
GPS stations located at the top of each tower for monitoring tower verticality. The GPS data is integrated into the system's computer controls.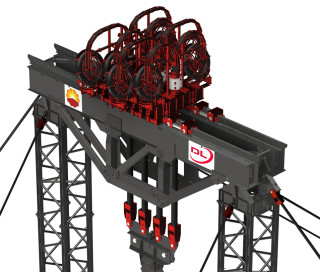 Got a story? Email news@theconstructionindex.co.uk