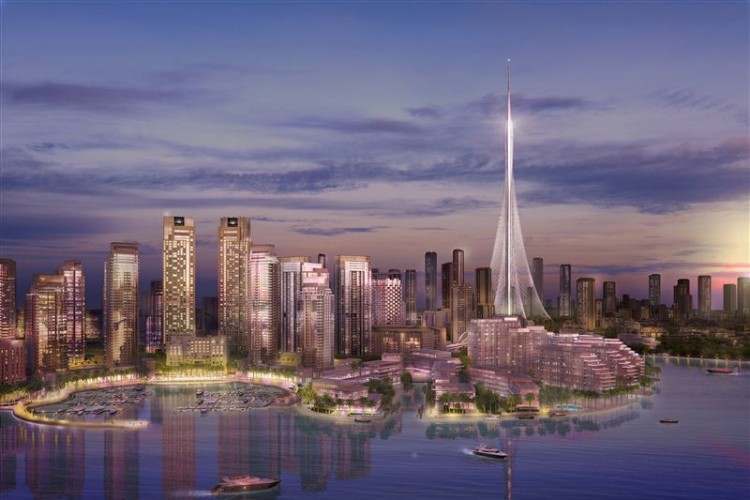 The tower will be at the heart of Dubai Creek Harbour, a planned 6km2 development that is twice the size of Downtown Dubai and located 10 minutes from the the airport.
The height has not yet been announced, save to say that it will be a 'notch' higher than the Burj Khalifa.
The design by engineer/architect Santiago Calatrava had been chosen in February from a competitive international design pitch for the new landmark. The tower will incorporate observation decks and gardens with 360° views.
Mohamed Alabbar, chairman of Emaar Properties, said: "The design by Santiago Calatrava, chosen after a competitive pitch from the world's top architects, was a perfect fit to our requirement for a landmark that defined our urban core for Dubai Creek Harbour. It integrates not just design excellence but also strong environmental and smart-tech considerations. With The Tower, we are delivering a compelling destination that will add long-term economic value to Dubai and the UAE. It will also position Dubai Creek Harbour as one of the most desired residential, leisure and touristic attractions, providing visitors and residents with a modern, luxurious and sustainable environment in which to live, work, learn and entertain."

Calatrava said: "From the beginning, my team and I have tried to put the best of ourselves into this project, since it is very special and is a great honour to participate. The collaboration with such a prestigious firm as Emaar Properties makes it even more exciting and demanding. The design has clear reference to the classic art from the past and the culture of the place while serving as a great technological achievement. In my whole career, I have perceived technology as a vehicle to beauty and to art. This project envisages an artistic achievement in itself, inspired by the idea of welcoming people, not only from Dubai and the UAE, but from the entire world. It is a symbol of an abiding belief in progress."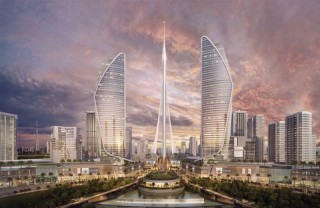 The Tower at Dubai Creek Harbour draws design inspiration from the lily and evokes the image of a minaret, which is a common feature and distinctive aspect of Islamic culture. The slender stem will be linked to the ground with cables. The design will be finalised following wind tunnel and seismic testing.  
It will have observation decks; at the top will be Pinnacle Room, opening to grand views. The VIP observation garden decks are intended to recreate the splendour of the Hanging Gardens of Babylon. There will also be fully glazed rotating balconies that rotate outside the skin of the tower.  
Got a story? Email news@theconstructionindex.co.uk