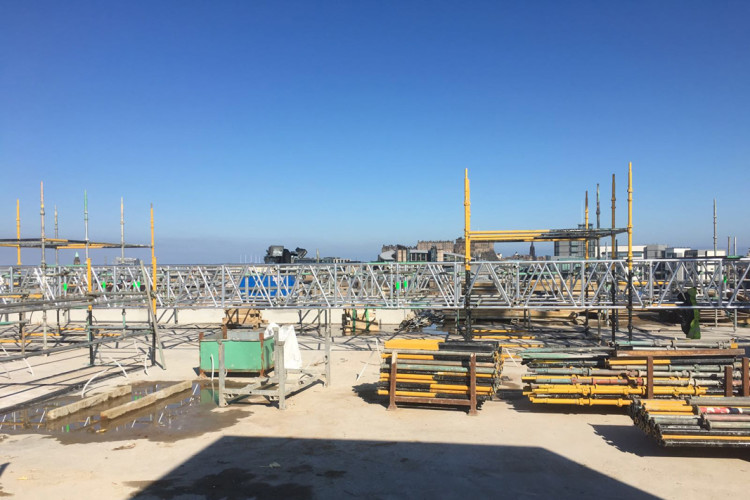 City Access Scaffolding estimates the approach saved them over £60,000 compared to using traditional methods.
A feature of the school's design is the atrium in the heart of the building. To allow construction of the roof, a birdcage scaffold design would typically be used, but at Boroughmuir some 13,000 sq m of scaffolding weighing 56 t would be required.
Instead, City Access Scaffolding used CAD components previously used for a mobile roofing system to design a rolling scaffold which was supported by the roof slab, with minimum loads imposed.
Kirsty Allan, business development director, City Access Scaffolding, said: "The rolling scaffold is supported on either side of the atrium void by a specialised track system. This load-bearing platform then moves on the tracks along the length of the void, providing access for the work on the roof. It was used to install steel fabricated roof trusses, glazing, insulation, lighting, sprinkler systems, plaster board and painting."
The access firm estimates 1,500 man hours were saved on erection of the scaffolding alone, with associated savings throughout the construction programme. Only 9 t of scaffolding were required.
This approach also removed the requirement for propping to the underside of the atrium floor, which would have been necessary due to the sheer weight of a birdcage scaffold.
Got a story? Email news@theconstructionindex.co.uk