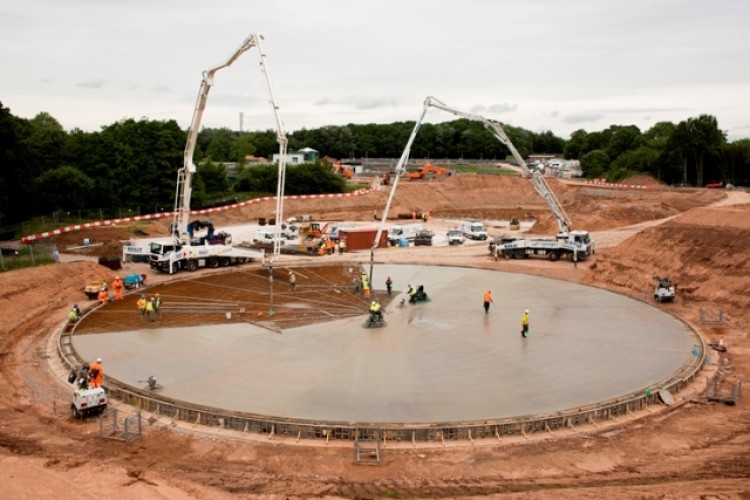 The Chorley wastewater treatment plant is being upgraded by C2V+, a joint venture of VolkerStevin and CH2M, under a £14.5m contract. They began work in October 2015 and are expected to complete construction of phase one by March 2017.
The main elements of the project are the construction of a new inlet works, final settlement tanks and the refurbishment and change of the existing surface aeration plant to a fine bubble diffuser plant.
A key milestone on the project was reached recently as a team of worked 18 consecutive hours to enable a continuous concrete pour. The task began in the early hours of the morning to lay foundations for the new 43-metre diameter settlement tanks.

The concrete was pumped by Reilly Concrete Pumping of St Helens.
Michael Ryding, senior project manager for C2V+, said: "We had a one-day window to complete the pour as quickly as possible to ensure that the concrete was achieving the desired set by using a mechanical finishing tool (powerfloat) to get the perfect finish. It is a real milestone for the project so we are really pleased it went to plan. This has enabled us to quickly move onto the next milestone, which will involve the installation of the precast concrete units that form the walls of the tanks."
C2V+ framework director Darren Hynes said: "This is a challenging project with a huge amount of work to be done to meet the regulatory date of April 2017. Most of the large structures are precast off site to minimise the amount of construction on site, improve quality as well as minimising local traffic movements. The project requires a lot of expertise and precision to ensure no impact to the existing operational works whilst the reconstruction is carried out."
Got a story? Email news@theconstructionindex.co.uk