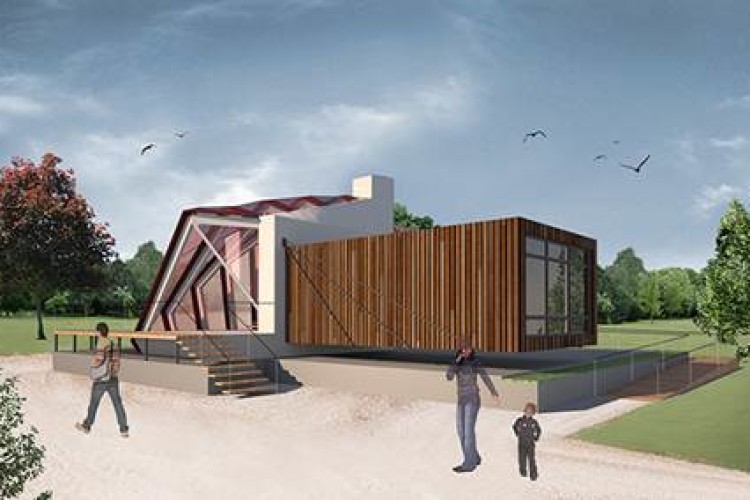 The project is part of The Solar Decathlon 2014 competition, where students from universities across the globe compete to design and build the most attractive, liveable, affordable and energy-efficient solar-powered home of the future. La Cite du Soleil has been constructed on parkland at the Chateau de Versailles, France and opens to the public tomorrow.
The Solar Decathlon was started in 2002 by the US Department of Energy to encourage architectural innovation and to share research into renewable and solar energy and sustainable building design.
The houses the teams build must have a 70m2 footprint, and be self-sustaining in terms of energy production.  They have had 11 days to assemble their prototype buildings, with work finishing today. The site opens to the public tomorrow (28 June) and closes on 14 July when the winners will be announced. The entire sustainable city will then be dismantled and the site restored to parkland.
Rockwool Insulation is working with several teams taking part in the competition. It is providing high-performing stonewool insulation to five of the teams, and is also sponsoring and providing full technical support to two of them - Liv-Lib, designed by the Université Paris-Est, and Maison Reciprocity, designed by a joint US/French team from Appalachian State University and Université d'Angers.
Above: the entry from the US/French team

Solarlux has been working with students at the Delft University of Technology (TU Delft) in the Netherlands by sponsoring their entry in the Solar Decathlon Europe 2014. The students want to use a 'second skin' made of glass to bring the energy rating of typical Dutch terraced houses right up to standard without the residents having to move out during the works. The students hope their entry will demonstrate that old houses can not only be energy efficient, but even energy neutral. The TU Delft students based their prototype on a clinker brick-faced 1960s house belonging to the grandfather of one of the students. They have built a glasshouse onto the south side of the prototype, which acts as a thermal buffer.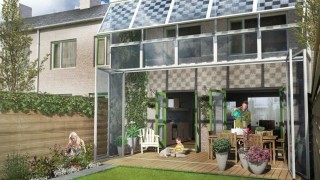 Above: the entry from TU Delft
The project was sponsored by Solarlux, whose five-panel folding glass door is featured.  
Ensuring the structures are highly energy efficient is key, but the winner will also be selected based on the design and liveability of the final house. "Standards of energy efficiency for houses differ wildly across the world and energy efficiency is still, too often, an afterthought in the design process," said  Sebas Veldhuisen, Rockwool's manager technical marketing. "The Solar Decathlon shows that this need not be the case."
To coincide with the Solar Decathlon, Rockwool is running a conference on 'resilient buildings' on 8 July with construction industry leaders invited to debate new ways in which homes can be made to perform better in long term energy efficiency and also to allow them to withstand impacts from flooding, storm and fire.
Got a story? Email news@theconstructionindex.co.uk