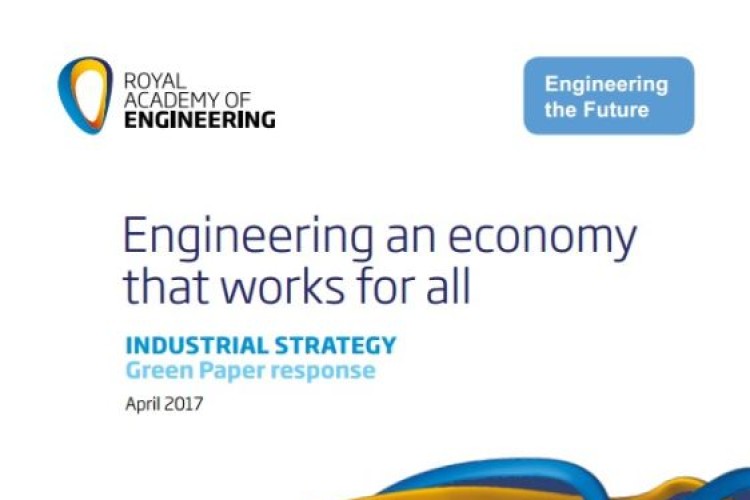 Local and combined authorities and sub-national transport bodies should have access to more flexible options according to the report, which forms the industry's collective response to the Government's green paper on industrial strategy.
The report recommends that new financing streams will be required to deliver growth through infrastructure including municipal and green bonds, 'earn back' and non-profit distributing programmes. This will help give a clear, long-term outlook to potential investors and reduce the industry's cyclical fluctuations, says the Chartered Institution of Highways & Transportation, one of the professional bodies involved in the report.
The report, which has been led by the Royal Academy of Engineering, distills evidence and opinion gathered through a series of 10 workshops across the UK and a survey of the profession that received nearly 1,300 responses.
Engineering an economy that works for all calls on government to ensure that its proposals for industrial strategy will avoid short-termism and siloed policy making. It argues that the strategy must enable UK industry, academia, government and investors to break out of their silos and work together as a system to achieve sustainable growth. This approach is critical, it says, if the UK is to maximize the opportunities and mitigate the risks presented by the UK's departure from the EU.
The report points out that funding for infrastructure at a local and regional level is expected to remain constrained in the near to medium term. Furthermore respondents to a survey conducted for the report by the Royal Academy of Engineering identify inadequate road and rail infrastructure as the biggest constraints to economic growth.


The report also calls for regional infrastructure strategies to be developed across the country and says it is vital that the long-term approach in the National Infrastructure Delivery Plan is continued after the UK leaves the EU.
The report also focuses on measures to support innovation and proposes development of a UK-wide network of 'national innovation assets' to provide real world test beds for new technologies and developing specialist skills. This, it says, could help to extend the geographical reach of innovation activities beyond the current centres of excellence.
It also asks that the government broadens the strategy to address a wider range of interventions to develop skills, highlighting in particular the need for digital skills to support future industries and for urgent action to be taken in primary and secondary schools to address the shortage of teachers in STEM subjects.  A much greater, targeted focus is needed on promoting STEM subjects and engineering careers to under-represented groups to fully unlock the talent potential in the UK, it says.
The report is available from the Royal Academy of Engineering (link opens in new tab).
Got a story? Email news@theconstructionindex.co.uk