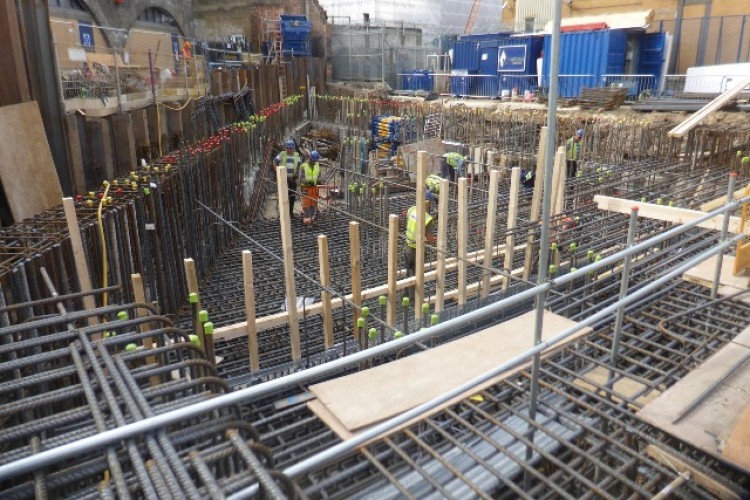 Structural engineer Walsh Associates designed the raft to support a 33-storey student accommodation building that is going up at 5 Miles Street in London.
Urbanest Student Accommodation's £42m project is being constructed with a slip formed core on a small site with a challenging construction programme. The combination of the restricted 1000m2 triangular site next to a Network Rail viaduct and several existing buildings, plus a deadline to start work, meant that a pile load test to reduce the design factor of safety was not possible. Without such a test, contractor Balfour Beatty could only achieve the loads by using 1200mm piles, but the necessary piling rig would have been too big for the site.
Working with geotechnical consultant CGL, Walsh designed a lean concrete frame to reduce the foundation loads, supporting it with a piled raft, using high and deep level ground support capacities to limit deflections.
"Work on 5 Miles Street has certainly been challenging with the tight construction programme, small site and sensitive settlement requirements," said Walsh director Andy Stanford. "We have, however, undertaken a number of similar projects with Urbanest and Balfour Beatty who are always very supportive of us pushing the boundaries and using innovative solutions and technologies like the piled raft we adopted for this scheme."

Elsewhere, as well as designing the core to be slip formed, the drainage was placed on top to shorten the design time required, allowing the construction of the foundation before the drainage scheme was fixed, while water attenuation pipes were used instead of the typical attenuation tanks.
Construction on 5 Miles Street started in July 2016 and is due to finish at the end of 2017.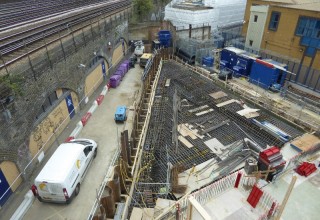 Got a story? Email news@theconstructionindex.co.uk