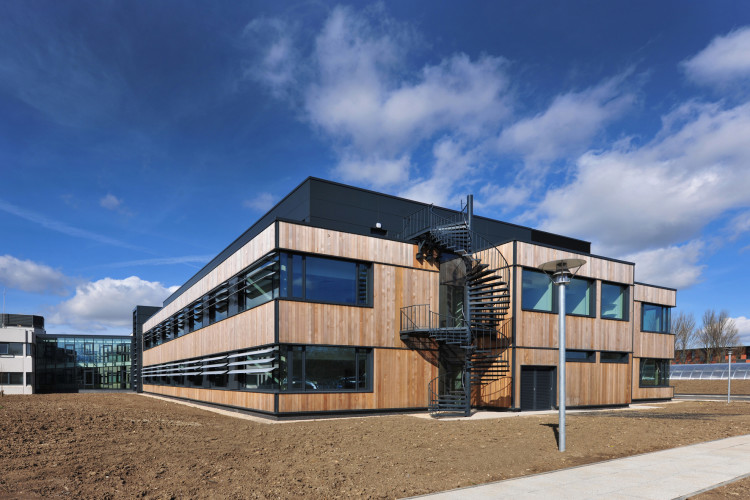 The Centre for Ecology & Hydrology (CEH) is the UK's centre of excellence for land and freshwater science. The research carried out at the headquarters in Wallingford forms part of the CEH-wide Science Programme, covering areas such as Biodiversity, Water and Biogeochemistry. As part of a £50 million restructuring programme, Eurofox Engineering's 'intelligent' cladding support system has been specified to provide an efficient and proven method of fixing the rainscreen cladding to a major new laboratory facility. 
Designed by architects RH Partnership, the new building is an extension of the northern side of CEH's Wallingford site and will provide 3,000 square metres of laboratories. Featuring a complex layout, the new building has been carefully designed by RH Partnership architects in conjunction with CEH scientists. 
The new laboratory building aims to be sustainable and comply with the highest environmental standards and has received an excellent BRE (Building Research Establishment) rating for its design and construction elements. To aid with this, RH Partnership specified Western Red Cedar cladding. 
A renewable material,Western Red Cedar is naturally resistant to decay and insect attack and offers superior acoustic qualities too, helping to reduce noise or confine it to specific areas. It is also an excellent material for thermal insulation - in summer keeping the building cool and in winter preventing the heat from escaping. To hold the cladding firmly in place and create a robust building envelope, Eurofox Engineering's MacFox cladding support system was also specified. 
Eurofox Engineering's MacFox system is a versatile, robust and proven method of fixing a variety of cladding materials. To provide easy fixing of the timber cladding, ECL Contracts chose the company's MacUni carriers which enable the easy application of timber battens on to which the cladding can be fixed. These were simply fixed onto the MacFox brackets which are fitted to the building substrate and the timber battening is then fixed to the MacUni bracket. The brackets were supplied in two different sizes - 90mm, with a minimum standoff of 90mm and a maximum of 130mm, and 120mm with a minimum standoff of 120 mm to a maximum of 160mm - to suit the design of the cladding. 
Designed for applications where medium to large cladding zones are required, the MacUni system is designed to allowfor dead load and dynamic wind load. As part of a complete cladding support solution, Eurofox Engineering also supplied its assembly fixings and thermal isolators. The isolators are designed to insulate the MacFox systems from the building. The thermal pads eradicate thermal transfer between the external cladding and the substrate at all points of contact.  Fully weather resistant and recyclable, the pads add an extra layer of protection to the Eurofox Engineering system. 

ECL Contracts Manager, Trevor Watson, commented:  "Eurofox  Engineering provide us with an excellent service throughout the project and we found them to be extremely reliable. The MacFox and MacUni systems were straightforward to install and we are very pleased with the finished result." 
BBA (British Board of Agrément) approved, the MacFox and MacUni system are part of a complete range of cladding support systems, designed and manufactured by Eurofox Engineering.Their systems are designed to suit most applications including vertical fix, horizontal fix and secret fix. 
As part of a complete technical support package, Eurofox Engineering provides specifiers with a range of tools and services. This includes the provision of drawings showing optimum set out of bracket components, rails and grids, the ability to calculate structural requirements of the back framing system and accurate details of cladding materials requirements. 
The company's systems are designed with both specifer and contractor in mind. Offering ease of application for the installer and technical excellence for the specifier, they comprise a series of standard 'off the shelf' components ensuring an uncomplicated method of supply. In addition, they are highly flexible allowing for fast and effective initial line and level adjustment prior to final fixing. This ensures a perfectly level façade, accurately controlled cladding zones and adequate allowance for dead and dynamic loading. 
The new laboratory will complement the recently completed 'GroDome' (plant growth facility). The development at Wallingford follows work already carried out at CEH's sites at Bangor, Edinburgh and Lancaster where extra office, laboratory and archive space has been provided. The programme will help CEH achieve the organisation's vision of being the world leading centre for integrated science in terrestrial and freshwater ecosystems.
Got a story? Email news@theconstructionindex.co.uk