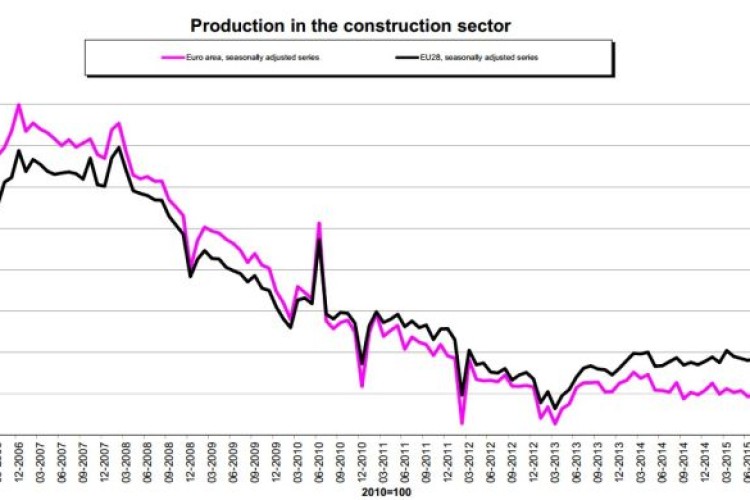 The highest increases were recorded in Slovakia (+26.0%), the Netherlands (+10.2%), Hungary (+8.1%) and Sweden (+7.4%), and the largest decreases in Slovenia (-12.5%), the United Kingdom (-4.1%) and Portugal (-3.2%). The overall increase of 0.6% across the 28 countries of the EU (EU28) came from civil engineering rising by 3.1% and building construction by 0.2%, according to first estimates from Eurostat, the statistical office of the European Union.
The UK had also experieced a fall last month when output rose in the EU as a whole (link opens in new tab).
The Eurozone saw a 1.8% increase in production when comparing September 2015 to September 2014. This was due to civil engineering rising by 2.4% and building construction by 1.6%.
However, comparison of September's figures with August 2015 shows a 0.4% fall in the eurozone with output remaining stable across Europe as a whole. In August 2015, production in construction had grown by 0.5% in the 19 countries of the Eurozone and fallen by the same amount across the EU28.
The decrease of 0.4% in production in construction in the eurozone in September compared with August is due to building construction falling by 0.6%, while civil engineering rose by 0.3%.
In the EU28, production in construction remained stable as building construction dropped by 0.1%, while civil engineering rose by 0.1%.
Among member states with available data, the largest decreases in production in construction were
recorded in Slovenia (-5.2%), Portugal (-2.2%) and Sweden (-1.9%), while the highest increases were in Hungary and Slovakia (both +8.4%) and the Netherlands (+2.1%).
Got a story? Email news@theconstructionindex.co.uk