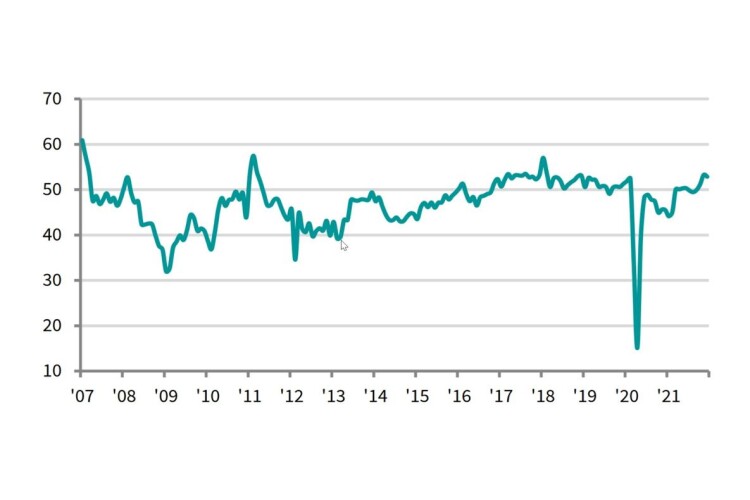 In particular, Italian companies saw a marked upturn. Growth in France softened while work in Germany continued to decrease.
New orders placed with eurozone construction companies expanded at the fastest pace since February 2019. Anecdotal evidence pointed to new projects coming to tender amid sustained government incentives for the sector.
The IHS Markit Eurozone Construction Purchasing Managers' Index (PMI) is compiled by IHS Markit from responses to questionnaires sent to purchasing managers in a panel of around 650 construction firms in the eurozone. The headline figure is the Total Activity Index, which tracks changes in the total volume of construction activity compared with one month previously.
The headline index dipped slightly from 53.3 in November to 52.9 in December, signalling a softer rise in activity. That said, the rate of expansion remained solid overall and extended the current period of growth to three months. Companies commonly linked the increase to stronger new order growth and the resumption of projects on hold due to the pandemic. Underlying data indicated sustained expansions in both house-building and commercial activity, while civil engineering work fell at the softest pace in its current 29-month sequence of reduction.
December survey data pointed to a sustained expansion in home-building activity across the eurozone, stretching the current period of growth to ten months. The rate of increase softened from the previous survey period, though remained solid overall.
Eurozone commercial building activity rose for the third successive month during December, with the rate of growth broadly unchanged from November.
The rise in eurozone construction activity was led by a further marked upturn among Italian companies. French firms recorded a softer rate of growth, while Germany noted a sustained decrease. That said, the rate of decline eased to the softest in the current 22-month sequence of downturn.

Latest data pointed to a further rise in staffing levels at eurozone constructors. The rate of job creation eased to a four-month low and was modest overall.
Eurozone construction firms expressed optimism regarding the 12-month outlook for activity for the twelfh time in a row in December. However, the level of positive sentiment fell to an eight-month low.
Purchasing activity at eurozone constructors rose for the tenth time in as many months during December. The pace of increase was solid and the fastest for seven months.
Vendor performance across the eurozone worsened markedly in December. Average lead times lengthened in all three of the bloc's largest members, with French firms pointing to the most severe deterioration. Firms overwhelmingly attributed longer lead times to raw material shortages.
Latest data showed a sustained and substantial rise in input costs faced by eurozone construction firms. The rate of inflation softened for the second successive month, though remained among the steepest seen since the start of the survey. A majority of panellists cited higher raw material prices due to widespread shortages among suppliers.
Usamah Bhatti, economist at IHS Markit, said: "The upturn in the eurozone construction sector extended into its third month at the end of 2021, as businesses reported a solid, albeit softer rise in activity. Positively, growth in new business quickened to the steepest in nearly three years, as new projects came to tender amid sustained government support for the sector. That said, firms continued to report widespread shortages of raw materials across the bloc and beyond, which placed continued strain on supply chains and cost burdens. That said, the rate of input price inflation was the softest for three months, a potential sign that price pressures had peaked. Increased headwinds, notably from local and global supply chains dampened confidence. The degree of optimism eased to the softest since April. At the national level, Italian forms indicated a further solid rise in activity, yet French firms saw the rate of growth slow. German firms noted the sofest fall in activity in the current 22-month sequence, however."
Got a story? Email news@theconstructionindex.co.uk