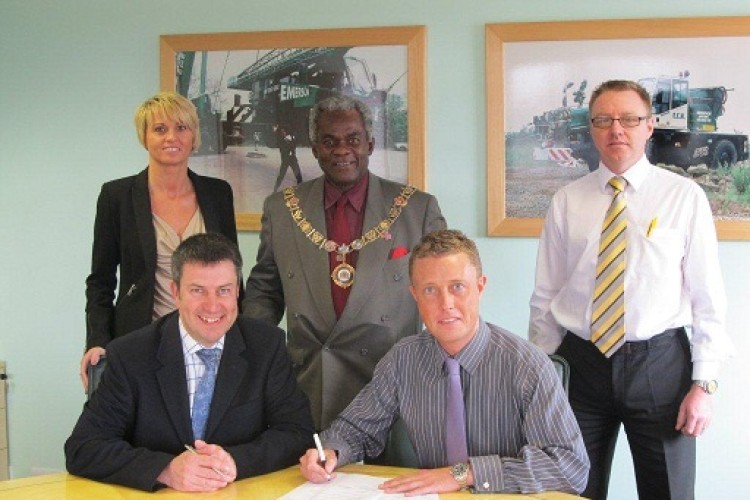 Emerson Crane Hire, in Freshwater Road, Dagenham have purchased a 90 tonne crane and a 200 tonne crane which will be presented to them by Germany Company Liebherr in June. The family-run business has also bought half an acre of land opposite their current premises for £500,000 to store equipment and to use as a crane yard.
The new deals are part of a plan to massively expand the business and in the next six months the company will be on the hunt for crane operators, lorry drivers and supervisors.
Operations Director at Emersons, Liam Clancy, said: "We are a national business, looking for local skilled individuals to fill the various vacancies on offer.
"We welcome people from all levels of the trade, and will provide training for anyone if necessary.
"This is a major investment for the company and will provide a big boost for the local economy."
The business expansion will hopefully mean more job opportunities for unemployed youngsters in the borough, which has one of the highest unemployment rates in London.
Employees will be put through a training programme designed to equip them with further skills in the trade. The less experienced will also learn how to operate machinery and be taught management skills.

On Friday, March 30, Liebherr managing director Richard Everist and Steven Elliott, its UK sales manager, visited the site.
They were joined by Emerson staff and Milton Mckenzie, Barking and Dagenham's mayor.
The independent company was formed by Edward Clancy in 1991, with family members working as directors and secretaries in the firm.
The business has been at the Dagenham site for eight years, and offers other services to contractors and public companies, such as equipment repairs, specialist transport, manufacturing and testing, and storage and installation.
Mr Clancy believes Emerson's success is due to the "high quality" service that they offer.
He added: "A strong team equals strong growth, and this is why we are outgrowing our premises."
Got a story? Email news@theconstructionindex.co.uk