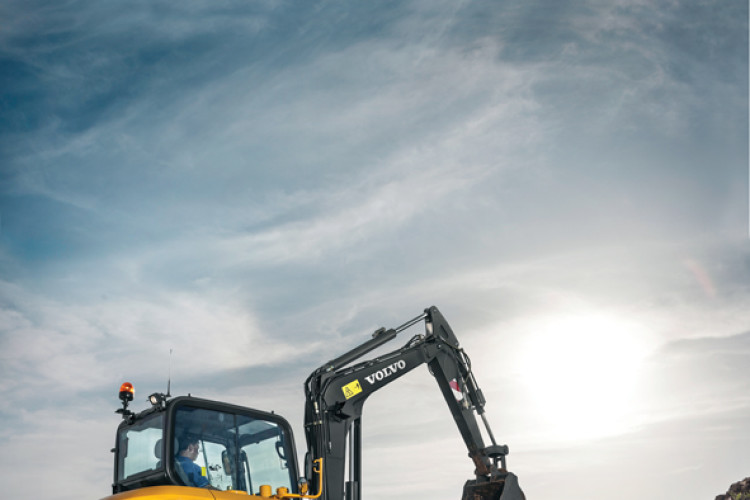 You can't ignore Bauma; it's the biggest construction equipment show on earth.
At the last Bauma, in 2013, more than 3,420 exhibitors from 57 countries occupied almost 600,000m2 of exhibition space, according to the organiser. And they were visited by over 535,000 visitors from more than 200 countries – which is astonishing because according to worldatlas.com there are, at the very most, just 196 independent countries on the planet.
Whatever the exact figures, there's no denying that even the most obsessive crane-spotter, truck fiend or excavator nerd will probably find more on show at Bauma next month than they could hope to absorb in a whole year.
There's also no denying that visitors will flock to the exhibition from all over the world. Tickets to the show aren't expensive – one day costs €22 (£17.27) in advance or €32 (£25.12) on the day. A pass for the full seven days is just €59 (£46.31) or €79 (£62.01) on the gate.
But finding affordable accommodation – or even any accommodation – within commuting distance of the showground is another matter. Most visitors organise their travel and accommodation months in advance, so to any reader who's hoping to go but hasn't booked a room yet…well, good luck with that.
You can expect to see all the big names in construction plant there, plus many you might never have heard of before. Over the following six pages, we offer a taste of the new product developments that will greet visitors to Munich next month.
CEA
The UK's Construction Equipment Association is flying the flag at Bauma, supported by UK Trade & Investment.
The CEA presence gives smaller UK companies a chance to make their mark at the show, and several innovations are on display. Among the companies taking part is Amber Valley Developments, a manufacturer of auto electrical safety equipment. The company is showing its latest Alarmalight product, an audible warning system that reminds users to "apply handbrake", use "diesel fuel only" and so on.
Also appearing on the stand is Ashtree Vision & Safety with a range of mirrors and mirror arms for industrial vehicles.
Orsheln Products produces commercial vehicle control systems, while Rayco-Wylie is a well-known manufacturer of safe load indicators and other safety sensors.
Another manufacturer of safety equipment is LAP, which makes automotive warning lights and reversing systems.  Another exhibitor is Industrial Clutch Parts which supplies power take-off (PTO) clutches for engines up to 2,000hp.
MANITOWOC
Manitowoc Cranes promises to unveil several notable innovations at this year's Bauma.
These include a new Grove rough-terrain crane – the first from what will be a whole new range – plus two new Grove all-terrain cranes. In addition, there will be a crane from the completely new range of MDT CCS tower cranes.
The Grove rough-terrain crane is the GRT8100, one of the first new Grove designs since the US company set up its Product Verification Center (PVC) at its factory in Shady Grove, Pennsylvania.
The PVC allows Manitowoc to carry out an "unprecedented" level of testing on components, which it says translates into the development of more productive and more reliable cranes. At present, Manitowoc is the only crane manufacturing company operating a facility like the PVC.
From Grove's all-terrain crane range, built at its plant in Wilhelmshaven, Germany, there will be four units on display including three new machines making their first appearance at a trade show.
Details of one of the new machines are being kept tightly under wraps until the show but the two other models, the GMK5250L and GMK4100L-1, have been announced with the promise of numerous innovations, including a new single-engine design that delivers "class-leading" capacities.
Grove's GMK6400 crane (pictured) will also be shown.
Potain cranes also feature prominently on the Manitowoc stand, with both self-erecting cranes (including the popular Igo M 14, launched at Bauma 2013) and top-slewing units on show.
From the top-slewing line the company will show its MR 418 luffing jib crane alongside the MDT 389 and MDT 219. The MR 418 was first shown at Conexpo 2014 and its appearance at Bauma heralds its European debut.
Both the MR 418 and MDT 389 are notable for their capacity and size, which allow contractors to make significant cost and time savings on projects, says Manitowoc.
With a maximum capacity of 24 tonnes, the MR 418 is one of the largest luffing jib cranes from Potain. The MDT 389, with a 16 tonne maximum capacity, is the largest crane in the new CCS topless range. The MDT 219 is the largest model in the new MDT CCS City Crane range and is available in eight or 10 tonne capacity versions.
In addition to its crane products, Manitowoc is also promoting its range of support services, including its customer support division, Manitowoc Crane Care, and Manitowoc Finance, its finance arm.
Lift Solutions, Manitowoc's in-house engineering service for special bespoke requests, and its refurbishment and remanufacturing arm EnCORE, are also represented.
Germany's leading heavy equipment company promises new and improved models in every one of its construction equipment product ranges at Bauma 2016.
Among the new mobile cranes on show are the 250 tonne capacity five-axle LTM 1250-5.1 all-terrain and the new 500 tonne capacity LR 1500 crawler. Liebherr also hints at a brand-new eight-axle mobile crane with a very long telescopic boom making its global debut at this year's show.
Another new crane is the 100 tonne capacity LR 1100 crawler crane which will be available worldwide from summer 2016. Features of this machine are said to include easy transport and assembly.
Liebherr has developed a new range of small self-erecting tower cranes, designated L1, which are seen for the first time here at Bauma 2016. These are described as functional cranes designed for optimum efficiency. They are compact and offer high performance with safety and ease of use, says Liebherr.
One particularly interesting new development, achieved in partnership with Austrian rope manufacturer Teufelberger, is a new type of high-strength synthetic fibre rope for lifting operations.
Liebherr says the new fibre rope is both significantly lighter than steel rope and more durable. This reduction in weight means load capacities can be increased while the overall weight remains unchanged.
Moving on to earthmoving machines, Liebherr is launching a whole new range of large wheel loaders under the "XPower" brand. The company describes the XPower range as "an integral and innovative machine concept which sets new standards in terms of fuel efficiency, performance, robustness and comfort".
It even says that an XPower wheel loader can save up to 30% on fuel.
Certain to make a big impact at Bauma 2016 is Liebherr's new PR 776 Litronic crawler dozer, which is designed for tough mining and quarry operations. This is the company's first-ever dozer in the 70 tonne category and is believed to be the largest hydrostatically-driven bulldozer in the world.
Among the other mine-and-quarry machines from Liebherr is a new 200 tonne excavator, the R 9200. This machine's 12.5m3 bucket is the biggest in its class, says Liebherr, adding that it "offers sustainable performance while delivering peak fuel burn efficiency, even in the most challenging conditions".
This machine is designed to complement mining trucks with payloads of up to 140 tonnes.
Liebherr's range of piling and foundation equipment also gets a boost with the launch of the new LRB 355 piling rig and HS 8130 HD duty-cycle crawler crane. These new machines are joined on the stand by the firm's popular LB 36 rotary drilling rig with Kelly equipment.
Liebherr is also showing new developments in its range of concrete mixers and pumps as well as mechanical, hydraulic and electric components.
TEREX
Global plant manufacturer Terex is out in force at Bauma, with machines from each of its product lines presented.
Six new mini excavators are on display from Terex Compact Germany. Ranging in size from 1.4 to 3.7 tonnes, the new range features a revised exterior design, better ergonomics in the cab and updated controls.
Terex says that in tests these new machines offer up to 20% more productivity compared with most machines from the competition. All six models are equipped with load-independent flow distribution hydraulics which according to Terex is rare in such small machines.
Other compact machines are on display from Terex Compact UK. These include a new 9-tonne site dumper, the TA9SP, alongside the TLB830, a new addition to the backhoe loader range.
The TLB830 has been specifically designed with the rental market in mind, says Terex. It is powered by a 56kW Tier 4 Final Deutz 3.6 engine for the European market (Tier 3 Perkins is available for South America and rest of the world) and features synchro transmission, air-conditioned cab and servo controls as standard.
The Terex crane division is launching a "Boom Booster" kit for its Superlift 3800 crawler crane with the promise of up 30% increase in lifting capacity. The company says the system offers the longest reach in its capacity class and is an ideal tool for wind-farm installation work.
Genie, best known for its powered access equipment, is launching a new telehandler, the GTH-3007, at Bauma. With a maximum lift capacity of 3,000kg and a maximum lift height of 7m, the machine claims to be the lightest (less than six tonnes) machine in its class.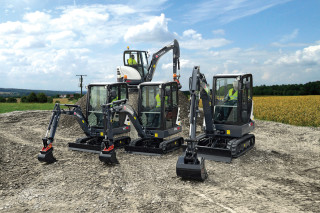 VOLVO CONSTRUCTION EQUIPMENT
Visitors to this year's Bauma exhibition will see Volvo Construction Equipment unveil several new products, including some of the largest machines the company has ever made.
The star of the Volvo display is undoubtedly its new 60 tonne articulated dump-truck (ADT), the A60H. Volvo has revealed little about this new machine, beyond its impressive payload, prior to the show. In fact it has issued at least one press statement to insist that its presence at Bauma is "a closely-guarded secret".
However, the company assures readers that alongside the A60H will be a host of new excavators, wheeled loaders, pavers, haulers and compactors – in fact, 16 brand new products in total. The company also says that it is launching "an entirely new approach" to customer services at the show, too.
Continuing its top secret pre-Bauma briefing to the international trade press, Volvo announces that visitors will be able to get up close to several existing machines such as the EW60E wheeled excavator, the EWR150E short radius wheeled excavator and EC35D, ECR35D and ECR40D compact excavators.
Wheeled loaders are represented by the new L50H and road machinery by a number of single drum (SD75B, SD115B and SD135B) and double drum (DD25B) rollers. And a new D-Series paver.

When it comes to innovative customer services, look no further than the 8,700m2 of Volvo exhibition space advises Volvo. Under the banner of 'Volvo Services' the company will demonstrate its customer solutions aimed at machine monitoring, machine control, efficient fuel usage and repair & maintenance support.
Crediting itself with the popularisation of the articulated-dumper concept, Volvo is taking a look back over its 50-year history of ADT production with one of its first-ever machines, the DR631 from 1966 (nicknamed 'Gravel Charlie') appearing alongside the new A60H.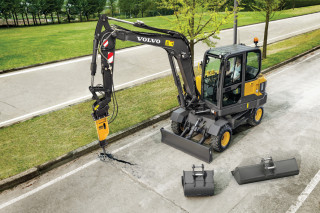 WOLFFKRAN
Last year, German manufacturer Wolffkran acquired the business of its biggest UK customer, HTC Plant – the crane hire arm of contractor PC Harrington. HTC now operates as HTC Wolffkran and runs a fleet of more than 200 machines.
Here at Bauma, Wolffkran is launching its largest-ever top-slewing saddle-jib crane and introducing a new luffing-jib model.
The Wolff 7534 Clear is the company's most powerful flat-top crane to date and rounds off its product line in the 315 tonne-metre range.
The company says it is easy to assemble, space-saving and economical. It is designed especially for inner-city construction sites that require space- saving solutions and quick assembly says the company.
The Wolff 7534 is available in two versions. The 7534.8 is a double-reeved crane with maximum capacity of 8.5 tonnes while the 7534.16 is reeved with either two or four falls of rope to give a maximum capacity of 16.5 tonnes.
Also new is the 275B luffing-jib crane for high-rise structures. This machine "includes all the technology and know-how we have gained over three decades developing luffing cranes," says product manager Gerd Tiedtke.
The 275B's maximum load capacity at minimum radius is 24 tonnes in two-fall configuration and it is equipped with a high-power winch to give a maximum hoist speed of 222m/min for maximum productivity.
This crane is the successor to the successful 224B and is Wolff's most advanced luffer to date. "Ever since we developed our first luffing crane in the 1980s our luffers have set standards in the industry," says chief executive Peter Schiefer.
Highlights of JCB's Bauma offering include the latest incarnation of its core product, the 3CX backhoe loader, and four new wheeled loaders fitted with the new CommandPlus cab.
The 3CX Compact – launched in the UK last year - is designed for confined job sites. JCB says it is the perfect machine for road resurfacing and repair contractors, utilities, groundworkers and municipalities working in the confines of congested urban construction projects.
Key features include compact dimensions - just 1.9m wide and 2.74m high - 40km/hour hydrostatic transmission to give 17% faster travel speed than the comparable 2CX machine, and four-wheel steer for maximum manoeuvrability. The 3CX Compact has a turning circle of 5.8m.
The 3CX Compact is powered by a low- emission 74hp (55kW) Tier 4 Final/Stage IIIB Kohler-built diesel engine. This engine meets both US and European emissions standards without the need for a diesel particulate filter (DPF) or any exhaust after-treatment or exhaust fluid, says JCB.
The four new wheeled loaders on display are the 411 and 417 models, both powered by JCB's own EcoMax Tier 4 Final/Stage IV diesel engines, and the larger 427 and 437 machines, which have 133kW (179hp) Tier 4 Final/Stage IV Cummins engines.
Again, these machines require no DPF to meet the emissions standards.
All four of the new loaders feature JCB's new CommandPlus operators' cab for optimum comfort and visibility. The CommandPlus cab was first seen last year with the launch of the larger 457 loading shovel. Also new is a one-piece bonnet for better service access.
New to the German market – although already selling well in the UK and France – is JCB's latest range of site dumpers. These machines, ranging in size from one to 10 tonnes, are essentially badged Terex machines, built by Terex at its Coventry factory under a supply deal that involves Terex buying JCB EcoMax diesel engines.
The JCB site dumper line-up is based around four popular weight classes. Compact one tonne and two tonne machines have been designed primarily for house-building and landscaping contractors, while 3-3.5 tonne models will suit general construction and rental businesses. The heavier 6 tonne and 9-10 tonne dumpers are designed for larger earthmoving projects.
High-tip, forward tip and swivel skip models are offered and engine outputs range from 20-120hp (15.5kW-90kW). Both synchro-shuttle and hydrostatic transmissions are available for ease of use and maximum travel speeds.
CASE
Case Construction Equipment says it is showing its "full line" of construction equipment at Bauma this year, as well as a number of Iveco vehicles for construction users.
The centrepiece of the Case stand is a display of the new D Series crawler excavator range and the new 580ST backhoe loader, all of which are being officially launched at the show.
The five new D Series excavators are the CX130D, CX160D and CX180D medium-sized machines (13, 16 and 18 tonnes respectively) and the heavy CX490D and CX500D machines in the 50 tonne class.
The new D Series offers improved productivity through fast cycle-times and engine efficiency, says Case. They all feature Tier 4 Final/Stage IV engines requiring no particulate filters.
The 580ST backhoe loader (pictured) features a new in-line cylinder geometry with inner "Extendahoe" attachment. This complements the existing DNA boom which has overlapping cylinders and an outer Extendahoe, says Case.
The Case exhibit even extends outside of the showground to a gravel pit at nearby Aschheim. Here, Case is demonstrating its D Series excavators, wheeled loaders and dozers, alongside an Iveco heavy duty truck. Shuttle buses will leave the Bauma site twice a day to take visitors to the external site.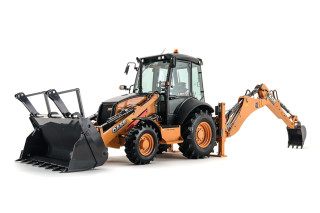 LINDEN COMANSA
Tower crane manufacturer Linden Comansa is exhibiting together with its German distributor, BKL Baukran.
The two companies started working together only five years ago, when BKL bought its first Linden Comansa cranes, but the partnership has since gone from strength to strength.
Recently BKL enlarged its crane fleet with two 11 LC 90 and two 16 LC 260 machines; the fleet now comprises more than 350 cranes ranging in capacity from 90 tonne-metres to 750 tonne-metres.
BKL – which is based in Munich - now claims to be one of Europe's largest crane hire, sales and service companies. It also operates a fleet of about 50 mobile cranes.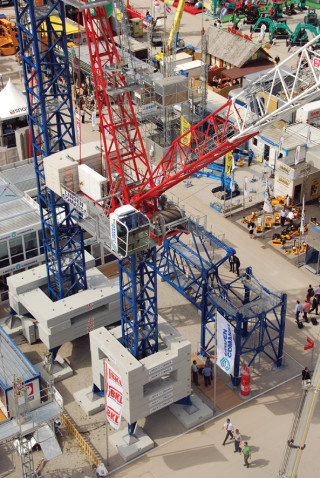 DOOSAN
The entire Doosan construction equipment range – including Doosan Heavy, Bobcat and Doosan Portable Power – is represented at Bauma this year.
Among the new products on display from Doosan Heavy is the five-tonne DX57W-5 wheeled excavator. This machine is powered by a 42.5kW (52.3Hp) Doosan D24 four-cylinder engine that is Stage IIIB-compliant and doesn't require a diesel particulate filter. Doosan says that factory tests on this machine have shown up to 15% increase in fuel efficiency compared with comparable machines.
Also on display are two new 14-tonne and 15-tonne crawler excavators, the DX140LC-5 and the DX140LCR-5, which are both powered by Stage IV-compliant Perkins engines. The company says these machine demonstrate "greatly improved" performance compared with the previous dash-3 models.
Alongside these diggers is a range of three new medium-sized wheeled excavators (DX140W-5, DX165W-5 and DX190W-5) and two new wheeled loaders. These are the DL200-5 and the DL250-5.
A "comprehensive" range of Bobcat machines is also appearing at Bauma. These include compact loaders, mini excavators, telehandlers and attachments.
Bobcat is also introducing a new standard three-year warranty for the complete range of Bobcat rigid telehandlers made at the company's Pontchateau factory in France.
Doosan Portable Power is launching a brace of new generators. The G400-IIIA (400 kVA) and G500-IIIA (500 kVA) both meet EU Stage IIIA engine emission regulations.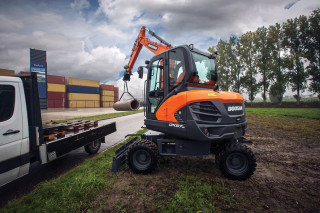 Cat is joining up with its German distributor, Zeppelin Baumaschinen, to present a range of products with a focus on safety, productivity and equipment management.
Dozens of machines are on display, covering a multitude of applications in the construction, mining, industrial, waste and forestry sectors.
Among the highlights are the 336FLNXE and 352FLXE excavators featuring Cat's latest 'intelligent' hydraulic system, designed to deliver big fuel-efficiency gains. They also feature the "Grade" and "Payload" management technologies to improve efficiency and reduce costs.
Also new is the 323F excavator, offered with Cat "Grade with Assist" as standard to save time, cut costs and conserve fuel. The new Assist feature automates boom and bucket movements, reducing the amount of input required from the operator and, says Cat, improving the speed and quality of the work.
Caterpillar's dozer range is represented by a D6N model with integrated "Grade with Slope Assist", the latest Cat Connect system for dozers, which semi-automates the work to ensure accuracy from first cut to finish.
Other earthmoving machines on display include the new 340F long-reach excavator, the 966M XE wheeled loader, the 918M compact wheeled loader and the 299D2 XHP multi-terrain loader with steel tracks.
Three new pavers also appear on the stand. The AP300F, AP355F and AP555F feature a quick-heating screed system to increase productivity and reduce crew idle time. All are powered by engines that meet EU Stage IV/Tier 4 Final emissions standards.
Got a story? Email news@theconstructionindex.co.uk