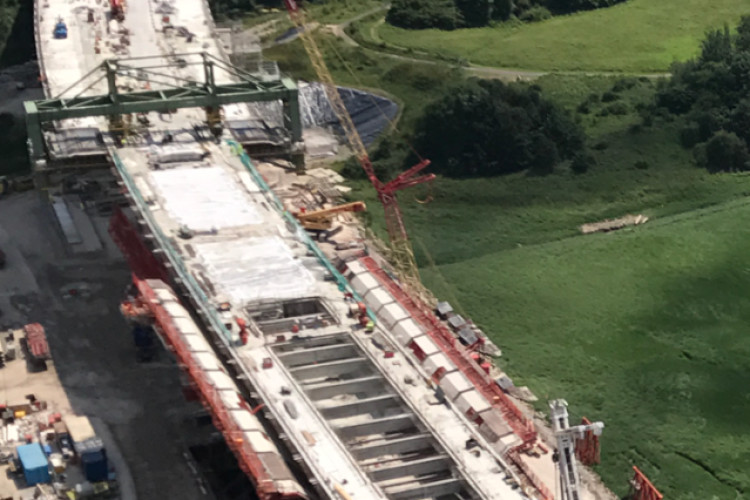 The 1,700-tonne formwork frame has been working on the south approach viaduct for the past 10 months, slowly helping to create the reinforced concrete deck for the £600m crossing of the Mersey in Runcorn.
Webster is one of two movable scaffolding systems (MSS), designed and built to construct the curved viaducts leading to the Mersey Gateway Bridge.
The final pour was a 28-hour operation, with 1,133 m3 of concrete was being poured into the giant mould to complete the deck of the south approach viaduct.
It has now been moved back one span and will slowly be dismantled over the next couple of months before being transported to Bratislava to join its fellow MSS Trinity, which is helping to build a new bridge over the River Danube.
Webster is 157 metres long, 8 metres high and 22 metres across at its widest point.

In total, since it started work MSS Webster has constructed eight spans of the south approach viaduct using 9,205 m3 of concrete.
Halton Borough Council is the client for the project and it awarded a 30-year contract to design, build, finance and operate the project to the Merseylink Consortium in 2014. Equity partners are Macquarie Capital Group, BBGI, and FCC Construcción. The construction joint venture is made up of Kier, Samsung C&T and FCC.
The 2,130-metre long estuary crossing, which has a 1,000-metre long cable stay bridge at the centre of it, remains on scheduled to open in the autumn of 2017.
Merseylink general manager Hugh O'Connor said: "To have reached this landmark just 10 months after building Webster is great news for the project. The viaducts on either side of the river are huge structures in themselves, with the south approach viaduct requiring a considerable degree of engineering and construction skill to build, as well as using a huge amount of material. This final pour on the south approach viaduct means we're getting closer and closer to completing this iconic bridge."
Got a story? Email news@theconstructionindex.co.uk