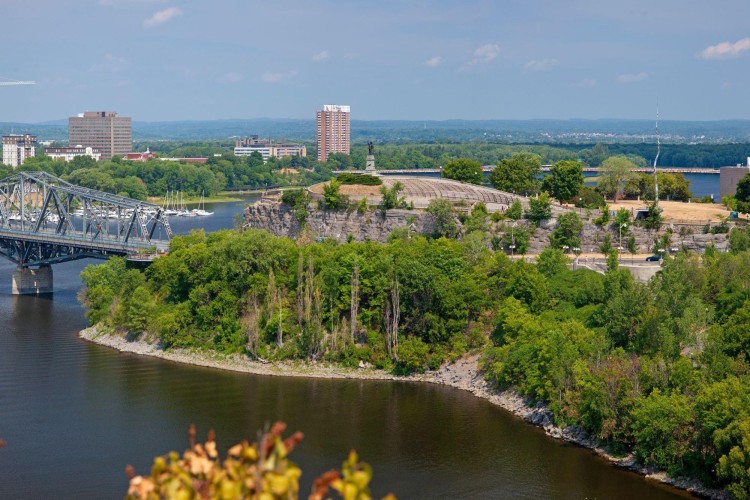 The historic Nepean Point overlooks the Ottawa River, Parliament, the Canadian Museum of History, and other features of downtown Ottawa and Gatineau.
The finalists are:
Ryan (Public Work, KPMB Architects, Blackwell)
Rosenberg (Janet Rosenberg & Studio, Patkau Architects, Blackwell, ERA Architects)
Asselin (WAA Landscape Architecture, Tectoo Architecture, Milan Ingegneria)
Geuze (West 8, Barry Padolsky Associates, Fotenn)
The five jurors reviewed 26 submissions and selected the finalists on the basis of their qualifications and previous work. Each team will now prepare a proposal that includes an overall design concept as well as a development plan for the entire site, detailed design for Nepean Point, design of a pedestrian bridge and a gathering place for events.
The deadline for the submission of final proposals is 20 September 2017. The NCC will host a public exhibition and open house of the finalists' designs on 5 October. The goal is to announce a winning design team in November 2017, as part of Canada's 150th anniversary celebrations.
"This once-in-a-generation opportunity to reimagine an iconic public space in the Capital will leave a legacy for Canada's sesquicentennial," said NCC chief executive officer Dr Mark Kristmanson. "Four finalists will develop bold and imaginative designs for Nepean Point to recreate it as an inviting landmark for Canadians to enjoy."
Got a story? Email news@theconstructionindex.co.uk