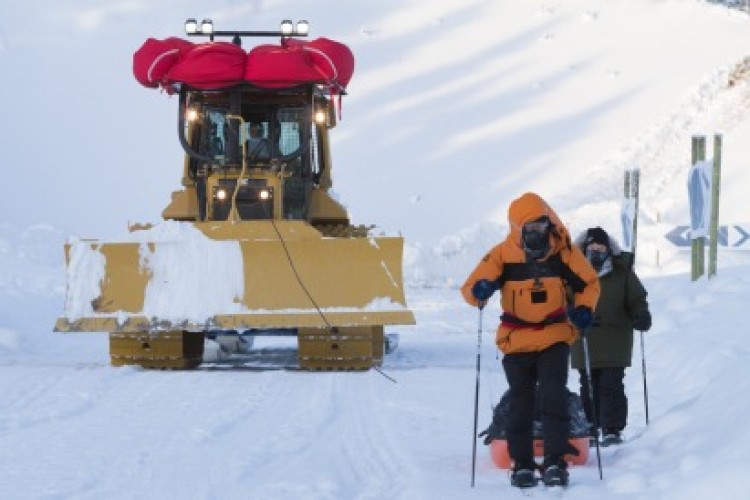 Spencer Smirl and Richmond Dykes, plant engineers with Caterpillar dealer Finning, are on the trip to drive and look after the Cat D6 tractors that are pulling tonnes of kit needed for the expedition.
Sir Ranulph Fiennes, aged 68, was injured during a training exercise. The expedition proper does not set out from base camp until next month.
Commenting on the news, Finning UK and Ireland managing director Neil Dickinson said: "We have been in contact with Sir Ranulph Fiennes and our Finning engineers, stressing how important it is to maintain the safety of each member of the team, throughout the expedition. Having spoken to Spencer and Richmond, they are both in good health and their spirits are high, as the count down to the 21st March 2013 expedition start date continues.
"Although very sad news for Sir Ranulph and the rest of the team, the important goals of the expedition itself remain – to perform important scientific research, to test the ability to operate machinery in the harshest of conditions and to raise a great deal of money and awareness for the 'Seeing is Believing' charity.

"I am sure Sir Ranulph will continue to play an important leading role in the expedition, even from afar, and that all of the work he has already done with the team and in particular our engineers, will be of great value as the expedition moves forward. Although a setback for everyone, it is important to focus on the positive work that is still to be done and to recognise that the health, wellbeing and safety of everyone on the expedition team is our first priority."
The team is now working on evacuating  Sir Ranulph Fiennes from Antarctica, although poor weather is impeding these efforts. He will be transported by skidoo to the Princess Elisabeth Station about 70km away from his current position, from where he will be flown to Novo to get a connecting flight to Cape Town.
The remaining five expedition members, including Finning engineers Richmond Dykes and Spencer Smirl, have already unanimously elected to continue with the winter crossing of Antarctica, under the leadership of traverse manager, Brian Newham. The team will be undertaking the scientific and educational aspects of the project as originally planned, with its humanitarian benefits. This view is supported by the board of trustees. The expedition has reached the point where they can readily establish a supply depot on the Antarctic plateau. This puts them in an excellent position to start the crossing as scheduled on 21st March.
As soon as the injuries sustained by Sir Ranulph Fiennes permit, he will continue to support The Coldest Journey by fundraising and promoting awareness of Seeing is Believing, the expedition's chosen charity, which is committed to eradicating preventable blindness in the developing world (see http://www.seeingisbelieving.org/)
Got a story? Email news@theconstructionindex.co.uk