"We announce today the opening of the first 3D-printed office in the world, after less than one month of launching Dubai 3D printing strategy which showcases a modern model of construction," said Sheikh Mohammed bin Rashid Al Maktoum. "This is an experience we present to the world on utilizing future technology in people lives. It also represents a new milestone for the UAE as a global leader in strategic achievements."
A 3D-printer measuring 6m high, 36m long and 12m wide was used to print the building. The printer features an automated robotic arm to implement printing process. The 3D-printed office was constructed using a mixture of cement and other materials.  In order to manage the execution, additional mobile printers were located at the construction site.
The labour involved in the printing process included one person to monitor the printer, in addition to a group of seven people to install the building components on site as well as a team of 10 electricians and specialists to take care of the mechanical and electrical engineering. It took only 17 days to print and was installed on site within two days.

The 'Office of the Future' will house a temporary office of the Dubai Future Foundation. It incorporates key services, such as electricity, water, telecommunications and air-conditioning.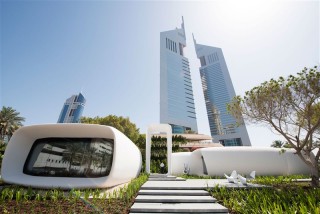 The initiative was part of the Dubai 3D Printing Strategy, an initiative aimed at promoting the status of the UAE and Dubai as a leading global centre of 3D printing by 2030. The strategy focuses on three main sectors: construction, medical products, and consumer products.
Got a story? Email news@theconstructionindex.co.uk