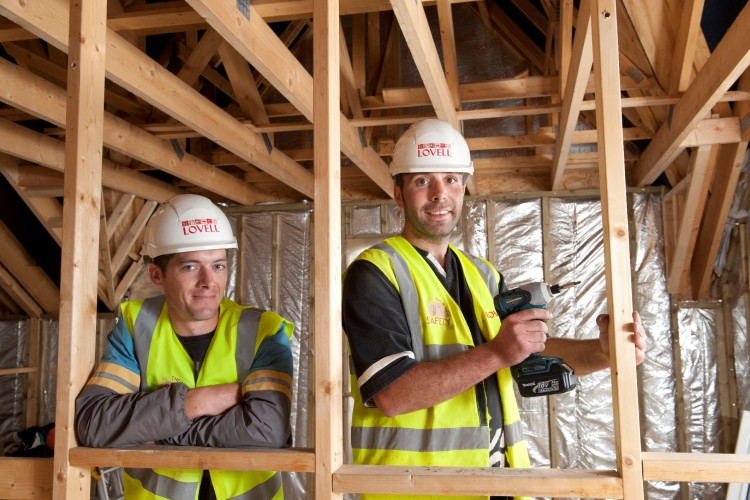 Housing regeneration specialist Lovell is building the Windrush Court development in Chapeltown Road, Leeds LS7, for Unity Housing.
With funding from the Homes and Communities Agency (HCA), the scheme will create 11 one- and two-bedroom apartments for affordable rent through the housing association which are set to be completed in October 2010. The properties will be the first affordable homes in the city to reach Level 4 of the Code for Sustainable Homes, the system for measuring the environmental performance of new housing. That means they will be 44 per cent more energy-efficient than homes built to current building regulations, reducing energy bills for residents.
Construction training for local unemployed people
Unity Housing Association, Lovell and the HCA have also joined forces with Leeds regeneration charity re'new to deliver construction training opportunities at the development including apprenticeships and work placements. Lovell has taken on two apprentices from Leeds to train through the programme, a trainee joiner and a bricklayer.
Trainee bricklayer Lee Wilson, 33, from Burmantofts, Leeds, had spent 12 months seeking an apprenticeship before getting the chance to train through the Windrush Court scheme. He was previously a painter and decorator but decided to retrain after being made redundant. "I was sending out applications to lots of different building companies for about a year so when this opportunity came up, I went for it," he says. "I'm loving it on site and I'm learning new skills all the time." Lee combines working on site with studying for an NVQ Level 2 in bricklaying at Leeds College of Building on day release.
The other apprentice taken on through the scheme is trainee joiner Steve Woodger, from Armley, Leeds, who was also unemployed before starting his apprenticeship. Steve, 33, is studying for an NVQ Level 3 qualification in joinery.  "It's been great working with qualified trades people learning different aspects of building work and seeing a whole building grow from start to finish," he says.

Through Unity's Gateway Experience scheme, Lovell is also giving local unemployed people the chance to gain construction experience through work placements. They are closely supervised by qualified trade professionals during the placements which give people the opportunity to gain a work reference and build up a portfolio of site-based experience which will help them if they wish to get on to a college course for further training. So far, two people have started placements at the Windrush Court development with a third set to start in August.
Green features
Homes at Windrush Court will have photovoltaic roof panels which convert sunlight into electricity. Other green features include a mechanical ventilation with heat recovery system which works by extracting indoor air and replacing it with 'fresh' outside air which is pre-warmed by the extracted air via a heat exchanger. Some apartments will also have a system for recycling rainwater – enabling it to be used for flushing toilets, for example – to reduce the usage of mains-supplied water.  "Our company has a strong track record in creating energy-efficient, low-carbon housing and we are delighted to be working with Unity Housing and the HCA to deliver these new affordable sustainable homes," says Lovell regional director Noel Adams. "Creating training opportunities in the communities where we work is also extremely important for us and it is excellent that our team is giving local people the chance to acquire construction qualifications and experience through the Windrush Court scheme."
Councillor Peter Gruen of Leeds City Council says: "Windrush Court further evidences the commitment from both the council and our partners to deliver more affordable housing across Leeds, even in these difficult economic times. These new apartments will not only be designed to have a minimal impact on the environment, but it also helps complement the overall regeneration of the Chapeltown area. I am also delighted that the scheme is having positive results in helping local people back into work through work placements and apprenticeships; proving that affordable housing is not just about bricks and mortar."
Naz Parkar, head of area at the Homes and Communities Agency, comments: "We are delighted that HCA funding has enabled our partners to deliver these innovative affordable homes that will meet the needs of local residents and help reduce living costs. This development will complement the local place-making activities of Unity including the neighbouring service centre."
Wayne Noteman, Unity HA regeneration director, says: "As an organisation with its roots firmly established in the heart of Chapeltown, Unity will be working hard to ensure that investment is attracted into the area to facilitate regeneration activity. Unity in partnership with other partners and the Council are developing a wider regeneration plan for the area. This will include physical, economic, and social projects all of which will bring greater benefits to the diverse communities in Chapeltown.  Windrush Court which was named after the first ship to bring people to England from the Caribbean, is one of projects which will transform the Chapeltown Road gateway and add housing choice". He adds: "Employment and training opportunities are key to the overall success of the scheme in enabling local people to get back into work or get on to a recognised college course." 
Got a story? Email news@theconstructionindex.co.uk