The Wolfson Economics Prize is the second-biggest cash economics prize in the world, after the Nobel Prize, landing its winner £250,000. It was set up by Lord (Simon) Wolfson, the chief executive of the Next retail group. The 2104 competition asked: "How would you deliver a new Garden City which is visionary, economically viable, and popular?"
From 279 entries, the five finalists are:
Barton Willmore, led by James Gross. Barton Willmore is a town-planning and design consultancy. Barton Willmore's entry sets out a ten-point plan for the delivery of a new garden city, arguing for the development of a cross-party consensus and the production of a National Spatial Plan to identify suitable locations for new garden cities. Garden City Mayors, heading up Garden City Commissions, would be appointed to champion garden cities and find specific locations for development.
Chris Blundell, director of development & regeneration at Golding Homes. Mr Blundell has entered in a personal capacity with the support of Golding Homes. His entry argues that a garden city should accommodate between 30,000 and 40,000 people (about the size of Letchworth) and that its delivery should be led by Garden City Development Corporations.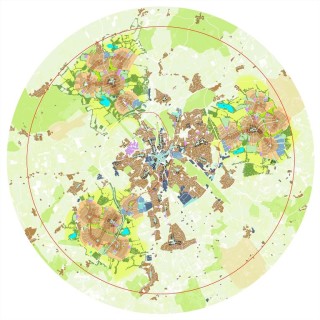 David Rudlin of URBED, with Nicholas Falk (also URBED) and input from Jon Rowland (John Rowland Urban Design), Joe Ravetz (Manchester University) and Peter Redman (TradeRisks managing director, policy and research at Ltd). URBED is an urban design and research practice. Mr Rudlin's entry, illustrated above, argues for the near-doubling of an existing large town in line with garden city principles, to provide new housing for 150,000 people (about the size of Oxford or Canterbury). The entry offers a proof of this 'urban 2 of 9 extension' concept based on a fictional town called Uxcester.
Shelter, the housing and homelessness charity, led by head of policy Toby Lloyd. This entry proposes a new garden city on the Hoo Peninsula (Medway, Kent) starting with a settlement of up to 48,000 people (about the size of Welwyn Garden City) at Stoke Harbour as part of a larger cluster of settlements eventually totalling 150,000 people.) The entry, illustrated below, proposes a model designed to attract massive private investment into the provision of homes, jobs, services and infrastructure. The delivery model prioritises speed and volume over profit margins, aims to acquire land at low cost and transfer valuable assets to a community trust for the long term. Local people would be offered opportunities to invest in the city, including through buying shares.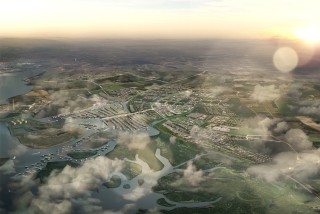 Wei Yang & Partners in collaboration with Buro Happold Consulting Engineers, led by Pat Willoughby. Wei Yang & Partners is a London-based planning and architecture practice. Dr Yang is also advising the Chinese ministry of housing and urban-rural development on its urbanisation programme. This entry argues that an 'arc' beyond the London green belt (stretching from Portsmouth to Oxford to Cambridge to Felixstowe) is the best location for the development of new garden cities (illustrated below); and that the government should publish a New Garden Cities Strategy identifying broad 'areas of search' for suitable locations, with a 30 year timescale.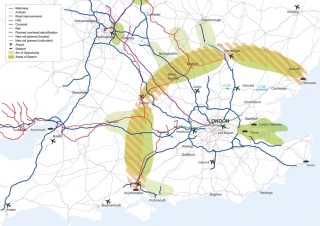 The finalists are now being challenged to refine their submissions in the second round of the completion. Finalists have until 11th August to develop and resubmit their entries, from which the judges will choose an overall winner. The winner will receive £250,000.
Founder of the prize, Lord Wolfson, said: "The creative energy and enthusiasm demonstrated by the 279 entrants to the 2014 Prize has been inspiring. Collectively, entries clearly demonstrate that Garden Cities are not just an opportunity to crack Britain's housing crisis – they can also deliver better homes, gardens, infrastructure, schools hospitals, public spaces, jobs and economic growth. They are a real chance to improve quality of life for hundreds of thousands of people."
Chairman of the judges Trevor Osborne said: "The judges have faced a very difficult choice, but we've selected just five finalists from a ferociously competitive field. Finalists are now in a tough race to win £250,000 by proposing the best way to deliver an attractive, viable and popular vision. A competition is nothing without its entrants, so on behalf of the Judges I'd like to thank every single entrant for their ideas and enthusiasm."
Got a story? Email news@theconstructionindex.co.uk