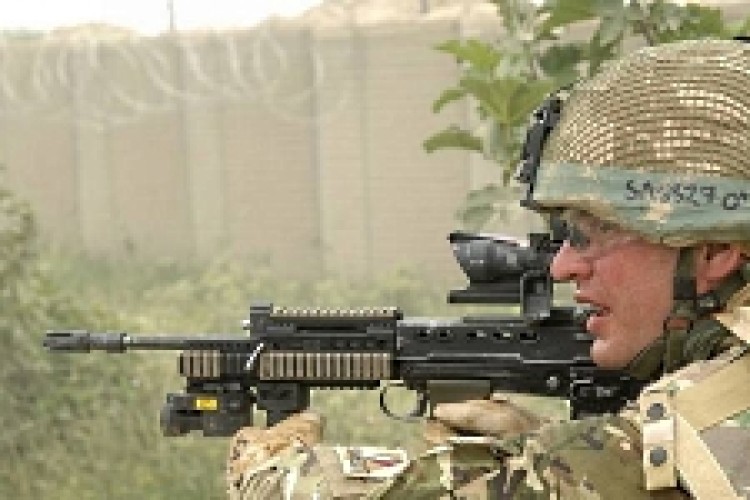 The Ministry of Defence framework covers an area spanning Lincolnshire to Essex.
Representatives of the chosen companies attended a ceremony in London this week to sign 'partnering charters' that set out the principles intended to promote effective joint working.
The Regional Capital Works Framework East Midlands and Eastern England is for regional projects of a value of up to £12m. The contractors selected are:
Henry Brothers (Magherafelt)
Interserve Construction
Mansell Construction Services (Balfour Beatty)
Morgan Sindall
Shepherd Construction.
The framework is estimated to be worth between £100m and £250m over an initial four-year period, with the option to extend by up to three more years.
When project requirements are identified as suitable for delivery through the framework, the five companies will be invited to engage in 'mini-competitions', tendering for design & build solutions.
Under the aims of the government construction strategy, the framework will introduce the use of building information modelling (BIM) and the NEC3 form of contract. They will champion prompt payment principles through the use of project bank accounts and other initiatives, as well as incorporate effective performance management, continuous improvement and benchmarking arrangements.
This is the first of seven capital works frameworks that are being procured under the Next Generation Estate Contracts (NGEC) programme for the delivery of construction projects. There are five other regional frameworks and one national framework.  It is expected that, in addition to supporting other requirements, these frameworks will be used to procure a significant proportion of work in support of military rebasing up to 2020.
DIO chief executive Andrew Manley said: "I am pleased that future Defence construction requirements will start to be met through this framework consisting of these respected businesses in what will be a busy time for military rebasing and site development. The capital works frameworks programme will ensure ongoing competitive tension, better value for money, and will speed up the procurement of projects."
NGEC head Matt Foley said: "DIO has worked hard to attract the best companies into the procurement process, whether as potential main contractors or subcontractors, and have rigorously evaluated the bidders' ability to deliver a wide range of potential defence projects. I am confident that these companies are now ready to deliver the construction work the defence frontline requires."
Pictured below are the successful bidders with DIO chief executive Andrew Manley (seated fourth left) and NGEC programme team [Crown copyright/MOD 2013].
Morgan Sindall director of defence Andy Parker said: "We have a long track record of successfully delivering projects for the MOD and have a seasoned team that knows how to work well in a defence environment. It's about having the flexibility and responsiveness to help the military meet its operational needs, whether that's a new barracks, training facility or administrative building."
Balfour Beatty executive director Dave Donaldson said: "It is a tremendous privilege to be invited onto the East regional defence infrastructure framework. We are committed to continuous improvement and have a proud track record of delivering defence projects such as the Liberty Village project at Lakenheath and we look forward to serving the Defence Infrastructure Organisation on this new framework."
Got a story? Email news@theconstructionindex.co.uk