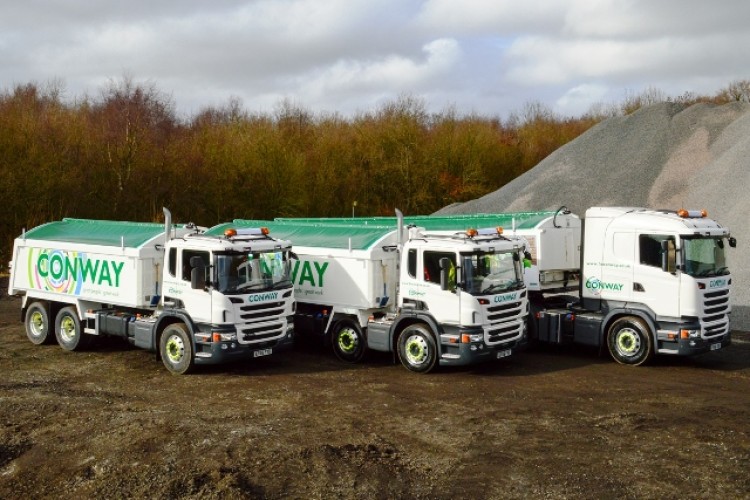 FM Conway believes that keeping delivery work in house, rather than outsourcing, secures cost and time efficiencies for its customers.
The new purchases include seventeen 8-wheel tippers and two 6-wheel tipper vehicles, as well as five 8-wheel grab lorries and a new bitumen tanker to support its growing asphalt recovery and recycling operations in London and the south of England.  The company now has more than 800 vehicles in its liveried fleet.  
The new trucks will transport highway arisings and recycled-content asphalt mixes to and from FM Conway's operational sites and its recycling plants, which manufacture recycled asphalt mixes for sale and to supply the company's own projects.   
The company has also invested in two 44-tonne walking floor trailers, in addition to two 18-tonne pole lorries to support its specialist lighting operations and a CCTV equipment van for its gully cleansing division, which uses the mobile technology to carry out drain surveys and inspections.

The vehicle specifications are in step with moves to consider safety for other road users.  An extended window in the nearside door of the 8-wheel and 6-wheel tipper trucks improves drivers' field of vision and makes it easier to spot pedestrians and cyclists.  The tractor units also bring major safety benefits thanks to their non-tip design, the company said. 
Transport manager Peter Parle said: "These new vehicles will support our focus on self-delivery, which is at the heart of our business.  By delivering projects using our own in-house materials, plant and vehicle fleet we cut costs and bring reliability for customers.  This fleet investment supports the growth of our asphalt recovery and recycling operations across London and the south of England as more and more customers recognise the benefits of this approach.
"FM Conway strives to be at the forefront of road safety initiatives in the construction industry and these new vehicles have been specially designed to keep our drivers and other road users safe.  All of our drivers will be taking part in one-to-one training to familiarise them with the new trucks and promote safer driving."         
Got a story? Email news@theconstructionindex.co.uk