Q-Bot specialises in robots that crawl into hard-to-reach areas of buildings, such as under floorboards for conducting surveys or spraying insulation.
Parent company EcoMachines Ventures has secured follow-on investment from several angel groups, brings total funding secured since late 2015 to approximately £2m, including financing from the EU Commission Horizon 2020 Programme.
Q-Bot chief executive and co-founder Mathew Holloway said: "The construction industry still relies on many labour intensive processes which have not changed for hundreds of years. Our vision is to create intelligent tools that empower people, upskilling the workforce, creating new jobs, making the operation safer, more productive and rewarding. We have built a great team, proven the technology works, demonstrated that customer's value our offer, and we are now working with partners to scale this innovative new service across the UK, France and further afield. This investment provides a step change in our approach, whilst validating the potential of the business to transform the construction and energy industry into a multi-billion pound market. "
Q-Bot was founded in 2012 and taken over by EcoMachines Ventures in May 2014. Its chief executive, Ilian Iliev, said: "We are at the early stages of a transformation in the building and infrastructure industries, a game-changing development that will see the use of collaborative semi-autonomous robots to assist us in a range of tasks too dangerous, time-consuming or expensive for humans alone to perform. We have invested in Q-Bot because of the enormous potential of the company to be a leader in this sector. The team has the expertise, dedication and drive to grow a successful company."
Following trials over the past two years, Q-Bot is now delivering programmes of work with Camden Council, CityWest Homes, Islington and Peabody, installing insulation in houses.
Mr Holloway said: "The energy savings measured in situ at trial sites or calculated using SAP obviously vary hugely depending on the nature of the property but are typically in the region of £100-300 a year. We aim for a payback of less than 15 years and this is very good when compared to other measures applicable to hard to treat homes. Per SAP point we are normally 2-3 times cheaper than the alternatives. In addition the solution has a massive impact on comfort reducing temperature stratification and draughts."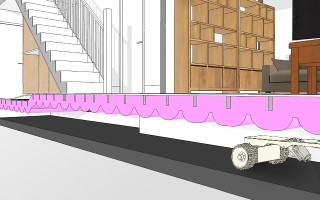 Camden Council and CityWest Homes trialled Q-Bot's solution at two of their properties and the results showed a considerable efficiency improvement in insulation as well as substantially reduced permeability, said Mr Holloway.


Following installation the total loss of heat through the floor was reduced by 86% for a home with exposed timber floorboards and by 72% for a home with timber floorboards and carpet. The combined U-Value for floor and ground was reduced from 2.1 W/m2.K to 0.28 W/m2.K and 1 W/m2.K to 0.28 W/m2.K respectively.
Sealing a floor reduced the air permeability by 45% from 16.4 m3/hr/m2 to 9.6 m3/hr/m2 (at 50PA). "This is a very significant result when considering a floor has contributed to nearly half the leaks and draughts for a whole house with wooden single glazed sash windows." Mr Holloway said.
The difference in temperature from floor to head height was more than halved, reduced from an average of 4°C to 1.5°C.
Under floor insulation was also significantly less disruptive than alternative measures and therefore more likely to be acceptable to residents, he said. 
Energy savings of £200  a year were achieved. When compared to other measures for hard to treat homes and capital costs, Q-Bot's payback times and cost per tonne of CO2 saved is less than half that of other improvements, he added.
"We are also trialling the solution with some public sector buildings with Cardiff Council and the Welsh government."
The February 2015 issue of The Construction Index magazine included a feature article on Q-Bot and construction robots. You can read it at epublishing.theconstructionindex.co.uk/magazine/february2015 - and scroll to page 43.
Got a story? Email news@theconstructionindex.co.uk