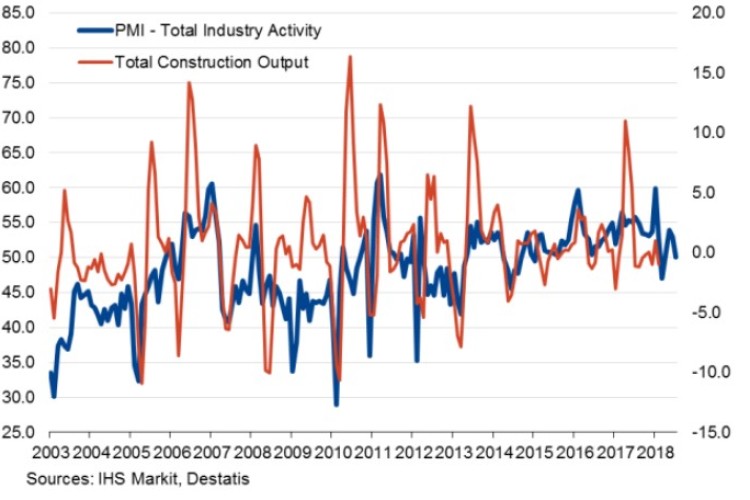 Overall, growth  of  construction  activity  ground  to  a  halt  in  July,  with  the  renewed  downturn  in  civil  engineering work coinciding with slower expansions  in  both  commercial  and  housing  activity.
New  orders  rose  on  the  month,  albeit  only  marginally.
Capacity continued to act  as a constraining factor:  the latest rise in employment in the sector was the  slowest  seen  for  1.5  years,  while  subcontractor  availability  showed  a  further  steep  decline.  Elsewhere,  a  combination  of  new  road  tolls  and  higher  demand  for  building  materials  resulted  in  a  further sharp increase in purchase prices faced by  construction companies.
The  headline  seasonally  adjusted  Germany  Construction  Purchasing  Managers'  Index  (PMI)  registered in line with the 50.0 'no-change' mark in  July, down from 53.0 in June. The latest figure was  the  lowest  seen  for  four  months  and  below  the  average  recorded  over  the  first  half  of  the  year  (52.9).
The worst-performing area of the industry, however,  remained  civil  engineering,  which  returned  to  contraction after a brief pick-up in June. 
Though  reports  from  panellists  signalled  demand  for  new  projects  from  clients,  capacity  constraints  in  the  sector  remained  evident  and  the  level  of  new  orders  received was up only marginally from the previous  month. 

Constructors continued to take on new staff during  July, but the rate of job creation was well below the  highs  seen  around  the  turn  of  the  year  and  the  lowest  overall  since  January  2017. 
Latest  survey  data also showed a sharp drop in the availability of  sub-contractors.  Capacity pressures in the sector were also reflected in a further marked lengthening of supplier delivery  times, which increased  on average to the greatest  extent since November last year.
Higher  demand  for  building  materials  meanwhile  continued  to  help  drive  up  the  average  price  of  purchases  faced  by  constructors. 
Phil Smith,  principal  economist at IHS Markit said:  "Encouragingly,  order  books  did  return  to  growth  in  July  and  anecdotal  evidence  suggests  that  demand  isn't  necessarily  the  issue,  but rather constraints in terms of capacity. 
"Constructors continue to look to boost employment numbers;  however,  an  ever-tightening  labour  marked  has  seen  the  pace  of  hiring  drop  off  in  recent  months  and  the  availability  of  subcontractors  also  continues  to  worsen.  Supply  chains are meanwhile struggling under the pressure  from  higher  demand  for  building  materials  and  components,  with  constructors  noting  the  worst  delivery delays for eight months in July."
Got a story? Email news@theconstructionindex.co.uk