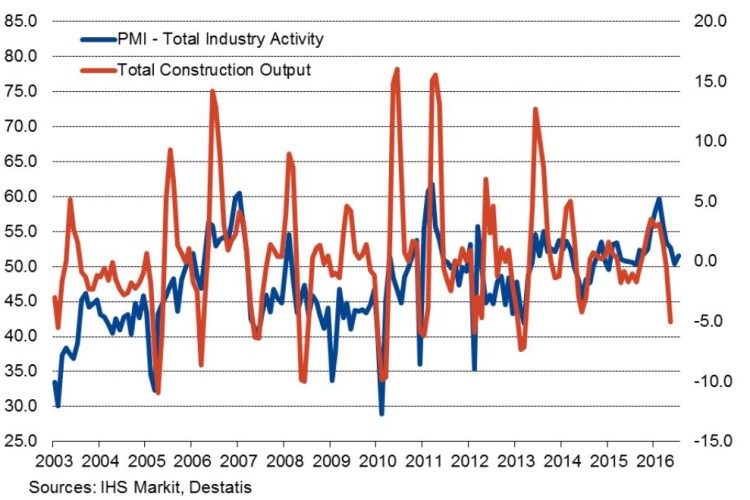 However, the pace of expansion remains weak, though it was higher than the previous month, according to the latest Purchasing Managers' Index (PMI).
The PMI is based on a single question asking respondents to report on the actual change in their total construction activity compared to one month ago. The figure was 51.6, up from June's ten-month low of 50.4.
July's rise was driven by sustained growth in residential building activity. Declines were reported in both civil engineering and commercial building output and new business fell for a second month running. Moreover, firms reported the worst outlook for construction output since last November.
Total construction output in Germany rose for the eighteenth consecutive month in July. The pace of growth was modest, but quicker than one month earlier, as indicated by the headline seasonally
Latest survey results pointed to a second successive monthly decline in new order intakes at the start of the third quarter, with some companies commenting on a general lack of demand.

Despite the slight decline in new business, constructors raised their payroll numbers again in July. Jobs growth has now been reported for 13 months in a row, with the latest increase the most marked since March. Purchasing activity also increased during the month.
Supply chain pressures persisted into the third quarter, as highlighted by average delivery times lengthening further.
Meanwhile, input costs continued to increase at a solid pace during July, with more than one-fifth of the survey panel reporting a rise. Increasing cost pressures have now been reported for seven straight years.
The level of optimism fell to an eight-month low in July, as some companies are worried about an economic slowdown.
Oliver Kolodseike, economist at Markit, said: "It's a bit of a relief that the Construction PMI ended its recent downward trend in July and rose slightly from the 10-month low recorded in June. However, the data signal only a slight rise in total construction output that was solely driven by higher activity in residential building. With new business falling for a second month running and business optimism at an eight-month low, there is still a danger that the headline number may drift into contraction territory in coming months."
Got a story? Email news@theconstructionindex.co.uk