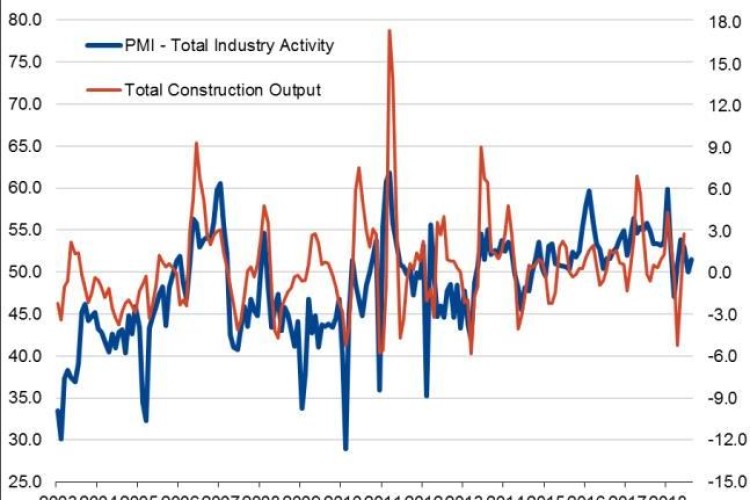 It was the first time in four months that orders books had declined. The reduction in construction order books identified by the IHS Markit Germany Construction Purchasing Managers' Index (PMI) was partly linked by surveyed companies to a lack of available resources.
The latest survey data from the PMI also revealed ongoing capacity constraints across the sector. Constructors noted a marked reduction in the availability of subcontractors as well as increasing lead times on building materials and products.
Activity returned to growth midway through the third quarter after having stalled in July, with output up modestly across all three broad construction categories.
The headline seasonally adjusted PMI ticked up to 51.5 in August, after having registered in line with the 50.0 'no-change' mark in July. The latest reading was consistent with a modest rate of total industry activity growth and compared with a year-to-date average of 52.4.
The top-performing construction sub-sector in August was civil engineering, where activity rebounded after a downturn at the beginning of the third quarter, followed closely by commercial building. The rates of growth of both infrastructure and commercial activity were only modest, however, as was the case for work on housing-related projects.

August saw levels of building activity rise despite businesses in the sector reporting a lower intake of new orders during the month.
Pressure on capacity led to constructors taking on additional staff during August, with the rate of job creation picking up from July's one-and-a-half year low (albeit remaining well below the highs seen around the turn of the year). The use of subcontractors, however, continued to fall, reflecting a further sharp decline in availability. With subcontractors in short supply, rates charged to building firms continued to rise sharply.
Adding to the cost pressures faced by constructors, August saw a steep and accelerated increase in average prices paid for building materials and products. The rate of inflation was the quickest since October last year, with a number of surveyed businesses linking the rise in input prices to the effects of new road toll charges.
Supply chains also remained stretched in August, as highlighted by a further marked increase in average lead times on purchased items. The latest deterioration in vendor performance was the most marked since last November.
Phil Smith, principal economist at IHS Markit said: "Capacity constraints were a theme throughout the data: from a lack of availability of sub-contractors, to bottlenecks in supply chains. These constraints not only held back the top-line growth number, but also affected constructors in the form of longer lead times on building materials and higher costs. There's also less optimism among building companies towards prospects for activity in the year ahead."
Got a story? Email news@theconstructionindex.co.uk