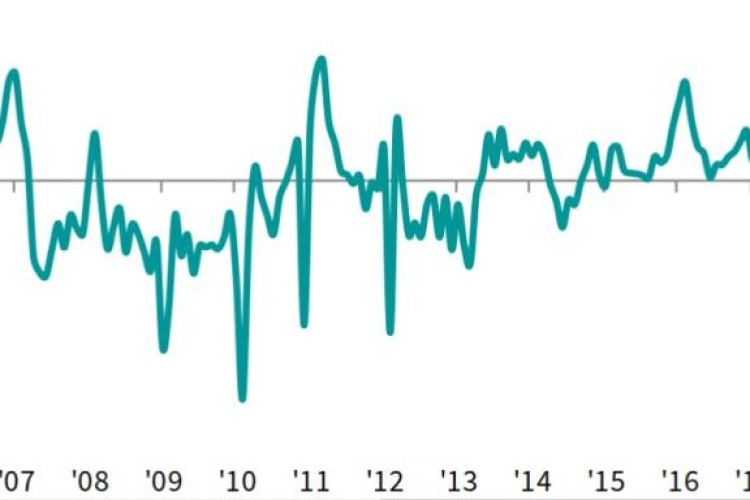 Accordingly, job creation in the sector slowed and constructors reported the first drop in buying levels in over three years. Cost pressures meanwhile intensified.
The headline seasonally adjusted Germany Construction Purchasing Managers' Index (PMI) dipped to 49.8 in October, from September's 50.2. It was the index's first sub-50 reading since March, when activity was curtailed by a bout of especially cold weather, though it represented only a marginal pullback in the level of activity from the month before. The worst-performing area of construction activity in October was housing activity. Though only modest, the decline in residential building work was the first in seven months and slightly steeper than the drop in commercial activity (which was likewise the first since March). Only civil engineering activity rose during the month, a reversal of the situation seen in September.
"It was a largely disappointing set of numbers for the construction sector in October, with total activity shown to have slipped from the month before and building companies adding jobs at the slowest rate for nearly two-and-a-half years," said Phil Smith, principal economist at IHS Markit, which compiles the survey. "Though only marginal, October's decrease in activity was notable in the fact that, unlike the last two falls in January 2015 and March this year, it wasn't associated with a bout of severe bad weather.  The most positive takeaway from the survey was another steady increase in new orders, which should at least support activity levels in the short term. However, firms once again reported not being able to take full advantage of the positive demand environment due to being at or near to full capacity."

He added that constructors were hit by rising costs during the month, reporting the influence of oil prices and new road toll charges. Input cost inflation was at close to its highest for over seven years in October and, on top of this, constructors also faced another step rise in subcontractor rates.
The decrease in total industry activity impacted negatively on the pace of hiring across the construction sector during October. Job creation was at its lowest in almost two-and-a-half years. The use of subcontractors meanwhile decreased during the month, though this was at least partly linked to a lack of availability.
 On the cost front, constructors reported a sharp and accelerated monthly increase in average input prices in October. The rate of inflation was at a 12-month high and among the quickest observed over the past seven-and-a-half years.
Got a story? Email news@theconstructionindex.co.uk