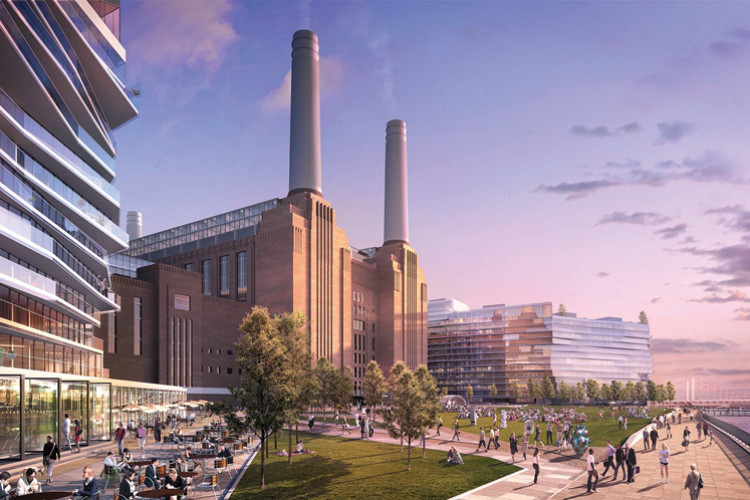 Over the next 20 years, around 21,000 new homes and 6.5 million square feet of commercial space will be constructed. Thirty different sites have been earmarked for development and Nine Elms has become one of Europe's largest regeneration projects. The cost of delivering the 2012 Olympic site, at around £9bn, is a tiddler compared to Nine Elms which is weighing in with an estimated £15bn of development.
"And it's arguably more complex than the Olympics," says Nine Elms delivery team program director Helen Fisher. Contractors certainly have to cope with logistical technical challenges. With just eleven projects in various stages of development, from enabling and groundworks to completed residential phases, the area is already beginning to look crowded.
As more developers gain planning permission, contractors will be working cheek-by-jowl across an area covering 482 acres – bigger than Hyde Park.
Add to this the major civil engineering work on the Thames Tideway Tunnel (due to pass through the area from 2016) plus a proposed pedestrian bridge between Chelsea and Vauxhall and space will be at a very high premium.
"Construction activity is ramping up every day," says Fisher. "We're noticing that development is accelerating." Over the next 20 years Nine Elms' regeneration programme will create 22,000 construction jobs. The peak activity will be between 2018 and 2022 when there could be up to 8,000 workers on site, comparable to the busiest times on the Olympic Park.
Nine Elms has been described as the biggest concentration of building work to take place in London since the Great Fire of 1666. With so many different contractors and developers competing for space and resources, an element of collaboration between projects is essential. Just how all the contractors will coordinate their deliveries through the limited road network is still under discussion. Studies have been commissioned on the potential use of consolidation centres. "It's early days," says Fisher, "But what we do have from the developers is absolute acknowledgement of the issues."
Earlier this year, major developers signed the partnership's construction charter, committing themselves to working collaboratively across projects in order to minimise the impact of construction work on the local community. But for many projects the collaboration will go much deeper than construction planning. District heating schemes are a major feature of the partnership's low carbon energy masterplan. Three schemes are already planned that will cut across several landowners and sites. One combined heat and power scheme will be based, rather fittingly, at Battersea Power Station.
"There will also be a [CHP] scheme around the US embassy," says Fisher. "We're trying to link it with five different projects, including Ballymore's Embassy Gardens and the site of the old Christie's Warehouse [recently bought by Bellway]."
As well as power, developers will have to collaborate on a range of other infrastructure issues including drainage and telecoms provision. Twelve developers have established a special purpose vehicle, The Nine Elms Vauxhall Regeneration Company, to approach utilities companies as a single legal entity. 
Arup has been given a three-year contract to coordinate utilities installation across the area with all the major stakeholders, including Lambeth and Wandsworth councils and Transport for London. The consultant will be initially focusing on electrical infrastructure and the primary substation at Battersea.
Fisher is a veteran of regeneration schemes; her last role was running the Custom House regeneration at Canning Town. But she acknowledges that Battersea is a challenge on a completely different scale.

"In my previous role we there was just one landowner, the council. Here at Nine Elms we've got a multiplicity of land ownerships. And as well as the sheer scale of the project, there's Battersea Power Station."
She believes one of the partnership's biggest challenges will be ensuring that the widely differing architectural concepts hang together comfortably. The partnership has commissioned a public realm strategy and is developing single design codes that will apply across whole areas of development.
"We've completed the design code for Nine Elms Lane. When you can see how many different buildings sit there, it really makes sense [to have a single design code] in terms of the materials that will be used - even for the street furniture." Part of the public realm strategy is to open up the area to the local community, providing pedestrian routes to the river that were hitherto blocked by warehouses.
A park, described by Fisher as a "swathe of green" will also run through the heart of the area, providing pedestrian and cycle paths stretching from Battersea to Vauxhall.
"The route cuts across three major land ownerships and touches on three others, but we're working together to make it feel like a single park," says Fisher.
"The biggest challenge for me is that this feels like a place for local people. I want it to feel like part of London, part of Lambeth and Wandsworth."
With so many alien building designs landing in such a short space of time, and with such fragmented ownership across the scheme, integrating the brash waterfront into the surrounding area will be a challenge. Nine Elms is going to be three times as densely populated as most other parts of London, with towers rising in a cluster around Vauxhall.
But Fisher remains confident. "But there are some very beautiful towers coming through," she adds. "And we will be protecting views to Westminster, as well as views of the Battersea Power Station chimneys."
This article first appeared in the October 2014 issue of The Construction Index magazine. To read the full magazine online, click here.
To receive you own hard copy each month in traditional paper format, you can subscribe at
http://www.theconstructionindex.co.uk/magazine#
Got a story? Email news@theconstructionindex.co.uk