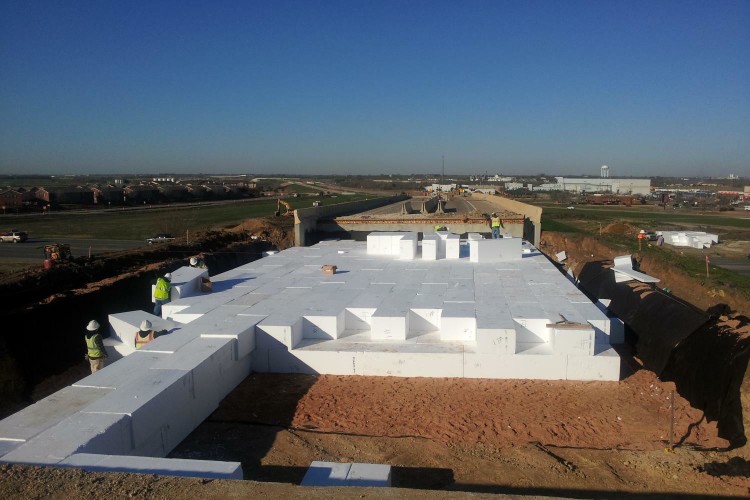 Anand Puppala, associate dean for research in the College of Engineering, said that the majority of the world's largest cities, often built in areas near water bodies, have soft and compressible soils. He said a good number of the 52,000 bridges in Texas have bump problems on entry due to settling of the soil under the pavement slabs.
A new US$336,000 (£216,000) implementation grant from the Texas Department of Transportation received by UTA's Sustainable and Resilient Civil Infrastructure Center will allow Puppala and his co-researcher, Assistant Professor Xinbao Yu, to test the use of the geofoam blocks to ease the problem. The blocks measure about 2m by 760mm by 760mm.
Puppala, Yu and their team have been installing the blocks near a bridge at US Highway 67 and State Highway 174 in Johnson County to attempt to slow serious settling at the bridge entrance. This area has settled 430mm since 1995 due to heavy truck traffic loads, equivalent to more than 20mm a year. The UT Arlington team replaced an embankment near the bridge with geofoam blocks in 2012. In the three years since the installation, the team has measured a total of less than 25mm.

"If you place something heavy, like a road or a bridge, on soft soil, it will stress the underlying soil which gets compressed with time," Puppala said. "Geofoam blocks cut down on sediment, can be stacked, and do not place stress on the soil, so structures are safer and more stable. They are also environmentally safe and designed in such a way that they do not degrade."
The new implementation grant will allow more monitoring to make sure the blocks continue to work.
Got a story? Email news@theconstructionindex.co.uk