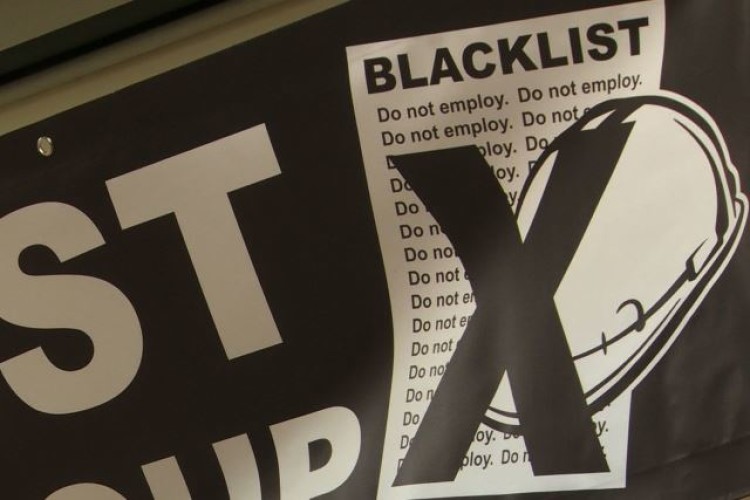 The union has submitted the names of 34 personnel officers that have been named in Parliament as having been involved in blacklisting to the Chartered Institute for Personnel & Development (CIPD). GMB wants to know if they are current or former members of CIPD.
Blacklisting came to light when in 2009 the Information Commissioners Office (ICO) seized a Consulting Association database of 3,213 construction workers and environmental activists used by 44 companies to vet new recruits and keep out of employment trade union and health and safety activists. Some 86% of people on the blacklist are not aware that their names are on the blacklist after the ICO decided not to contact them directly.
The 34 HR professionals included in the GMB letter to CIPD were named in Parliament as being the managers who used the blacklist on a day to day basis.
CIPD chief executive Peter Cheese has given evidence to the House of Commons Scottish Affairs Committee inquiry into blacklisting. He told the committee that, if asked, he would reveal which of the blacklisters were members of the professional body. The GMB has now followed up that offer.
GMB national officer Justin Bowden said: "GMB is calling for all the HR professionals who ran the blacklist as generals, colonels and lieutenants for nearly 20 years to apologise for what they did and atone by telling all they know about how it operated. Their doing so is an essential part of the clean up as they systematically violated the civil rights of their fellow citizens. For them the Nuremburg defence that they were only following orders will not wash."
The names submitted by GMB to CIPD are:
| | | |
| --- | --- | --- |
| Previous company | Name | Current position and company |
| Balfour Beatty | Gerry Harvey | Human Resources Development Director, Balfour Beatty Engineering Services |
| Balfour Beatty | Armar Johnston | Human Resources Director, Balfour Beatty Projects |
| Balfour Beatty | Ann Cowrie | Senior HR position, Balfour Beatty |
| Balfour Beatty | Vince James | Human Resources Manager, Balfour Beatty Infrastructure Services |
| Balfour Beatty | Carolyn Williams | Group Head of Human Resources, The Murphy Group |
| Balfour Kilpatrick | Michael Aird | Director of Michael Aird Consultancy Ltd, an HR, Health & Safety and Training consultancy |
| Balfour Beatty | Paul Raby | Human Resources Director, Balfour Beatty |
| BAM | Paul McCreath | Human Resources Director, Kier Group |
| BAM | Pat Swift | Head of Human Resources, BFK, a joint venture comprising BAM Nuttall, Ferrovial and Kier |
| Carillion | Liz Keates | Head of Employee Relations, Carillion |
| Carillion | Roy Hay | Director of Offshore Personnel Services, Technip |
| Carillion | Dianne Hughes | Deputy Director of Human Resources, The Big Lottery Fund |
| Carillion | Frank Duggan | Company Secretary, Fuscha Limited |
| Carillion | Kevin Gorman | Vice President Human Resources, Harkand Group |
| Carillion | Sandy Palmer | Chairman of Ellesmere Rural Parish Council |
| Carillion | Dave Aspinall | Managing Director, Network Construction Services Ltd |
| Carillion | Roger Robinson | CEO, European Hub, Laing O'Rourke |
| Costain | Geoff Hughes | Director of his own management consultancy company, TIOP Consulting Ltd |
| Laing O'Rourke | Liz Keates | Head of Employee Relations, Carillion |
| Laing O'Rourke | Sylvia Smith | Payroll Director / Human Resources Director, Laing O'Rourke Group Services Ltd |
| Kier | Kathy Almansoor | Group Employee Relations Manager, Kier Group |
| Skanska | Stephen Quant | Director of his own Labour Recruitment and HR company, TIOP Consulting Ltd |
| Skanska | John Dickinson | Industrial Relations Manager, Skanska. Employed as a consultant |
| AMEC | Arnold Nestler | Group HR services director, AMEC |
| Sir Robert McAlpine | Callum McAlpine | Director, Sir Robert McAlpine |
| Cleveland Bridge UK Ltd | Lynne Day | Personnel Director, Cleveland Bridge |
| Shepherd Engineering Services | Lisa Stevenson | Executive Director Human Resources, Shepherd Engineering Services |
| Emcor | John Stoddart | Human Resources Manager, SPIE WHS |
| Emcor | Greg Ingleton | Group Human Resources Director, Emcor |
| Emcor | Sheila Knight | Director of her own Management Consultancy, Anderson Knight Associates Ltd and Visiting lecturer at the University of Reading, teaching Human Resource Management and Employment Law at Masters level |
| Sias Building Services | John Stoddart | Human Resources Manager, SPIE WHS |
| Whessoe | Valerie Bennison | HRBP for Head Office Directorates and SCS, Child Maintenance Group, Department for Work and Pensions |
| Morrison Construction | John Morrison | Company Secretary and Director of R R Richardson Ltd |
| Vinci | Alan Thorniley | Regional Human Resources Consultant at Vinci / Taylor Woodrow International, United Arab Emirates |
| Taylor Woodrow | Ian Leake | |
| Walter Llewellyn | Tim Llewellyn | Director of Equestrian & Agricultural Products LLP and of Special Interest Database Company Ltd, a Guernsey based Computer programming, consultancy and information service and other related activities company |
Got a story? Email news@theconstructionindex.co.uk