The idea of a government - let alone a Tory one - taking on the role of property developer from the private sector sounds pretty radical.
And after years during which the house-building sector has consolidated into the hands of a few large companies so too does the idea that small and medium-sized house-builders (or would-be house-builders) could benefit from official encouragement.
And yet David Cameron's recent announcement that the government will become a developer of homes on some large but difficult regeneration sites included measures designed both to speed up the construction of new housing and involve more small firms.
There is, though, truly nothing new under the sun. This was the approach used for much of the successful development of London Docklands 30 years ago, when a previous Tory government had sites that looked promising if only someone could make a development stack up.
The sites now chosen (see box, opposite) are all large and in areas with healthy demand for homes but, with one exception, all have something fundamentally wrong with them that prevents conventional house-building easily going forward.
Old Oak Common is the exception, as while no-one would have much trouble selling homes next to what will become a major London transport interchange, its sheer size would defeat developers.
The others have problems with infrastructure, utilities, even listed buildings, and while these are not necessarily beyond the wit of volume house-builders to solve, they have easier and more rewarding things to do, and so progress has been limited.
Smaller builders will be encouraged to build homes for the government under the commissioning programme, not because of charitable feelings towards them but because they present the only means by which the government can easily increase the capacity of the industry to deal with the increasingly politically embarrassing housing shortage.
Essentially, the volume house-builders have a capacity that they build to, and a target return on investment that means, in broad terms, they release only one or two homes per week on each development to avoid overloading local markets.
The government wants considerably more output than that, and rates increase only a little even if several major developers are working on one site.
Paul Schofield, director-general for housing and planning at the Department for Communities & Local Government, explained ministers' thinking when he was questioned by MPs:
 "The intention is to diversify supply by directly commissioning contractors and there are two reasons for that," he said. These were to bring in new entrants to deal with the problems of consolidation among the volume builders and also to "try to increase [the] rate of building".
He explained: "The big issue here is that volume builders want a 20% return on capital and build only at the speed they can see sales coming forward…By using the government balance sheet and partnering with people who do not look for that scale of return we can build faster."
Schofield told MPs that the Homes & Communities Agency (HCA) would hold the land concerned and secure outline permission. It would then form joint ventures with construction and/or financial partners who would agree to deliver specific build rates, invest in infrastructure and "build out at pace, with a supply chain that brings in smaller firms or large ones interested but which have not had access to capital".
According to Schofield, smaller firms accounted for 38% of homes 25 years ago but now build only 15%. "We would love to see capacity come back in from them and from big construction firms not in housing," he said.
He singled out Laing O'Rourke as one construction giant not currently involved in house-building (Laing Homes was sold long ago by the original Laing company to Taylor Wimpey) that might be persuaded. Last June, Laing O'Rourke formed a joint venture with Legal & General and Touchtone Residential Lettings to build rental homes for local authorities.
Schofield hinted that offsite construction, for which Laing O'Rourke has the facilities, might be the way to deliver the volume of homes needed at the right speed.
The industry has largely welcomed the government's move. The House Builders Association (HBA), part of the National Federation of Builders, says it had become increasingly difficult for the smaller firms it represents to gain planning permission and "therefore a commissioned site with planning permission ought to be well received by the industry".
Policy advisor Rico Wojtulewicz says: "This is about 13,000 homes over five sites, so it's welcome but not huge.
"At the moment SMEs have a problem in getting planning permission because they lack the resources to employ a lot of people to go through viability tests and so forth. But also local authorities are short of planners and so they tend to meet their five-year land supply requirement by giving planning permission for large schemes that are going to last 10 years or so."
Wojtulewicz says small firms would prefer to deal with the HCA directly rather than through a large firm acting as a commissioning intermediary. "You can have a contractor in between who might, for example, not have the same design priorities as the client," he explains.
Federation of Master Builders (FMB) policy adviser Andrew Dixon, says: "Having sites ready with planning permission is quite a boon to smaller builders…The way the planning system works is onerous on smaller firms as the amount of resources they have to put in is proportionately greater than for a large firm.
"Small firms add capacity but they can also build more quickly as large firms will tend to stagger the release of homes to one a week which they judge the rate for market absorption," adds Dixon.
Both the HBA and FMB point out that although materials supply problems have eased in the past year, skills shortages would constrain the ability of small firms to take advantage of the commissioning programme.

Dixon says: "There is spare capacity, so long as skilled labour is available, as there has been a lot of diversification among small firms and they could be attracted into house-building, though by doing less of something else.
"We will need a great deal more skilled labour and hope the government will recognise that and take steps to quickly increase supply. Our latest state of trade survey showed 60% of members had problems in finding bricklayers."
Wojtulewicz says: "Smaller firms have plenty of capacity but there is a skills issue. There are always shortages and we can only plan one or two jobs ahead partly because finance is tighter than in the past."
The volume house-builders, meanwhile, seem a little cautious about the government's sudden enthusiasm for their smaller colleagues.
Home Builders Federation executive chairman Stewart Baseley says: "Direct commissioning will only be successful if it speeds up the release of public sector land and results in more house-building than would have happened using the more traditional methods of public-sector land disposal."
So will all this work? The housing shortage in some parts of the country is certainly acute enough to have risen to near the top of ministerial 'to do' lists. The government will face voters' wrath if it cannot get homes supplied pretty quickly.
The prime minister said when he launched the programme: "Today's package signals a huge shift in government policy. Nothing like this has been done on this scale in three decades – government rolling its sleeves up and directly getting homes built."
Its success depends, surely, on the industry finding capacity and the HCA managing to set up a process which, while it safeguards public money, is not so bureaucratic that small firms cannot engage with it.
The initial sites for government-commissioned homes:
Old Oak Common, west London
This is a brownfield site around a planned transport hub of Crossrail, the planned High Speed 2 line, National Rail and London Overground.
It will be one of the best-connected places in the country but is a whopping 155 hectares of brownfield land capable of accommodating 24,000 homes and with space for 55,000 new jobs.
Northstowe, Cambridgeshire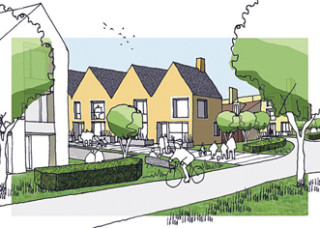 This has been a proposed new town since 2005 but, although almost nothing has been built, the Cambridgeshire Guided Busway has been completed through it. There is space for 10,000 homes on the former military barracks site but the scale of development called for has so far proven beyond the HCA and its private partners.
Connaught Barracks, Dover
It was 2008 when the HCA bought this 55 hectare site, which even includes a fort dating from the Napoleonic wars. According to the government, developers have found it "challenging due to complex demolition and utility upgrade works that are required", leading to work having long stalled.
Lower Graylingwell, Chichester
This is a former hospital bought by the HCA in 2014 but which it was unable to sell to any developer when it came to market last year due to inability "to reach a commercially acceptable agreement". This is a small site, with planning permission for 160 homes on 7.4 hectares.
Daedelus Waterfront, Lee-on-Solent
This is part of an enterprise zone and comes with its own runway serving the adjacent aviation industries. It is another former military site that has proven troublesome to the HCA, though has space for 249 homes. "Upfront infrastructure requirements and complexities around listed buildings on site mean the viability of development is challenging and credible bidders have been deterred," the government has said.
Got a story? Email news@theconstructionindex.co.uk