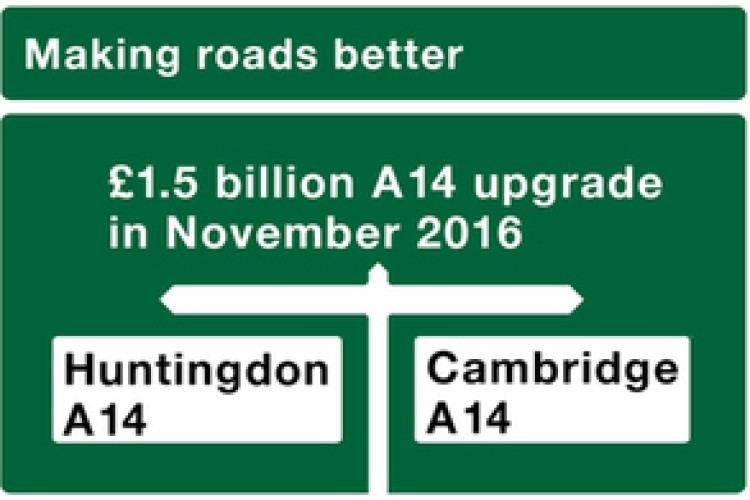 As part of an additional £1.3bn funding for local roads, the Department of Transport (DfT) is providing £925m that councils can bid for to upgrade and repair their roads. This is on top of the £6bn that local highway authorities are already receiving up to 2021. This is an increase on the £4.7bn spent between 2010 and 2015 and almost double the £3.7bn spent between 2005 and 2010.
A further £70m from the Pothole Fund will be allocated next year.
Possible future road projects that have been allocated funding for strategic studies include:
Northern Trans-Pennine — the A66 and A69 corridors
Trans-Pennine tunnel — linking Manchester to Sheffield
Manchester north-west quadrant — the M60 from junctions 8 to 18
A1 east of England — from the M25 to Peterborough
Oxford to Cambridge expressway
M25 southwest quadrant.
A further six schemes have financial to develop a business case. These are:
a new Tees crossing
dualling the A500 in Cheshire
Coventry South Link Road
Melton Mowbray Eastern Distributor road
Sheffield Innovation Corridor
Manchester Metrolink Airport link.
Much of the DfT's statement includes re-announcements, such as £50m towards the £94.6m Lincoln Eastern Bypass – Carillion starts construction in January [see our previous report here].
The Civil Engineering Contractors Association welcomed the money, with head of external affairs Marie-Claude Hemming saying: "This is fantastic news for civil engineering contractors, and more importantly, for the UK as a whole. We have long argued that investment in roads infrastructure is vital if we are to maintain our position as a great placed to do business and ensure economic growth is spread across the UK.
 "The challenge is now to get spades in the ground as quickly as possible. Where projects are yet to begin, CECA offers its support to our customers to help deliver the new road infrastructure making as much use as possible of the knowledge contractors have gained in driving forward efficiency and innovation."
North East funding
North East potholes breakdown
| Local Highway Authority | Pothole Fund allocation (£) | Potholes filled (at £53 per pothole) | Highways Maintenance Block allocation for 2017/18 (£) |
| --- | --- | --- | --- |
| County Durham UA | 931,000 | 17,600 | 10,567,000 |
| Darlington UA | 133,000 | 2,500 | 1,545,000 |
| Hartlepool UA | 98,000 | 1,900 | 1,053,000 |
| Middlesbrough UA | 106,000 | 2,000 | 1,628,000 |
| Northumberland UA | 1,328,000 | 25,100 | 15,507,000 |
| Redcar and Cleveland UA | 177,000 | 3,300 | 1,879,000 |
| Stockton-on-Tees UA | 194,000 | 3,700 | 2,293,000 |
| Gateshead | 201,000 | 3,800 | 2,435,000 |
| Newcastle upon Tyne | 213,000 | 4,000 | 2,413,000 |
| North Tyneside | 191,000 | 3,600 | 2,007,000 |
| South Tyneside | 132,000 | 2,500 | 1,377,000 |
| Sunderland | 260,000 | 4,900 | 2,939,000 |
North East dangerous roads breakdown
| Road | Length of section (km) | LA (for longest part of link) |
| --- | --- | --- |
| A67 | 7.9 | Durham CC |
| A1290 | 6.4 | Sunderland BC |
Road schemes in the North East
| Completed since 2010 | Total investment (£m) | DfT investment (£m) |
| --- | --- | --- |
| M62 J25-30 | 136 | 136 |
| M1 J39-42 | 120 | 120 |
| A1 Coal House to Metro Centre | 61 | 61 |
| Road schemes under construction | Total investment (£m) | DfT investment (£m) |
| --- | --- | --- |
| Morpeth Northern Bypass | 31.9 | 21.1 |
| M1 J32-35a | 106 | 106 |
| A1 Leeming to Barton | 380 | 380 |
| A160/A180 Immingham | 88 | 88 |
| A19 Coast Road | 75 | 75 |
| Morpeth Northern Bypass | 31.9 | 21.1 |
North West funding
North West potholes breakdown
| Local Highway Authority | Pothole Fund allocation (£) | Potholes filled (at £53 per pothole) | Highways Maintenance Block allocation for 2017/18 (£) |
| --- | --- | --- | --- |
| Blackburn with Darwen UA | 128,000 | 2,400 | 1,715,000 |
| Blackpool UA | 106,000 | 2,000 | 1,068,000 |
| Cheshire East UA | 776,000 | 14,600 | 9,290,000 |
| Cheshire West and Chester UA | 640,000 | 12,100 | 7,069,000 |
| Halton UA | 153,000 | 2,900 | 1,981,000 |
| Warrington UA | 234,000 | 4,400 | 2,841,000 |
| Cumbria | 2,053,000 | 38,700 | 24,075,000 |
| Bolton | 229,000 | 4,300 | 2,716,000 |
| Bury | 144,000 | 2,700 | 1,812,000 |
| Manchester | 315,000 | 5,900 | 3,381,000 |
| Oldham | 193,000 | 3,600 | 2,180,000 |
| Rochdale | 178,000 | 3,400 | 2,174,000 |
| Salford | 193,000 | 3,600 | 2,234,000 |
| Stockport | 213,000 | 4,000 | 2,826,000 |
| Tameside | 164,000 | 3,100 | 2,064,000 |
| Trafford | 175,000 | 3,300 | 2,069,000 |
| Wigan | 266,000 | 5,000 | 3,416,000 |
| Lancashire | 1,718,000 | 32,400 | 20,514,000 |
| Knowsley | 155,000 | 2,900 | 1,646,000 |
| Liverpool | 346,000 | 6,500 | 3,747,000 |
| Sefton | 224,000 | 4,200 | 2,573,000 |
| St Helens | 186,000 | 3,500 | 2,151,000 |
| Wirral | 272,000 | 5,100 | 2,938,000 |
North West dangerous roads
| Road | Length of section (km) | LA (for longest part of link) |
| --- | --- | --- |
| A588 | 29.1 | Lancashire CC |
| A683 | 26.5 | Lancashire CC |
| A670 | 9.8 | Oldham Met BC |
| A532 | 5.2 | Cheshire CC |
| A6 | 9.1 | Lancashire CC |
| A592 | 37.2 | Cumbria CC |
| A536 | 11.8 | Cheshire CC |
| A682 | 21.3 | Lancashire CC |
| A57 | 5.2 | St Helens Met BC |
| A581 | 11.4 | Lancashire CC |
| A537 | 11.6 | Cheshire CC |
Road schemes in the North West
| Completed since 2010 | Total investment (£m) | DfT investment (£m) |
| --- | --- | --- |
| Crewe Green Link Road | 26.5 | 15.6 |
| Heysham-M6 Link Road | 130.0 | 110.9 |
| Thornton to Switch Island (Sefton) | 18.3 | 14.5 |
| Road schemes under construction | Total investment (£m) | DfT investment (£m) |
| --- | --- | --- |
| A6 to Manchester Airport Relief Road | 228.5 | 165.0 |
| Mersey Gateway (Halton) | 600.0 | 211.0 |
| A556 Knutsford to Bowdon | 192 | 192 |
| Manchester Smart Motorway M60 J8 – M62 J20 (originally 3 schemes) | 208 | 208 |
| M6 J16-19 smart motorway | 100-250 | 100-250 |
| Scheduled to start construction before 2020 | Total investment (£m) | DfT investment (£m) |
| --- | --- | --- |
| M6 J21A-26 | 100-250 | 100-250 |
| M60 J24-27 & J1-4 | 100-250 | 100-250 |
| M62 J10-12 | 100-250 | 100-250 |
Yorkshire and Humber funding
Yorkshire and Humber potholes breakdown
| Local Highway Authority | Pothole Fund allocation (£) | Potholes filled (at £53 per pothole) | Highways Maintenance Block allocation for 2017/18 (£) |
| --- | --- | --- | --- |
| East Riding of Yorkshire UA | 898,000 | 17,000 | 9,821,000 |
| Kingston upon Hull, City of UA | 148,000 | 2,800 | 2,001,000 |
| North East Lincolnshire UA | 160,000 | 3,000 | 1,774,000 |
| North Lincolnshire UA | 380,000 | 7,200 | 4,090,000 |
| York UA | 184,000 | 3,500 | 2,018,000 |
| North Yorkshire | 2,358,000 | 44,500 | 26,359,000 |
| Barnsley | 296,000 | 5,600 | 3,374,000 |
| Doncaster | 389,000 | 7,300 | 4,490,000 |
| Rotherham | 295,000 | 5,600 | 3,309,000 |
| Sheffield | 0 | 0 | 0 |
| Bradford | 428,000 | 8,100 | 5,494,000 |
| Calderdale | 277,000 | 5,200 | 3,504,000 |
| Kirklees | 452,000 | 8,500 | 5,437,000 |
| Leeds | 711,000 | 13,400 | 7,735,000 |
| Wakefield | 364,000 | 6,900 | 3,801,000 |
Yorkshire and Humber dangerous roads breakdown
| Road | Length of section (km) | LA (for longest part of link) |
| --- | --- | --- |
| A6033 | 13.3 | Calderdale Met BC |
| A161 | 23.1 | East Riding of Yorkshire Council |
| A167 | 6.1 | North Yorkshire CC |
| A628 | 6.9 | Barnsley Met BC |
| A6033 | 8.6 | Calderdale Met BC |
| A161 | 21.2 | North Lincolnshire Council |
| A6108 | 55.4 | North Yorkshire CC |
| A18 | 15.6 | North East Lincolnshire Council |
Road schemes in Yorkshire and Humber
| Completed since 2010 | Total investment (£m) | DfT investment (£m) |
| --- | --- | --- |
| A164 Humber Bridge to Beverley Improvements | 10.0 | 7.7 |
| A18-A180 Link (Immingham) | 6.3 | 4.9 |
| Bedale/Aiskew/Leeming Bar Bypass | 29.0 | 24.7 |
| Beverley Integrated Transport Plan | 21.5 | 16.3 |
| Todwick Crossroads Improvement (Rotherham) | 14.2 | 11.8 |
| White Rose Way Improvement Scheme (Doncaster) | 17.0 | 9.7 |
| M62 J25-30 | 136 | 136 |
| M1 J39-42 | 120 | 120 |
| A1 Coal House to Metro Centre | 61 | 61 |
| Under construction | Total investment (£m) | DfT investment (£m) |
| --- | --- | --- |
| East Riding Road Maintenance Scheme | 23.9 | 16.7 |
| North Yorkshire Road Maintenance Scheme | 44.0 | 24.0 |
| M1 J32-35a | 106 | 106 |
| A1 Leeming to Barton | 380 | 380 |
| A160/A180 Immingham | 88 | 88 |
East Midlands funding
East Midlands potholes breakdown
| Local Highway Authority | Pothole Fund allocation (£) | Potholes filled (at £53 per pothole) | Highways Maintenance Block allocation for 2017/18 (£) |
| --- | --- | --- | --- |
| Derby UA | 166,000 | 3,100 | 1,968,000 |
| Leicester UA | 187,000 | 3,500 | 2,323,000 |
| Nottingham UA | 174,000 | 3,300 | 1,969,000 |
| Rutland UA | 153,000 | 2,900 | 1,696,000 |
| Derbyshire | 1,462,000 | 27,600 | 16,874,000 |
| Leicestershire | 1,120,000 | 21,100 | 12,642,000 |
| Lincolnshire | 2,482,000 | 46,800 | 27,571,000 |
| Northamptonshire | 1,171,000 | 22,100 | 13,581,000 |
| Nottinghamshire | 1,174,000 | 22,200 | 13,265,000 |
East Midlands dangerous roads breakdown
| Road | Length of section (km) | LA (for longest part of link) |
| --- | --- | --- |
| A619 | 6.1 | Derbyshire CC |
| A1084 | 15.3 | Lincolnshire CC |
| A631 | 5.2 | Lincolnshire CC |
| A631 | 22.3 | Lincolnshire CC |
| A634 | 12.7 | Nottinghamshire CC |
| A361 | 6.6 | Northamptonshire CC |
| A5012 | 15.2 | Derbyshire CC |
| A5004 | 12.4 | Derbyshire CC |
Road schemes in the East Midlands
| Completed since 2010 | Total investment (£m) | DfT investment (£m) |
| --- | --- | --- |
| A43 Corby Link Road | 34.0 | 20.5 |
| Connecting Derby | 36.2 | 26.7 |
| London Road Bridge (Derby) | 6.9 | 4.4 |
| Nottingham Ring Road Improvements | 16.2 | 12.8 |
| M6 J5-8 | 115 | 115 |
| M1 J28-31 | 206 | 206 |
| A453 Widening | 150 | 150 |
| A14 Kettering | 42 | 42 |
| M6 J10a-13 | 380 | 380 |
| Under construction | Total investment (£m) | DfT investment (£m) |
| --- | --- | --- |
| A45/A46 Tollbar End | 106 | 106 |
| M1 Junction 19 | 191 | 191 |
| M5 J4a-6 smart motorway | 50-100 | 50-100 |
| M1 J13-19 smart motorway | 100-250 | 100-250 |
| A50 Uttoxeter | 25-50 | 25-50 |
| M5 Junctions 5, 6 & 7 Upgrades | <25 | <25 |
| A43 Abthorpe | 7 | 7 |
| Scheduled to start construction before 2020 | Total investment (£m) | DfT investment (£m) |
| --- | --- | --- |
| M1 J24-25 | 50-100 | 50-100 |
| M6 J2-4 | 100-250 | 100-250 |
West Midlands funding
West Midlands potholes breakdown
| Local Highway Authority | Pothole Fund allocation (£) | Number of potholes filled (at £53 per pothole) | Highways Maintenance Block allocation for 2017/18 (£) |
| --- | --- | --- | --- |
| Herefordshire, County of UA | 899,000 | 17,000 | 10,244,000 |
| Shropshire UA | 1,335,000 | 25,200 | 14,667,000 |
| Stoke-on-Trent UA | 195,000 | 3,700 | 2,116,000 |
| Telford and Wrekin UA | 250,000 | 4,700 | 3,069,000 |
| Staffordshire | 1,582,000 | 29,800 | 17,848,000 |
| Warwickshire | 1,016,000 | 19,200 | 11,514,000 |
| Coventry | 198,000 | 3,700 | 2,458,000 |
| Dudley | 238,000 | 4,500 | 2,699,000 |
| Sandwell | 225,000 | 4,200 | 2,853,000 |
| Solihull | 200,000 | 3,800 | 2,329,000 |
| Walsall | 188,000 | 3,500 | 2,147,000 |
| Wolverhampton | 173,000 | 3,300 | 2,001,000 |
| Worcestershire | 1,169,000 | 22,000 | 13,341,000 |
West Midlands dangerous roads breakdown
| Road | Length of section (km) | LA (for longest part of link) |
| --- | --- | --- |
| A529 | 9.1 | Shropshire CC |
| A529 | 9.3 | Shropshire CC |
Road schemes in the West Midlands
| Completed since 2010 | Total investment (£m) | DfT investment (£m) |
| --- | --- | --- |
| A45 Westbound Bridge Road | 11.9 | 8.3 |
| Chester Road (Birmingham) | 11.7 | / 8.3 |
| Darlaston Access Improvement (Walsall) | 25.9 | 14.3 |
| Evesham Bridge (Worcestershire) | 8.2 | 5.6 |
| M6 J5-8 | 115 | 115 |
| M1 J28-31 | 206 | 206 |
| A453 Widening | 150 | 150 |
| A14 Kettering | 42 | 42 |
| M6 J10a-13 | 380 | 380 |
| Under construction | Total investment (£m) | DfT investment (£m) |
| --- | --- | --- |
| A45/A46 Tollbar End | 106 | 106 |
| M1 Junction 19 | 191 | 191 |
| M5 J4a-6 smart motorway | 50-100 | 50-100 |
| M1 J13-19 smart motorway | 100-250 | 100-250 |
| A50 Uttoxeter | 25-50 | 25-50 |
| M5 Junctions 5, 6 & 7 Upgrades | <25 | <25 |
| A43 Abthorpe | 7 | 7 |
| Scheduled to start construction before 2020 | Total investment (£m) | DfT investment (£m) |
| --- | --- | --- |
| M1 J24-25 | 50-100 | 50-100 |
| M6 J2-4 | 100-250 | 100-250 |
East of England funding
East of England potholes breakdown
| Local Highway Authority | Pothole Fund allocation (£) | Potholes filled (at £53 per pothole) | Highways Maintenance Block allocation for 2017/18 (£) |
| --- | --- | --- | --- |
| Bedford UA | 219,000 | 4,100 | 2,654,000 |
| Central Bedfordshire UA | 356,000 | 6,700 | 3,962,000 |
| Luton UA | 94,000 | 1,800 | 1,216,000 |
| Peterborough UA | 240,000 | 4,500 | 3,078,000 |
| Southend-on-Sea UA | 102,000 | 1,900 | 1,238,000 |
| Thurrock UA | 153,000 | 2,900 | 1,772,000 |
| Cambridgeshire | 1,155,000 | 21,800 | 13,342,000 |
| Essex | 1,869,000 | 35,300 | 21,847,000 |
| Hertfordshire | 1,293,000 | 24,400 | 15,828,000 |
| Norfolk | 2,476,000 | 46,700 | 25,459,000 |
| Suffolk | 1,763,000 | 33,300 | 19,393,000 |
East of England dangerous roads breakdown
| Road | Length of section (km) | LA (for longest part of link) |
| --- | --- | --- |
| A1303 | 6.6 | Cambridgeshire CC |
| A126 | 12.5 | Thurrock BC |
Road schemes in the East of England
| Completed since 2010 | Total investment (£m) | DfT investment (£m) |
| --- | --- | --- |
| Luton Town Centre (Inner Ring Road) | 24.1 | 15.9 |
| A11 Fiveways to Thetford | 102 | 102 |
| Under construction | Total investment (£m) | DfT investment (£m) |
| --- | --- | --- |
| Norwich Northern Distributor Road | 132.7 | 96.5 |
| A5-M1 Link Road | 162 | 162 |
| A14 Cambridge to Huntingdon | 1500 | 1500 |
South East funding
South East potholes breakdown
| Local Highway Authority | Pothole Fund allocation (£) | Potholes filled (£53/pothole) | Highways Maintenance Block allocation for 2017/18 (£) |
| --- | --- | --- | --- |
| Bracknell Forest UA | 125,000 | 2,400 | 1,512,000 |
| Brighton and Hove UA | 135,000 | 2,600 | 2,332,000 |
| Isle of Wight UA | 0 | 0 | 0 |
| Medway UA | 201,000 | 3,800 | 2,263,000 |
| Milton Keynes UA | 280,000 | 5,300 | 4,554,000 |
| Portsmouth UA | 111,000 | 2,100 | 1,272,000 |
| Reading UA | 97,000 | 1,800 | 1,309,000 |
| Slough UA | 66,000 | 1,200 | 803,000 |
| Southampton UA | 137,000 | 2,600 | 1,515,000 |
| West Berkshire UA | 336,000 | 6,300 | 3,836,000 |
| Windsor and Maidenhead UA | 173,000 | 3,300 | 1,936,000 |
| Wokingham UA | 203,000 | 3,800 | 2,360,000 |
| Buckinghamshire | 852,000 | 16,100 | 9,334,000 |
| East Sussex | 846,000 | 16,000 | 9,451,000 |
| Hampshire | 2,123,000 | 40,000 | 23,847,000 |
| Kent | 2,196,000 | 41,400 | 24,249,000 |
| Oxfordshire | 1,315,000 | 24,800 | 14,842,000 |
| Surrey | 1,348,000 | 25,400 | 14,859,000 |
| West Sussex | 1,145,000 | 21,600 | 12,200,000 |
South East dangerous roads breakdown
| Road | Length of section (km) | LA (for longest part of link) |
| --- | --- | --- |
| A285 | 18.7 | West Sussex CC |
| A252 | 14.1 | Kent CC |
| A27 | 6.3 | Hampshire CC |
| A40 | 9.2 | Buckinghamshire CC |
| A32 | 10.8 | Hampshire CC |
| A361 | 21.4 | Oxfordshire CC |
| A290 | 8.6 | Kent CC |
| A217 | 9.1 | Surrey CC |
| A36 | 6.8 | Hampshire CC |
| A4 | 8.7 | Slough BC |
Road schemes in the South East
| Completed since 2010 | Total investment (£m) | DfT investment (£m) |
| --- | --- | --- |
| Bexhill-Hastings Link Road | 117.1 | 56.9 |
| Portsmouth Northern Road Bridge | 12.6 | 11.1 |
| Portsmouth Tipner Interchange Road | 28.2 | 19.5 |
| Reading Station Highway Improvements | 13.2 | 9.6 |
| Walton Bridge (Surrey) | 31.8 | 23.9 |
| M25 J5-6/7 | 121 | 121 |
| A23 Handcross to Warninglid | 79 | 79 |
| M25 J23-27 | 180 | 180 |
| Under construction | Total investment (£m) | DfT investment (£m) |
| --- | --- | --- |
| A21 Tonbridge to Pembury | 70 | 70 |
| M25 J30 | 79 | 79 |
| M3 J2-4a | 174 | 174 |
| Scheduled to start construction before 2020 | Total investment (£m) | DfT investment (£m) |
| --- | --- | --- |
| M20 J10a | 50-100 | 50-100 |
| M20 J3-5 | 50-100 | 50-100 |
| M23 J8-10 | 100-250 | 100-250 |
South West funding
South West potholes breakdown
| Local Highway Authority | Pothole Fund allocation (£) | Potholes filled (at £53 per pothole) | Highways Maintenance Block allocation for 2017/18 (£) |
| --- | --- | --- | --- |
| Bath and North East Somerset UA | 272,000 | 5,100 | 3,352,000 |
| Bournemouth UA | 113,000 | 2,100 | 1,291,000 |
| Bristol, City of UA | 257,000 | 4,800 | 3,460,000 |
| Cornwall UA | 1,847,000 | 34,900 | 20,167,000 |
| Isles of Scilly UA | 0 | 0 | 0 |
| North Somerset UA | 276,000 | 5,200 | 3,567,000 |
| Plymouth UA | 164,000 | 3,100 | 2,067,000 |
| Poole UA | 124,000 | 2,300 | 1,423,000 |
| South Gloucestershire UA | 362,000 | 6,800 | 4,516,000 |
| Swindon UA | 194,000 | 3,700 | 2,489,000 |
| Torbay UA | 117,000 | 2,200 | 1,297,000 |
| Wiltshire UA | 1,300,000 | 24,500 | 14,757,000 |
| Devon | 3,192,000 | 60,200 | 37,611,000 |
| Dorset | 1,070,000 | 20,200 | 12,364,000 |
| Gloucestershire | 1,435,000 | 27,100 | 15,854,000 |
| Somerset | 1,750,000 | 33,000 | 20,015,000 |
South West dangerous roads breakdown
| Road | Length of section (km) | LA (for longest part of link) |
| --- | --- | --- |
| A371 | 5.4 | North Somerset Council |
| A4173 | 8.7 | Gloucestershire CC |
| A3121 | 9.5 | Devon CC |
| A3071 | 9.8 | Cornwall CC |
| A3058 | 6.3 | Cornwall CC |
| A3123 | 11.0 | Devon CC |
Road schemes in the South West
| Completed since 2010 | Total investment (£m) | DfT investment (£m) |
| --- | --- | --- |
| Camborne-Pool-Redruth Link Road | 27.9 | 16.1 |
| East of Exeter (M5 J29) | 14.4 | 10.2 |
| Kingskerswell Bypass (Devon) | 106.5 | 76.4 |
| M4 J19-20 /M5 J15-17 | 86 | |
| Under construction | Total investment (£m) | DfT investment (£m) |
| --- | --- | --- |
| South Bristol Link | 44.3 | 27.6 |
| Taunton Northern Inner Distributor Road | 27.0 | 14.7 |
| A30 Temple to Higher Carblake | 60 | 60 |
Further details can be found at https://www.gov.uk/government/uploads/system/uploads/attachment_data/file/572825/roads-investment-roads-funding-package.pdf
Got a story? Email news@theconstructionindex.co.uk