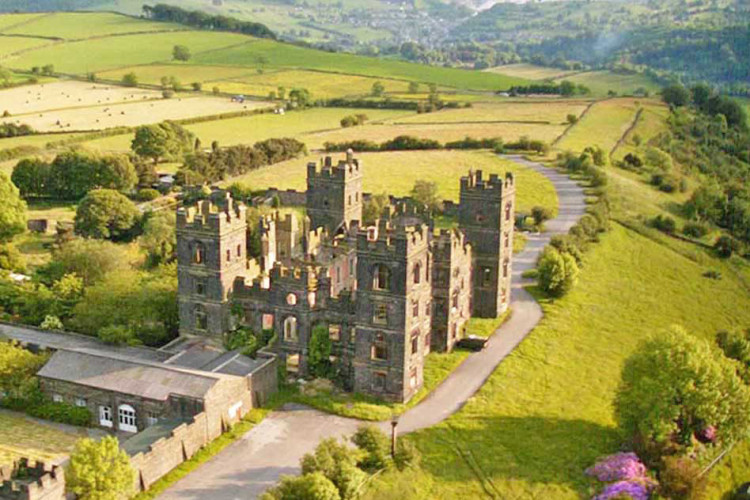 Gradient was chosen for the quality of product and the level of customer service it could bring to the Riber Castle project in Derbyshire. 
With over 25 years experience of providing single-layer tapered roofing insulation solutions to its credit, Gradient was ideally placed to handle the work on this 19th century, Grade II listed building. "This was not a particularly complex project as the original roof had disappeared completely and a new one had to be built," explains Gradient's Steve Adams.
"This took the form of different modules which combined to make up the overall roof. We were then able to design a bespoke insulation system, which created the various falls that were required to ensure effective drainage. We also provided general technical guidance plus on-site assistance during the installation procedure."
A liquid vapour control layer was first laid over the new 8502m roof deck before Gradient's foil-faced PIR boards were used to create a tapered, single-layer insulation system. The roof then received a layer of Oriented Strand Board to allow it to accept high levels of foot traffic, before a final three layer resin-based GRP waterproofed system was added. "With our single-layer system we are able to manufacture each piece of the insulation under controlled conditions at our manufacturing plant. This means that individual boards can be created to fit specific locations on the roof and the quality levels remain very high, " adds Steve.

This dramatically reduced the likelihood of errors and allowed the Gradient system to be installed far more quickly and easily than would have been possible with a conventional built-up system. Gradient also supplied a variety of pre-cut mitre boards for this project, which again reduced the need for skilled on-site labour during installation
The Castle stands 600 ft above sea level at the head of a valley overlooking the town of Matlock in Derbyshire."This is an exposed location which means that the new roof has to withstand high wind speeds," adds Steve. "We were able to confirm that the wind uplift calculations provided by the Project Director Ivan White – were accurate, so that the new roof could be built in complete confidence." 
Riber Castle was built as a private estate in 1862. It went on to be used as a boys' school, a Ministry of Defence establishment and a wildlife park, before falling into a bad state of repair. The refurbishment project will include the addition of new floors, helical, and spiral staircases and a three-storey atrium which allows natural light into the building.
Got a story? Email news@theconstructionindex.co.uk