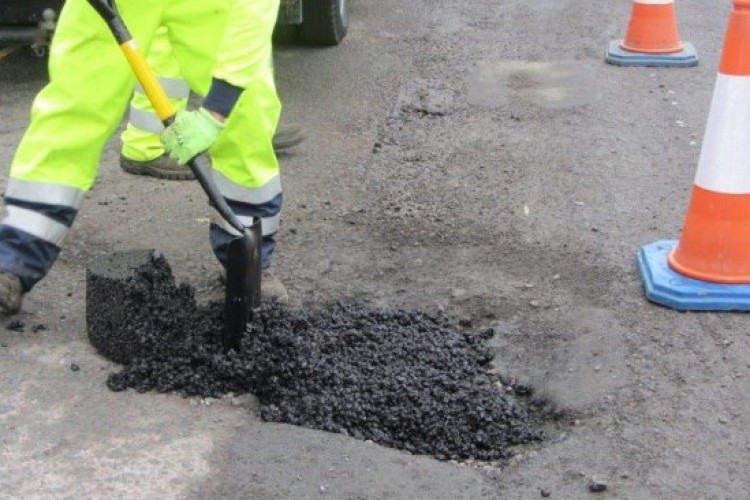 The £100m is on top of the £75m in government funding already given to councils from the Pothole Action Fund this year, as well as the additional £46m boost for highways authorities announced just before Christmas.
The Department for Transport expects seven million potholes to be patched with this money.
The money is for English councils only, because road maintenance in Wales, Northern Ireland and Scotland is devolved to their own governments and not run from Westminster.
Mr Grayling said: "We have seen an unusually prolonged spell of freezing weather which has caused damage to our local roads.  We are giving councils even more funding to help repair their roads so all road users can enjoy their journeys without having to dodge potholes."
The £100m total includes £2.5m that has already been allocated to Devon County Council for emergency repairs on the A379, which was badly damaged by Storm Emma.
The government is also investing more than £900,000 in trials using connected vehicles to help councils develop preventative and predictive maintenance strategies.
Blackpool Council has been given £100,000 to lead on a digital inspector scheme with eight councils. This will see high definition cameras mounted on vehicles to collect data on road and path conditions, which is then analysed by computers to highlight where roads are deteriorating.
The City of York is getting £72,000 to use a similar system to build on its pothole spotter trial.
Transport for the West Midlands, West Sussex County Council, Buckinghamshire County Council, Croydon Council and Southampton City Council have also been awarded funding for road condition monitoring innovations.
Swindon Borough Council will trial the use of smartphone sensors to collate road conditions and Essex County Council will work with Daimler to use information collected by its cars. Derby City Council and Oxfordshire County Council will use connected vehicles to collect data on the condition of road signs.
The DfT has also given a £30,000 grant to the Association of Directors of Environment, Economy, Planning & Transport (ADEPT) to work on technological and innovative improvements to make the local road network 'future-proof'.
This fund is on top of the £6bn the government has allocated to English local highway authorities between 2015 and 2021 to maintain and improve their roads.
Pothole/flood resilience funding
| Region | Local authority | Pothole/flood resilience funding |
| --- | --- | --- |
| North East | North East CA | 4,533,373 |
| North West | Greater Manchester CA | 2,882,002 |
| North West | Liverpool City Region CA | 1,860,126 |
| Yorkshire and The Humber | Sheffield City Region CA | 1,364,732 |
| Yorkshire and The Humber | West Yorkshire CA | 3,107,703 |
| West Midlands | West Midlands ITA | 1,702,946 |
| North East | County Durham UA | 1,296,639 |
| North East | Darlington UA | 185,229 |
| North East | Hartlepool UA | 136,775 |
| North East | Middlesbrough UA | 147,147 |
| North East | Northumberland UA | 1,849,720 |
| North East | Redcar and Cleveland UA | 246,208 |
| North East | Stockton-on-Tees UA | 270,003 |
| North East | Gateshead | 279,456 |
| North East | Newcastle upon Tyne | 296,781 |
| North East | North Tyneside | 265,372 |
| North East | South Tyneside | 183,836 |
| North East | Sunderland | 361,570 |
| North West | Blackburn with Darwen UA | 178,365 |
| North West | Blackpool UA | 146,983 |
| North West | Cheshire East UA | 1,081,305 |
| North West | Cheshire West and Chester UA | 892,090 |
| North West | Halton UA | 212,684 |
| North West | Warrington UA | 325,886 |
| North West | Cumbria | 2,859,217 |
| North West | Bolton | 318,470 |
| North West | Bury | 200,241 |
| North West | Manchester | 438,956 |
| North West | Oldham | 269,365 |
| North West | Rochdale | 247,494 |
| North West | Salford | 268,154 |
| North West | Stockport | 297,212 |
| North West | Tameside | 228,036 |
| North West | Trafford | 244,119 |
| North West | Wigan | 369,956 |
| North West | Lancashire | 2,393,218 |
| North West | Knowsley | 215,689 |
| North West | Liverpool | 481,702 |
| North West | Sefton | 311,440 |
| North West | St. Helens | 259,687 |
| North West | Wirral | 378,923 |
| Yorkshire and The Humber | East Riding of Yorkshire UA | 1,251,395 |
| Yorkshire and The Humber | Kingston upon Hull, City of UA | 205,595 |
| Yorkshire and The Humber | North East Lincolnshire UA | 223,298 |
| Yorkshire and The Humber | North Lincolnshire UA | 529,807 |
| Yorkshire and The Humber | York UA | 256,632 |
| Yorkshire and The Humber | North Yorkshire | 3,285,049 |
| Yorkshire and The Humber | Barnsley | 412,485 |
| Yorkshire and The Humber | Doncaster | 541,934 |
| Yorkshire and The Humber | Rotherham | 410,314 |
| Yorkshire and The Humber | Sheffield | 0 |
| Yorkshire and The Humber | Bradford | 595,461 |
| Yorkshire and The Humber | Calderdale | 385,751 |
| Yorkshire and The Humber | Kirklees | 629,186 |
| Yorkshire and The Humber | Leeds | 989,926 |
| Yorkshire and The Humber | Wakefield | 507,378 |
| East Midlands | Derby UA | 230,810 |
| East Midlands | Leicester UA | 260,236 |
| East Midlands | Nottingham UA | 242,057 |
| East Midlands | Rutland UA | 213,766 |
| East Midlands | Derbyshire | 2,035,992 |
| East Midlands | Leicestershire | 1,560,176 |
| East Midlands | Lincolnshire | 3,457,324 |
| East Midlands | Northamptonshire | 1,630,762 |
| East Midlands | Nottinghamshire | 1,635,629 |
| West Midlands | Herefordshire, County of UA | 1,252,647 |
| West Midlands | Shropshire UA | 1,858,807 |
| West Midlands | Stoke-on-Trent UA | 271,391 |
| West Midlands | Telford and Wrekin UA | 347,983 |
| West Midlands | Staffordshire | 2,203,545 |
| West Midlands | Warwickshire | 1,415,650 |
| West Midlands | Birmingham | 0 |
| West Midlands | Coventry | 276,480 |
| West Midlands | Dudley | 331,366 |
| West Midlands | Sandwell | 313,551 |
| West Midlands | Solihull | 278,680 |
| West Midlands | Walsall | 261,690 |
| West Midlands | Wolverhampton | 241,180 |
| West Midlands | Worcestershire | 1,627,557 |
| East of England | Bedford UA | 305,589 |
| East of England | Central Bedfordshire UA | 495,565 |
| East of England | Luton UA | 130,996 |
| East of England | Peterborough UA | 334,006 |
| East of England | Southend-on-Sea UA | 142,545 |
| East of England | Thurrock UA | 213,231 |
| East of England | Cambridgeshire | 1,608,546 |
| East of England | Essex | 2,602,886 |
| East of England | Hertfordshire | 1,801,196 |
| East of England | Norfolk | 3,448,743 |
| East of England | Suffolk | 2,454,918 |
| South East | Bracknell Forest UA | 174,074 |
| South East | Brighton and Hove UA | 188,705 |
| South East | Isle of Wight UA | 0 |
| South East | Medway UA | 280,565 |
| South East | Milton Keynes UA | 389,883 |
| South East | Portsmouth UA | 154,934 |
| South East | Reading UA | 134,681 |
| South East | Slough UA | 91,408 |
| South East | Southampton UA | 190,285 |
| South East | West Berkshire UA | 467,317 |
| South East | Windsor and Maidenhead UA | 240,894 |
| South East | Wokingham UA | 282,055 |
| South East | Buckinghamshire | 1,187,081 |
| South East | East Sussex | 1,177,912 |
| South East | Hampshire | 2,956,522 |
| South East | Kent | 3,058,239 |
| South East | Oxfordshire | 1,831,494 |
| South East | Surrey | 1,878,063 |
| South East | West Sussex | 1,594,870 |
| South West | Bath and North East Somerset UA | 379,059 |
| South West | Bournemouth UA | 157,232 |
| South West | Bristol, City of UA | 357,387 |
| South West | Cornwall UA | 2,572,746 |
| South West | North Somerset UA | 383,954 |
| South West | Plymouth UA | 228,539 |
| South West | Poole UA | 173,296 |
| South West | South Gloucestershire UA | 504,258 |
| South West | Swindon UA | 270,224 |
| South West | Torbay UA | 163,108 |
| South West | Wiltshire UA | 1,811,343 |
| South West | Devon | 6,946,606 |
| South West | Dorset | 1,490,177 |
| South West | Gloucestershire | 1,998,120 |
| South West | Somerset | 2,437,335 |
Got a story? Email news@theconstructionindex.co.uk