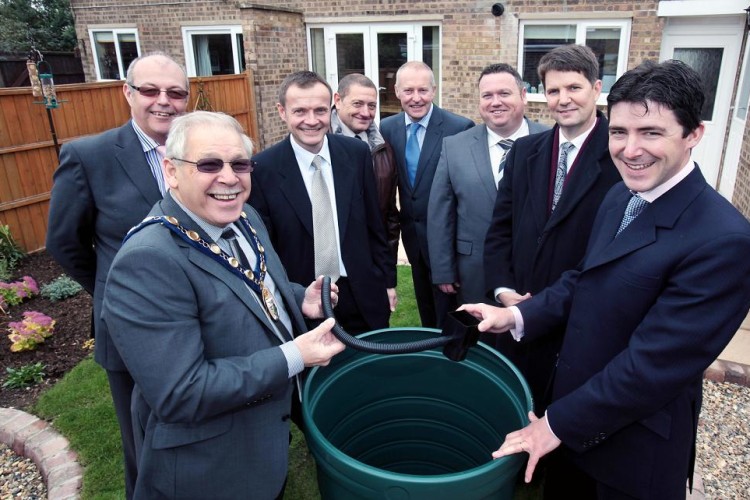 Property services group Apollo worked with Huntingdonshire District Council in partnership with the Building Research Establishment (BRE) on the Green House project, aimed at refurbishing the houses in St Ives and St Neots around four themes:  energy efficiency, renewable energy, water efficiency and biodiversity.  
The open days will allow homeowners to learn about air source heat pumps, solar hot water panels and building energy management systems, as well as providing an opportunity to explore the sustainable gardens.
The St Ives property will also be used as a local Energy Saving Trust advice centre, providing information, home energy checks, and advice on grant assistance, renewable technologies and feed-in-tariffs, whilst both properties have been awarded 'Super Home' status by the Sustainable Energy Academy (SEA).
Ahead of the visitor days, a team from Apollo joined councillors and officers from Huntingdonshire to officially open the houses.
Apollo's Divisional Manager, Kurt Mason, said: "This has been a fascinating project to work on, and foretells the direction that our refurbishment work is likely to take in the future.  It is rewarding to think that these properties will inspire people to make their own homes warmer, brighter and cheaper to run, whilst at the same time making them more environmentally friendly."
Huntingdonshire Councillor, Jonathan Gray said: "The houses are an essential demonstration and educational resource for all. Taking steps to maximise the efficiency of our homes is not only a responsible use of our natural resources but also saves money in reduced utility bills."
Got a story? Email news@theconstructionindex.co.uk