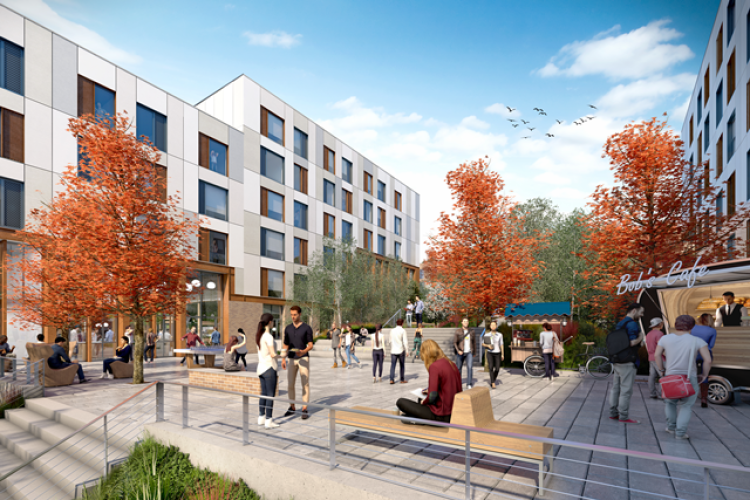 University Partnerships Programme (UPP) will be responsible for the design, build, funding and operation of the new accommodation on behalf of the University of Exeter. It expects to award a construction contract in December 2018.
UPP, whose biggest shareholder is the Chinese government, said that it would not disclose the gross development value of the project at this stage because that information was "market sensitive".
However, it did reveal that the new development will have 1,182 bedrooms, arranged in flats shared by between six and 10 students, with communal kitchen, living and dining facilities. The buildings are set across three terraces.
East Park will be the university's largest on-campus accommodation build since 2012 and forms part of a plan to create an additional 1,500 bedrooms.
East Park is just one of three new accommodation developments being built by UPP on the Streatham Campus. Vinci Construction UK signed a £27.2m contract with UPP in August for the smaller Spreytonway and Moberly House projects. Spreytonway will provide 131 student rooms using a reinforced concrete frame and Moberly will provide 251 student rooms using light weight steel frame construction.

Outline planning approval for the East Park site was approved in April 2017. Following consultation, the reserved matters application was submitted in August 2018 and the plans approved on 29th October 2018.
Work is due to start ion site in early 2019 with the new accommodation set to open in two phases from September 2020 and September 2021.
UPP chief executive Sean O'Shea said: "This news is a testament to the strength of our existing bespoke, long-term partnership with the university. Since 2009, we have delivered and operated circa 2,500 high-quality and affordable purpose-built student residences on campus."
Got a story? Email news@theconstructionindex.co.uk