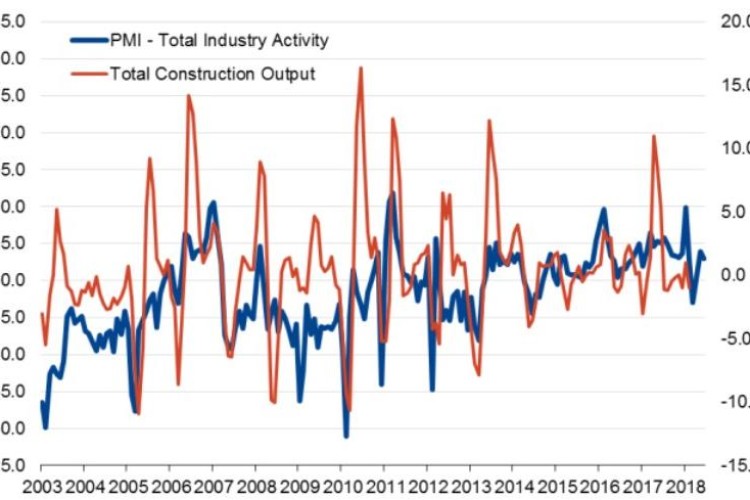 Higher workloads translated into further strong increases in employment and demand for materials, with purchasing activity rising to the greatest extent since January.
Less positive were reports of capacity constraints across the sector, reflected in stagnating order books and constructors reporting less optimism about the outlook.
The headline seasonally adjusted Germany Construction Purchasing Managers' Index (PMI) – which measures changes in the level of total industry activity compared with one month ago – registered 53.0 in June, down slightly from May's 53.9. The latest reading was broadly in line with the average recorded across the first half the year and signalled a solid rate of growth in the context of the series history.
By sector, housing activity showed the strongest rate of growth for the third month in a row. The pace of expansion in residential activity was down slightly since May but solid overall. This was also the case for commercial activity which, like homebuilding, has exhibited a sustained rebound throughout the second quarter after contracting in March.
Civil engineering activity meanwhile increased for the first time in five months, albeit only marginally
With activity levels continuing to rise in June, companies increased their purchases of raw materials and building products. The expansion in purchasing activity was one of the steepest recorded over the past seven years. Supplier delivery times worsened as a result, with the deterioration in vendor performance the most marked since November last year.

Constructors also reacted to higher workloads by creating more jobs in June. The rate of employment growth was solid and slightly quicker than that seen in May. However, use of subcontractors fell amid a further sharp reduction in their availability.
Anecdotal evidence suggested that many companies were working at or near to full capacity. This was reportedly a constraining factor on the inflow of new orders, which in June showed no change from the month before.
Some also raised concerns about a slowdown in growth in  the wider economy. Building firms generally remained optimistic about the outlook, but the level of confidence was dropped further from April's recent peak.
Phil Smith, principal economist at IHS Markit said: "June's construction PMI data showed another fairly robust rise in the level of building activity in Germany, to signal a sustained rebound in the second quarter following snow disruption earlier in the year. Looking through the volatility and at the overall trend for the first half of the year, growth is slightly below that seen in 2017.
"The survey data continued to highlight capacity issues as a constraining factor on the sector's growth performance, with inflows of new orders unchanged in June despite reports of robust underlying demand for new projects. There might be a healthy pipeline of orders in place, but constructions have started to rein-in their expectations for future activity."
He added that the survey highlighted the impact of new toll charges – introduced 1 July – which panellists indicated had already been factored into prices by some suppliers.
Got a story? Email news@theconstructionindex.co.uk