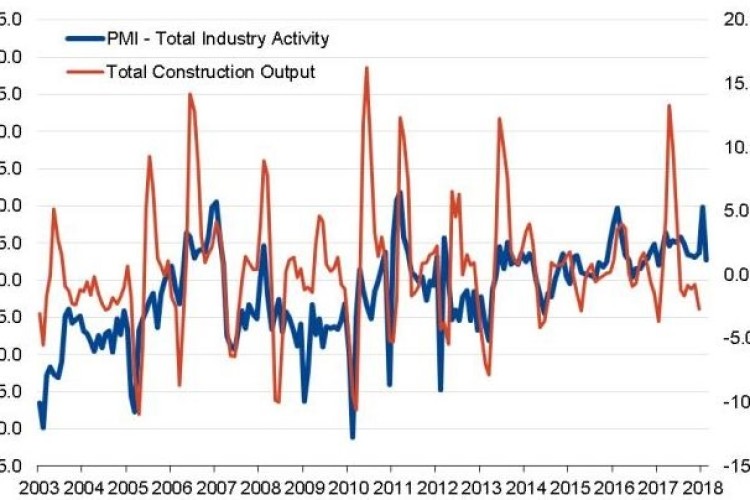 The IHS Markit Germany construction purchasing managers' index (PMI) – which measures changes in the level of total industry activity compared with the previous month – dropped back to 52.7 in February, from an 82-month high of 59.8 in January. The latest reading was the lowest seen for 13 months, but it nevertheless signalled the continuation of a spell of growth stretching back more than three years.
Phil Smith, principal economist at IHS Markit, said: "January's spike in construction growth was helped by the unusually mild start to the year, so it was little surprise to see the sector retreat in February as winter weather conditions returned. At 52.7, the seasonally adjusted PMI was the lowest seen for 13 months, but the underlying trend remained strongly positive, and so did many of the survey's other indicators.
"New order growth remained buoyant after having hit its highest for at least 18 years in January, meaning there was sharply rising demand for materials among constructors. Growth looks set to continue in the months ahead, with the survey's measure of business confidence at its second-highest level since 1999.
"The one area of comparative weakness remained civil engineering, which showed a contraction for the third time in the past four months. However, the commercial and housing sectors continued to pick up the slack, both exhibiting robust underlying growth."
Companies continued to expand staffing numbers during February as they tried to keep pace with a rising level of activity. That said, the rate of job creation was at a 12-month low, having eased sharply from that seen at the start of the year. The use of subcontractors also rose more slowly, though a lack of availability maintained strong upward pressure on rates charged.
At the same time, constructors also faced a steep rise in average prices paid for building materials and products. The rate of inflation ticked up to a four-month high and was elevated in the context of the series history.
Got a story? Email news@theconstructionindex.co.uk